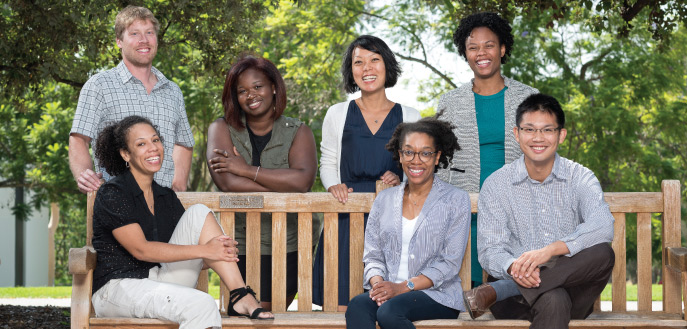 Meet Oxy's new class of tenure-track faculty
Occidental welcomed seven new tenure-track faculty to campus this fall—its most diverse set of hires in a single academic year.  The appointments include a pair of faculty tasked with developing a black studies program, fulfilling a commitment made by President Jonathan Veitch last fall.
Erica L. Ball (professor of American studies) comes to Oxy from Cal State Fullerton, where she taught since 2006 and chaired the African-American studies department for the last two years. Ball has a B.A. in history from Wesleyan University and a Ph.D. in history from the Graduate Center of the City University of New York. She is the author of To Live an Antislavery Life: Personal Politics and the Antebellum Black Middle Class (2012) and the forthcoming Madam C.J. Walker: Modern Race Woman (Rowman & Littlefield), and co-editor of Reconsidering Roots: Race, Politics, and Memory (University of Georgia Press, 2017).
Courtney Baker (associate professor of American studies) joins Oxy from Connecticut College, where she taught for 11 years. She has a B.A. in women's studies from Harvard, and a Ph.D. in literature (with a certificate in African and African-American studies) from Duke. Baker teaches courses in visual culture, critical theory, film, and African-American literature. She is the author of Humane Insight: Looking at Images of African-American Suffering and Death (2015) and is at work on a new book, Disobedient Cinema: 21st-Century Black Film and the Tyranny of Realism.
Mijin Cha (assistant professor of urban and environmental policy). has a B.S. in environmental engineering from Cornell University; a J.D. with a concentration in international law from UC Hastings College of the Law; and an LL.M. and Ph.D. from the University of London. She also is a fellow at Cornell University's School of Industrial and Labor Relations and worked for many years for various nonprofits and think-tanks. Cha writes about climate and environmental justice, green jobs, politics, race, and gender.
Darren Larsen (assistant professor of geology) has a B.A. in geological/biological sciences from Colby College, a master's in environmental and architectural engineering from the University of Colorado Boulder, and a Ph.D. in geological sciences from CU Boulder and the University of Iceland.  His research interests include quaternary geology and paleoclimatology, geomorphology, and sedimentary systems.
Ainsley LeSure (assistant professor of politics) has a B.A. from Carleton College and a master's and Ph.D. from the University of Chicago. Her research lies at the intersection of the critical philosophy of race, feminist theory, and contemporary political theory. She is currently working on a book manuscript titled Making Racism Visible in the World: Achieving Racial Justice Through Political Resistance, which argues that, in the contemporary moment, people have overemphasized the role of individuals' unconscious inner states in the perpetuation of racial injustice.
John Liu (assistant professor of sociology) has a B.S. from National Taiwan University, an M.A. in international and development economics and a master of environmental management from Yale University, and a Ph.D. from the University of Wisconsin-Madison. His research interests include ­environmental governance, climate change policy, international development, and globalization.
Kelema Lee Moses (assistant professor of art history) double-majored in art history and American politics at the University of Virginia as an undergraduate and has a master's and Ph.D. in art history from Penn State University. She was a lecturer at Oxy during the 2014-15 academic year and an Andrew W. Mellon Postdoctoral Fellow for the 2015-16 academic year. Her research and teaching interests include the history of modern and contemporary architecture, transnationalism, colonialism, and postcolonialism. This fall, Moses is teaching Modern and Contemporary Architecture, as well as a Core seminar titled From Oceania to Los Angeles.