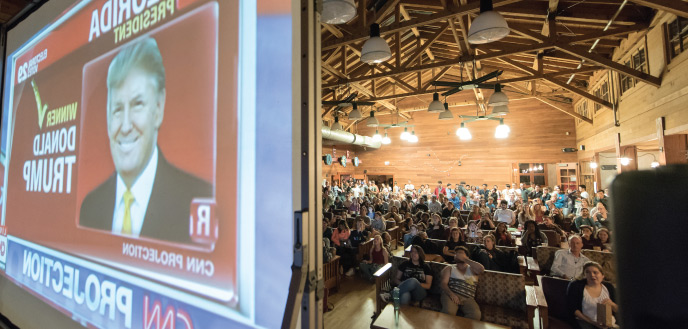 After months in the field, Campaign Semester students react to
the results of the presidential election with shock, dismay, and measured hope
From pollsters and pundits to much of the general population, the results of the 2016 presidential election took nearly everyone by surprise—even Oxy's 14 Campaign Semester students, who worked on the front lines in local, congressional, ­gubernatorial, and presidential campaigns in eight states across the country. Mere hours after Hillary Clinton conceded the race to Donald J. Trump, their reactions reflected the mood of many.
"I'm pretty upset and shocked," said Mackenzie Bretz '18, a politics major from Edmonds, Wash. Bretz campaigned in Miami for Democratic challenger Dan Horton, who was defeated by two-term Republican incumbent Holly Raschein by 15 points in a race for the Florida House of Representatives.
"It's mind-boggling to me," added Milo Keller '18, a politics major from Graton, who worked for the Pennsylvania Democratic Party in State College, Pa. "Everyone here is absolutely exhausted from all the work we did this weekend and throughout the whole campaign, and is in a state of shock. It's hard to comprehend that we got Donald Trump.
"I think we have to do a re-evaluation of how we do things in this country, and of who we are in this country, because I think this represents a victory for a lot of things that we thought we had moved beyond," he noted.
"Personally I'm extremely disappointed about the presidential race, but we did all we could here in Nevada," said Ricardo Parada '18, a politics major who worked on the Democratic local, congressional, and presidential races for the Nevada Coordinated Campaign in Las Vegas. "I'm frustrated and saddened by the presidential election and scared for friends and family, but I feel that my team and I did what we needed to do. We elected the first Latina to the Senate [Catherine Cortez Masto] and the first Latino to the House [Ruben Kihuen]. There were a lot of victories last night as well."
Carson Malbrough '19, a politics major from Los Angeles, said he was feeling "numb" but "trying to remain hopeful and spread positivity. I'm in North Carolina and our candidate, Roy Cooper, is the governor-elect," he said. With regards to the top of the ticket, "I am just trying to find a way to remain hopeful and think of ways that the young people can come together and organize to bring about the change we want and protect ourselves from the things we fear," he added. "If this is rock bottom, there is also potential for us to rise. I think we need to take advantage of this opportunity and stick together and figure out how to bring change."
The students returned to campus November 14 for an intensive five-week seminar with politics professors Peter Dreier and Regina Freer, where they will try to make sense of their experiences and describe their activities to the Oxy community in early December.
Keller, for one, thinks that the election's outcome points to problems with the candidate-selection process: "We had Hillary and Bernie and we had no one else, versus 17 ­Republicans who had national profiles," he said of the Democratic Party's choices.
(Martin O'Malley, we hardly knew you.)—SAMANTHA B. BONAR '90