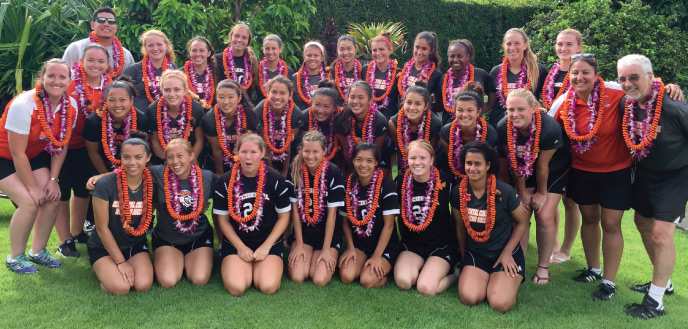 Women's soccer and football teams embrace their ties to the 50th state—and pack an extra toothbrush just in case—with road trips to Hawai'i
For Oxy seniors Julie Khil and Kylie Takafuji and sophomore Erin Dung, the women's soccer team's two-game road trip to Honolulu over Labor Day weekend was a homecoming of sorts, with the Hawaiian locals facing off against their old club team coaches. But the rain-soaked field conditions at Hawai'i Pacific were "dreadful," Khil says with a laugh—and their new white uniforms got so muddy that head coach Colm McFeely "made us clean them with toothbrushes and Clorox. But that was one of the most fun games I've ever played," she adds. "It was comical." And the Tigers flew home with a 2-0 record.
Over the last 10 seasons, some of the best players to wear a Tigers uniform, dirty or otherwise, have emerged from Honolulu. From Khil (2014 SCIAC Player of the Year) to Starlie Chinen '09 (McFeely's first Hawaiian recruit), the Islands have been well represented.
"After Starlie's arrival, it was obvious that the mentality, attitude, work ethic, and commitment to the game was at a level there that I valued," McFeely says. In subsequent years, he developed his connections to women's soccer in the Aloha State, attracting a succession of student-athletes with the credentials to excel in the classroom and on the field. Khil and Takafuji capped their Oxy careers this fall by earning first- and second-team All-SCIAC honors, respectively.
Oxy football first traveled to the Islands in 1924—then a five-day ocean voyage away—to play the University of Hawai'i. On September 17, following a five-hour flight, the Tigers squared off against Pacific University of Oregon on the campus of Kamehameha Schools Kāpa­lama in the first Divsion III football game to be played on Hawaiian soil.
The game marked a return to the North Shore for fourth-year head coach Doug Semones, who spent 11 years coaching football at Kahuku High School, three at the University of Hawai'i, and four with the Hawai'i Islanders of the Arena Football League. When he took the reins at Oxy in 2013, "We brought some of that island culture back to the mainland," Semones says. "We have Aloha Fridays, and it's that energy and family atmosphere that makes our program special."
Even with President Jonathan Veitch and development officer Mitchell Spearman leading the Oxy faithful in cheers at one point, the Tigers fell 45-22 to the host Boxers, who fielded 16 players from Hawai'i to the Tigers' three. Although Semones' squad soldiered on to a disappointing 1-8 record in 2016 after three straight 5-4 seasons, SCIAC Offensive Player of the Year Bryan Scott '17 became the conference's all-time passing leader (9,073 yards) while setting a new single-season record for an Oxy quarterback (3,058 yards).