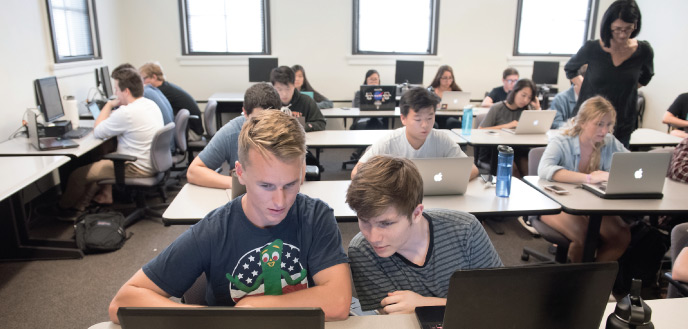 Six years after its introduction as a minor, Oxy's new computer science major encourages students to explore cyber connections with the liberal arts
Oxy junior Drake Song of Irvine didn't always want to be a computer science major. In fact, he explored three other career paths en route to his epiphany—film ("I'm not creative enough"), law ("I don't enjoy reading"), and math ("It's simply too hard—I'm sure many people will agree with me").
Then along came Oxy's new computer science major and department, which the College rolled out this fall. "The thing that convinced me to declare a computer science major is the community," Song says. "There are so many resources and open-source projects that anyone with a connection to the Internet can discover that for once, I didn't feel overwhelmed; in fact, I felt excited. I wanted to be a part of the community where people don't only focus on personal gains but rather utilize their given resources to contribute to creating a better world."
Three seniors, 11 juniors, and six sophomores—a mixture of nine women and 11 men—immediately declared the major, and the College expects to confer its first degrees in the interdisciplinary field this spring. Oxy will continue to offer a six-course computer science minor, which was introduced in 2011.
In its proposal for the new major, a computer science advisory committee (made up of faculty from several academic departments) successfully argued that a liberal arts college is an ideal place for an interdisciplinary computer science program. "At its core, computer science is the systematic study of the organization and processing of information, a definition that makes clear the connection between computer science and essentially every department at Occidental."
For example, in the natural, physical, and social sciences, computer-based methods have greatly enhanced the ability to generate, collect, and interpret large amounts of data, while simultaneously allowing it to be presented in understandable ways. In the arts and humanities, computer science has provided not only a new medium for analysis, but new ways of expression through social media, animation, and interactive games.
"I'm thrilled," says associate professor of cognitive science Carmel Levitan, who co-chaired the advisory committee. "We've been having discussions about a major for more than five years, and I think we've designed an excellent program that will serve Oxy students well."
"A lot of people across the campus have worked very hard to see this major happen, and we are always looking for additional interdisciplinary collaborations," adds Justin Li, assistant professor of cognitive science, who also served on the committee. "Computer science has become a standard tool in lots of fields. A basic understanding of the power and limitations of computers is critical, even if students do not do work directly with computation."
The initial computer science department faculty will consist of Li, adjunct assistant professor Jeff Miller, and newly hired cognitive and computer science professor Kathryn Leonard, as well as other adjunct faculty on special appointment.
The major will address not only the technical knowledge, but also the context within which technology is used and what problems it may create. It includes three potential pathways: a computer science curriculum, a mathematics emphasis, and a major including an interdisciplinary concentration, which will allow students to explore the intersection of technology with other academic interests.
"The program that we've designed encourages students to explore connections between technology and other disciplines," Levitan says. "Students with widely varying levels of background in computer science—or no background, but keen interest—can successfully complete this major."
"My interest in computer science has always come from my drive to solve complicated problems," says Shasta Clokey '19 of Los Osos, one of six students to declare computer science as a second major this fall (adding it to his mathematics major). An "incredible" summer experience working as a software engineer for VMUV, a virtual reality startup in San Luis Obispo, cinched his decision. "After graduation, I hope to move back to San Luis Obispo and start a career in embedded systems engineering and continue working to get VMUV off the ground," he says.
"A liberal arts institution of Occidental's quality and ambition needs a computer science major, and the unique addition of the computer science interdisciplinary pathway will really set Oxy apart," says Daniel Chamberlain, director of Occidental's Center for Digital Learning and Research. "In addition to giving our students the opportunity to integrate computational thinking into their scholarly work, we also need to make sure that we are helping them learn to train their critical and analytic capabilities on the very tools, structures, and systems that make up the digital cultures they inhabit."
"One of the things that I love most about Oxy students is that they are committed to improving the world," Levitan says. Through the computer science major, "Our students will use their liberal arts training to ask insightful questions and to come up with creative solutions to problems."
"I have liked computers and programming since middle school, but chose a liberal arts school like Occidental because I wasn't sure what I wanted to major in," says Charlotte Cullip '18, a chemistry and computer science double major from Harbor Springs, Mich. "After taking a few classes toward the minor, I realized I enjoyed learning about computers and how they work and wanted to pursue the field further. Whereas biology is the study of living organisms, chemistry is the study of matter at an atomic level, and physics is the study of the laws and dynamics of nature, computer science is completely manmade. It uses physics and chemistry for the hardware components, but software, programs, and the computer systems are all created by humans in a logical, organized, and abstract mathematical way—and that I find really cool."—Samantha B. Bonar '90