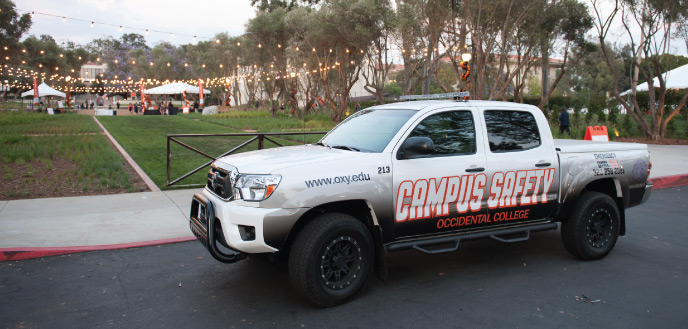 Department of Education review cites Oxy for past violations of the Clery Act, finds the College now in compliance with federal crime-reporting laws 
Occidental is now in compliance with the Clery Act, the federal crime-reporting law, but fell short in "numerous, serious, persistent, and systemic" ways between 2009 and 2013, according to a lengthy review by the U.S. Department of Education.
The 58-page review, which the College made public after it was delivered in August, found that over the five-year review period Occidental failed to meet its obligations in a number of areas that include failing to accurately compile and disclose crime statistics, issue timely warnings of potential safety threats, maintain accurate daily crime logs, and have adequate policies and procedures in place.
On August 23, in announcing the results of the department's review, President Jonathan Veitch wrote: "These conclusions do not come as a surprise. We failed to get this right. Our own assessment, confirmed by the findings of the review, makes it clear that we simply did not dedicate sufficient time, resources, and expertise to Clery reporting."
"As we and many of our peer institutions have learned, the requirements of the Clery Act are more complex and require more resources than previously believed," Veitch continued. "Since 2013, we have fully cooperated with the review and significantly invested in remedying our shortcomings. The safety of the Oxy community is a paramount concern, and we have learned much from this experience."
On September 27, the DOE levied fines totaling $83,000 on four of the nine adverse findings against the College. "The College will not appeal, and will draw from reserves to pay the fines," Veitch wrote in a message to campus October 6.
The Clery review was triggered by a formal complaint filed in April 2013 by Oxy students and faculty alleging that the College was in violation of the Clery Act, the 1990 federal consumer protection law that mandates the public reporting of campus crime statistics. Clery reports detail certain categories of crime that occur on campus and on properties owned or controlled by a college, or owned by organizations recognized by a college. By law, each Clery report covers a calendar year, which combines the spring ­semester of one academic year with the fall semester of the following academic year.
While the 2013 complaint focused on the College's reporting of sexual assault cases, the review examined every aspect of the College's crime reporting, which includes such crimes as murder, arson, robbery, burglary, and assault as well as sexual assault.
The review found a total of 315 reporting errors, many of which had been previously disclosed in the College's self-reported revisions to its 2013, 2014, and 2015 Clery reports. Of that total, 79 were crimes that should have been included, but were not, and 236 were crimes that should not have been included. The overreporting was the result of the College erroneously including crimes that occurred in the Campus Safety escort zone, which is bounded by York Boulevard on the south, Eagle Rock Boulevard on the west, Yosemite Drive on the north, and Avenue 51 on the east. Other crimes were misclassified: burglary as grand theft, for example.
Reaction to the review, both on campus and off, was muted. In contrast to the filing of the complaint, the review's conclusions received little media attention with the exception of a story in the Los Angeles Times. Faculty critics praised the activists who filed the complaint and set a lengthy process of self-correction in motion. "It took many years, and it took federal complaints, but the College has made some significant progress on this issue," associate professor of politics Caroline Heldman told the Occidental Weekly. 
Progress in the Process
The College's process of addressing its short­comings began with an extensive internal review launched in 2013 before the complaint was filed. Since then, Oxy has taken a number of steps to improve its reporting of crime statistics:
• Creating an internal Clery Compliance Team in June 2013 with representatives from Campus Safety, Title IX, Residential Education, and Human Resources.
• Hiring a new Campus Safety chief in August 2013.
• Hiring a full-time Clery coordinator in July 2014.
• Providing additional training for staff responsible for Clery reporting.
• Increasing professionalization of ­Campus Safety policies and procedures.
• Bringing in outside consultants to advise on ways to improve policies and procedures.
• Improving transparency measures for issues on campus that present safety concerns, whether required by Clery or not. Examples: issuing community-wide safety bulletins and an annual Title IX ­report of formal and informal complaints.
The full Clery review can be found here.