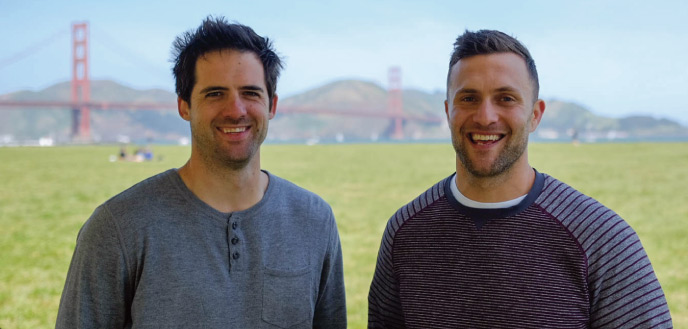 With an ingredient list high in protein and low in "weird stuff," Anthony Ostland '08 and Michael Winchell '07 create a protein bar to their liking
It began roughly six years ago, at a food truck festival in San Francisco. Meandering among the mobile culinary concepts, former Oxy football teammates Anthony Ostland '08 and Michael Winchell '07 just wanted a clean and healthy meal. "We were talking about all these weird food fusions and laughing about all of the different things that people were trying to come up with," Ostland recalls. "Where's the basic meat and vegetables—kind of a simpler food design?"
They brainstormed starting their own food truck with a menu that aligned with the Paleo Diet, which they ultimately concluded wasn't financially feasible. The idea of a portable snack manifested itself sometime in 2012, when Ostland presented Winchell with an energy bar he had concocted at home.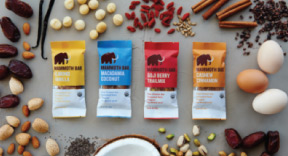 Coming from a cooking background—his family runs a restaurant in New Mexico—Ostland decided to make the snack he had always wanted: something with a higher protein-to-sugar ratio and a simpler ingredient list than store-bought bars. They had an inkling that other people were looking for the same thing. And "No Weird Stuff" became the slogan for their Mammoth Bar business.
After that "Eureka!" moment, Winchell says, "It didn't take much to borrow a couple of Cuisinarts from our neighbors and get the process rolling." Many nights after work, he would get on a ferry from Oakland to Marin to experiment with different bar formulas in Ostland's kitchen. They also conducted their own market research, asking taste testers to compare Mammoth Bars to its competitors.
Through 2014, that's what the company was: forming bars by hand, sealing them by hand, and hawking them either in person or via their website. They went through more than 100 iterations, a trial-and-error period that resulted in the four varieties they now offer: almond vanilla, goji berry trail mix, macadamia coconut, and cashew cinnamon. Mammoth Bar's primary ingredients are nuts, egg white protein, and dates, with ­coconut nectar in most varieties as the sweetener. All are organic, dairy-free, grain-free, and soy- and legume-free.
While Winchell used his knowledge as an economics major and financial analyst to establish a solid foundation for the business, Ostland's connections as a CrossFit coach helped the bars gain traction among their key demographic. Moving production into a commercial kitchen and automating much of the manufacturing process in 2015 allowed them to scale up their operations.
Success came slowly and steadily until September 2016, when they ran a fundraiser on the crowdfunding site Kickstarter that brought in $50,000 in 30 days—five times their initial goal, and validation that their bars appealed to consumers outside of their immediate circle of friends and acquaintances. "When we had raised that money, Anthony and I kind of looked at each other like, 'I think we really have something here,'" Winchell says.
Soon after, the duo secured a deal with Peet's Coffee and Tea to sell Mammoth Bars in 350 locations around the country. The product is also sold in an additional 50 privately owned grocery stores and fitness studios, and by next spring, larger supermarkets such as Whole Foods will be added to the mix. "Now that we have proof of concept, we will expand our reach," says Ostland.
With monthly sales in excess of $33,000 and year-over-year revenue growth of 150 percent, Mammoth Bar has long since outstripped its food truck-inspired origins. And there are other food products Winchell and Ostland feel are ripe for innovation, including granola and nut butters.
"When you're working with a small business, it's almost like working with a child," Winchell says. "You're never going to give up on that kid, you just decide that I'm going to do whatever it takes to get this thing through the next hurdle. Because that's all growing a business is. It's getting you through the next obstacle that you're facing."