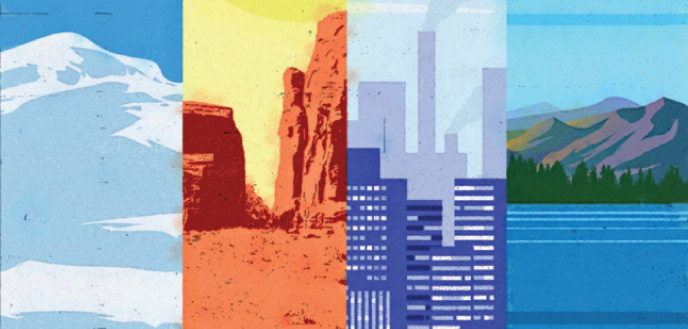 For students and faculty across multiple disciplines, climate change is real—and they're exploring solutions through classroom study and field research 
By Andy Faught | Illustration by Richard Mia
Approximately 4,400 miles from Los Angeles, with Arctic winds coming from all sides, a four-member team from Occidental plunged their spades into Icelandic earth in August looking for clues. Dozens of glaciers already have disappeared from a land carved by ice and forged by volcanic violence, evidence of climate change.
Led by assistant geology professor and glacier expert Darren Larsen, who supervised the nearly two-week project, the team dug holes 10 feet deep in Iceland's Highlands region, with Langjökull, the nation's second largest ice cap, glistening in the distance. Members collected data by analyzing sediments and layers of tephra—or volcanic ash—to draw conclusions about the changing landscape and publish their findings.
"Basically, we would find these escarpments, because there's a lot of desertification happening in the Highlands," says Isaac Glanzrock '17 (
left
, with Lori Berberian '20 and Ian Van Dusen '20), a geology major with an environmental science concentration. "We were trying to tie that to ­either climate change, or perhaps the introduction of sheepherding in the Highlands. We can't necessarily call it climate change without further research."
"I find it very important for students to understand where scientific data comes from, and that's all about going out to the field and actually getting your hands dirty," says Larsen, who addresses global warming in his Geo 245 course, Earth's Climate: Past and Future. "Glaciers are one of the most visible and acceptable signs of a changing climate—they're a signal of a canary in a coal mine."
Glaciers have no adaptation strategies, he adds: "They'll respond to changes in climate in a relatively straightforward way. The Icelandic Highlands present a unique opportunity to study the impacts of climate change and human activity on fragile environmental systems. Glaciers there are melting, and the landscape is being stripped of vegetation and soils."
Larsen's efforts are just one way in which Occidental students and professors across academic disciplines are considering the role of climate change on an evolving planet. Several courses are taking on warming as a pressing topic of our time. It's a subject that students have approached with gusto, hoping to play a role in stewarding the health of the planet.
While researchers agree that climate change is occurring on Earth (with a consensus that warming is likely tied to humans), the exact causes are murkier. "Everybody can look at temperature records and see that we're on a steady increase," says biology professor Gretchen North, whose Bio 380 class, Plant Physiological Ecology, considers the role of climate change on flora. "Whether it's caused by anthropogenic carbon dioxide emissions, I don't know."
This much is known: The planet's surface temperature has climbed by nearly two degrees Fahrenheit since the late 19th century, according to NASA, whose data shows 2016 was the warmest year on record. In the last 650,000 years, NASA reports seven cycles of glacial advance and retreat.
California's historic five-year drought, which ended earlier this year, cannot be conclusively tied to climate change, scientists say. Still, circumstantial evidence, including Hurricanes Harvey and Irma's recent assaults on the Gulf Coast, continues to spur academic inquiry into linkages. "As recently as maybe five years ago, I used to speak of climate change as perhaps hypothetical," North says. "I no longer do that. I think it's as hypothetical as gravity right now."
North's work has centered on how the Chihuahuan Desert cactus
Ariocarpus fissuratus
,
left
, a small tan and gray-green succulent that grows flush to the ground, can survive temperatures as high as 140 degrees Fahrenheit by contracting its roots. She also teaches a field course on the flora of Southern California. Her classes travel to Deep Canyon near Palm Desert, where students see firsthand the role of climate change on the terrain.
"For the last five years, it's almost been like going to a lunar landscape in some of the desert sites and chaparral sites," North says. After California's wettest winter in more than a century, she adds, "this year was great."
Whatever the cause of the drought and climate variations, students don't have to look far to see the stress facing Los Angeles' trees. "The woody population has been hit really hard, first by drought, which causes pests to come in and bring their own fungi," says North. Her office overlooks Sycamore Glen, where two western sycamores already have been removed, and more dying trees may be taken out this year. "People who work with the urban forests of Los Angeles are really concerned."
At the nearby Huntington Botanical Gardens, about a third of the trees have died in recent years, some of them due to an infestation of the polyphagous shot hole borer beetle, a newly introduced pest that drills into trees and transmits a pathogenic fungus. While trees are struggling, weedy species such as Bermuda grass, crabgrass, and Russian thistle do better in warmer temperatures.
Academically, North approaches ­climate change "in a very scholarly, straightforward manner," she says. "Students come into these classes alert, but they come out informed. We're emphasizing the ability for them to do a little elevator talk on climate change, on what they've seen out in the field to suggest that climate change is real. One of the things that Oxy needs to do a better job of—that I think every scientist needs to do a better job of—is telling stories to the public in a way that doesn't turn them off."
North, who participated in the March for Science in Washington, D.C., last April, calls climate change a "call to arms" to colleges and universities: "Things are happening more rapidly than predicted, which means that we have to change our behavior more rapidly."
The College's investigations into climate change aren't limited to terra firma. The Vantuna Research Group has been collecting data on life in Southern California's near-shore habitats for more than 50 years, forming one of the largest scientific data banks on the region. Every week, as many as 25 students, most of them biology majors, take to the Pacific waters to collect information.
Organizations such as the National Oceanic and Atmospheric Administration, the California Department of Fish and Wildlife, and the Bureau of Ocean Energy Management all use the research group's findings. Much of the group's work focuses on developing restoration programs in near-shore waters between Point Conception and the U.S.-Mexico border. The stretch is a hot spot for biodiversity, drawing reef and bay fish, as well as whales, dolphins, birds, and invertebrates.
But there are abiding challenges. "Generally speaking, Southern California has been overfished for decades, and there are other challenges associated with pollution and climate change," says Dan Pondella '87 M'92, director of the Vantuna Research Group. "We're trying to figure out how to work with all of these problems to improve habitat quality and be a resource for the region."
Pondella poses an analogy: A sick patient is susceptible to secondary illnesses. "But if you're a generally very healthy person, and something comes up, you're more easily able to fight it off," he says. "One of our goals is to improve overall habitat quality to make it more resilient to change. It has the potential to teem with lots of biomass, more than it currently does."
While the research group does not engage in specific climate-change research, it does look at the change of organisms over time and "we've kind of backed ourselves into dealing with the issues of climate change, just because that's one factor of many that have changed what we see on our coastline over the last five decades," Pondella adds.
"Whenever young people are asked what their priorities are, climate change is always at the top of the list," says Mijin Cha, assistant professor of urban and environmental policy. "The challenge that we face is no joke, and I think students are often surprised by both the level of the challenges and also the level of inaction."
For the first time last spring, Cha taught a course (UEP 230) titled Climate Justice: Theory and Practice, which considers how marginalized communities, such as neighborhoods of color and low-income communities, bear a disproportionate amount of environmental burden. Reports say climate change could affect the U.S. gross domestic product, with the country's poorest third of counties unable to sustain economic losses.
Lending credence to that idea is the research of James Sadd, professor of environmental science and a member of the Oxy faculty since 1988. "A Preliminary Environmental Equity Assessment of California's Cap-and-Trade Program," a 2016 study co-authored by Sadd, found that higher proportions of greenhouse gas-emitting facilities are located in more disadvantaged communities.
Keegan McChesney '16, a UEP major from Seattle, has consulted with Sadd in hopes of building on the research as part of his postgraduate work toward a joint international master's in sustainable development. "I'm considering looking further into the health impacts, focusing on specific emitting facilities on the most disadvantaged or focusing on the largest overall polluters
in the state of California and tracking how they've either been decreasing or increasing their emissions," says McChesney, whose senior comp at Oxy was titled "From Risk to Resilience: Examining Environmental Justice Indicators in Los Angeles' Most Climate Vulnerable Community."
From an institutional standpoint, Oxy has long been committed to advancing policy and learning that protects the future health of Earth. In June, a week after President Donald J. Trump announced that the United States would withdraw from the Paris Climate Agreement (in which 160 countries committed to mitigating global warming), President Jonathan Veitch was one of 180 college and university leaders who signed a pledge vowing continued commitment to the Paris goals.
Meanwhile, the College's sustainability committee implements Earth-friendly and forward-looking initiatives, including using green products that are composted, recycled, or biodegradable. And since its com­pletion in March 2013, Oxy's 1-megawatt ground-mounted solar array has generated  more than 12 percent of the College's electricity each year.
For his part, Glanzrock, who helped on the Iceland research, is hoping to play a continued role in attempts to drop the mercury. After a visit to Denmark, where plenty of people ride bikes to their destinations, he wants to bring a similar ethic to the United States as a transportation/environment and sustainability analyst. Cars are a prime source of unhealthy emissions.
"If we can move toward more sustainable ways of getting around without relying on fossil fuels," he says, "then that's my interest in climate change." 
Faught profiled emeriti professors Diana Card Linden and Anne McCall Schell in the Summer issue.