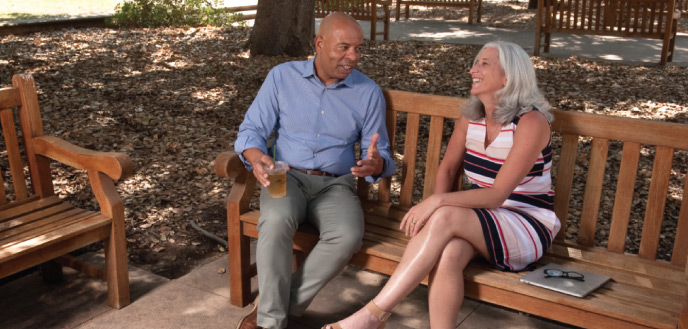 New deans Wendy Sternberg and Rob Flot discuss the opportunities and synergies of building bridges between faculty, students, and the offices that support them
By Jim Tranquada | Photo by Kevin Burke
When it became apparent in late July that the Class of 2021 was going to be considerably larger than projected, Wendy Sternberg and Rob Flot wanted to let faculty and staff know what to expect. Even though neither had fully unpacked their offices since their own arrival earlier that month—Sternberg as dean of the College and Flot as dean of students—the two sat down together and quickly composed a message to campus.
"We didn't have to negotiate on whether or not it was a good idea," says Flot. "I think some things that will come naturally and easily to Wendy and me will be welcome here on campus. We get the sense that it's been a while since the two deans have had the kind of partnership that we have begun to establish."
"We're all here to educate the students, and the closer the relationship and the integration between Rob's and my position, the better it will be for students," says Sternberg, who met Flot in person during a visit to Chicago back in April (the two had communicated sporadically by email since her appointment in January). "I think we're getting a lot of buy-in from the faculty on that notion, and there seems to be an eagerness in moving forward in finding ways that we can work together."
What attracted you to Oxy?
Flot: I was attracted to the opportunity to be in a leadership role that allowed me to guide a transformative process for student affairs. It's an opportunity to effectively engage and connect with students, serve as an advocate for students, and work to build bridges between the student body and student affairs, and senior administration and faculty. Highly attractive to me was the fact that Oxy is so culturally diverse and pays attention to issues of social justice and equity. And finally, to have a liberal arts college in a major metropolitan center is a powerful part of the student experience.
Sternberg: When I was a graduate student at UCLA, I would come to Oxy for the summer theater productions, and I would walk around this campus and think this is my dream job, to be a professor at a place like Oxy. So part of my interest in coming to Oxy is that liberal arts college atmosphere, where students and professors can have relationships inside and outside the classroom. Ultimately, there were a variety of factors: wanting to be at a liberal arts college in Southern California, Oxy's academic reputation, its excellent faculty, and its beautiful campus.
Most academics don't start out their careers thinking, "I want to be a dean." What was your career path into administrative roles?
Sternberg: I thought I always would be a faculty member—I really thought I would do it forever. But during my 18 years at Haverford, I started to become more attracted to the kind of impact I could have working with other faculty. As I took on more responsibility, I found that I really enjoyed the work. It's challenging, and you get to use those creative problem-solving skills you learned as a student at a liberal arts college.
Flot: After I finished my pre-doctoral internship at a university counseling center, I continued at that counseling center for 8½ years, primarily as a senior clinician. In that role, you are most often responding to a student who is struggling, and I found it would be more useful to prevent problems from happening to begin with. To do that, I moved into administrative roles. Initially I thought there might be a limit to my interest, but being a senior student affairs officer is the position that offers me the best opportunity, especially at a small institution.
This morning, I was talking to RAs in the residence halls, I'm meeting with trustees for lunch, and the president and I are taking a walking tour of res halls this afternoon. I can't imagine a better situation for someone like me, who loves engaging and interacting with students and also wants to be able to influence the system.
What are your first impressions of Oxy?
Flot: Faculty have been eager to engage with me, and I couldn't be more thrilled with how returning students and I have made some connections this summer. Student Affairs staff is eager for leadership to move forward. The cherry on top is starting with Wendy, to have a partner in this new phase at the College. So, there's an eagerness to partner, to collaborate, to move forward.
Sternberg: Understandably, there have been some decisions that have been put off since Jorge decided to leave. [Sternberg's predecessor as dean of the College, Jorge Gonzalez, was appointed president of Kalamazoo College in January 2016.] Issues have come up that couldn't be addressed by the interim dean, and the response has been that the new dean will have to take care of that.
Flot: It's exactly the same on the Student Affairs side. [Flot's predecessor as dean of students, Barbara Avery, was named vice chancellor at the University of Michigan-Flint in October 2015.]
Sternberg: I feel this palpable sense of arrival. Everyone has been very warm and welcoming, as I've said a number of times, but there's a sense of relief in many ways that I hear in people's voices, that we're finally able to move forward. To me that says something about the deep care that the members of this community have for it, where they want the institution to be advancing, and have felt it's been difficult during this period of waiting.
What are your goals for your first year?
Flot: The first is to engage and connect as broadly and deeply as possible with a broad cross-section of students. That's huge. Second, to tend to and assess the functions of Student Affairs—determine what's working well, where improvements are needed, and where structural changes might need to occur. And third, to engage and connect with faculty, look for bridges between Student ­Affairs and faculty.
Sternberg: My No. 1 goal for the year is to understand everything—the curriculum, departments, and structures. There's a lot to absorb. At the end of the year I want to know every faculty member by name, what department they're in, what their specialty is, and what would allow me to support them and make them happy in their jobs. I'm very concerned about faculty satisfaction. I would like to try to put structures and policies in place that can allow faculty to thrive in their work.
I also plan to engage the faculty this year in a yearlong discussion and academic planning exercise to think about the future of an Oxy education—what does it look like from a disciplinary, general education, and co-curricular perspective?
Flot: I tend to be a little impatient. I want to move forward more quickly. And because the community is eager to move forward, I feel some pressure and expectation to make some things happen so that people are reassured that we got this right in terms of our selection.
Sternberg: I feel both of those things, too.
Flot: But I want to balance that with not making decisions too quickly and later having to come in and clean up a mess. Achieving a balance between eagerness and patience is not so much a goal as part of the process.
Rob, how does your background in psychology inform your work in student life?
Flot: I can't think of better preparation for working with students. My particular area
of counseling psychology focuses on working in a university mental health setting. My coursework and preparation had everything to do with adolescent development, how ­systems work, the developmental needs of students, and ethnic identity development. That's useful, and my background as a clinician certainly informs my conversations.
Wendy, what are your impressions of Oxy's faculty?
Sternberg: Those that I met seem to be extremely accomplished, dedicated to their students, and to care deeply about this institution. They seem like a really great group.
Do you plan to teach any courses at Oxy?
Sternberg: I would love to, and I have already been approached about doing a guest lecture on neuroscience. But the thing about teaching is that you can't phone it in. It always has to be the most important thing that you're doing. I know that there are deans that do it, but I can't imagine being the kind of professor I want to be with the demands of this job.
Flot: There was a course at Lake Forest that I was eager to teach on African-American Muslims. Every year I thought about teaching it, but I knew I would have to cancel because things always come up. Our roles require us sometimes to clear our schedules at the drop of a hat, or in the event of an emergency.
What's the most L.A. thing you've done so far?
Sternberg: We took the top off the Jeep and drove to Malibu. We drove west on Sunset to the sea.
Flot: I went to Santa Monica and Venice Beach with my son. Is that an L.A. thing?
Sternberg: It is.
Flot: And I did hike in Griffith Park up to Dante's View.
Sternberg: I drove my car from the house to the office. It's 300 yards.