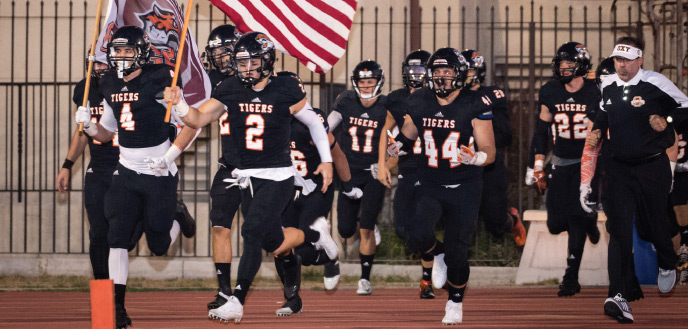 With new head coach Rob Cushman at the helm and a short roster riddled by injuries, Oxy's storied football program looks to rebuild for next year
One hundred years after Oxy's first home football game at Patterson Field—a 13-7 victory over Los Angeles Athletic Club—the Tigers cancelled their home opener to the 2017 season, two days prior to their September 16 contest with Pacific University of Oregon. "Since last week's game against the University of Puget Sound [a 61-6 road loss], the size of the team roster has diminished to the point that we cannot effectively field a team this weekend," director of athletics Jaime Hoffman wrote in an email to the Oxy community. "This is a painful decision."
Although the Tigers would regroup to play their next two games—losing at home to defending SCIAC champion Redlands in a 72-13 rout September 30, and mustering a scant 115 yards in a 37-0 road loss to Claremont-Mudd-Scripps on October 7—further injuries, especially on defense, prompted President Jonathan Veitch to cancel Oxy's Homecoming contest October 13. Four days later, it became apparent that the health of the roster would not improve to the point "where we can safely field a team for the remainder of this season," Veitch wrote in announcing the decision to cancel the remaining four games on the 2017 schedule. "Making this decision now provides needed clarity to players, their parents, coaches, and other SCIAC members."
Each piece of news rippled through Tigers gridiron circles, angering many current players, their parents, and generations of football alumni. How could one of the most storied small-college football programs in the West—one that has produced the likes of Jack Kemp '57, Jim Mora '57, Ron Botchan '57, Vance Mueller '86, and more recently Andy Collins '07 (whom former head coach Dale Widolff called "the best player" in SCIAC history)—have fallen so far in so little time? And can the program rebuild in short order?
Coming off a 1-8 campaign in 2016, this season was expected to be a rebuilding one for the Tigers. But following the unexpected retirement in mid-July of four-year head coach Doug Semones, Oxy was left scrambling for a replacement. On August 1, the College announced the hiring of Rob Cushman, who inherited a winless University of Minnesota-Morris team in 2014 and went ­6-4 in his second year as coach.
Fifty-seven players were expected to ­report to training camp August 14. But Semones' departure, coupled with the August 3 exit of ­offensive coordinator Darnell Ar­ceneaux, apparently took a toll on the number of players returning to the squad. The Tigers kicked off the season against Cushman's alma mater, Puget Sound, with 47 players to the Loggers' 91. After the loss, a couple more players left the team, and a spate of injuries left Oxy reeling with a healthy roster of 37 players—13 of them on defense—ready to suit up against Pacific.
A strategic plan for athletics presented to the Board of Trustees in 2014 addressed such a scenario. "Although we do not believe discontinuing football should be considered at this time, recent studies on head injuries raise increasing concerns regarding the health and safety of football players," the report noted. "The College must remain engaged in promoting rule changes and other safeguards to protect its student-athletes. Should the competitive level of the team create an unsafe environment, the administration will need to intervene."
Following a thoughtful and wide-ranging discussion at the trustees' regular meeting in September, "we emerged with a clear consensus affirming our commitment to a healthy football program," Veitch said in a September 26 email to football parents and alumni. But that commitment wasn't enough to save the fortunes of this year's squad.
Minus the arm of Bryan Scott '16 (who threw for 27 touchdowns in 2016) or the legs of Kwame Do '15 (who rushed for 1,571 yards in 2015), the Tigers have struggled offensively compared to recent teams. Among the bright spots individually are senior linebacker Chris Garcia, who had 10 tackles each in the first two SCIAC games, and senior wide receiver Ian Bonde, who caught two touchdown passes from freshman quarterback Jake Willemsen against Redlands.
Oxy's abbreviated season may ultimately be remembered for the huddling that took place off the field. A task force including Hoffman, trustees, alumni-athletes, senior administrators, faculty, and other shareholders will address what the College must do to sustain a competitive football program. And on October 9, Veitch met with a subcommittee of former players led by Mueller and Mike Tromello '04 M'05.
Among the most vocal critics of the administration are those former Tigers who played under Widolff, who in 30 years as head coach led the Tigers to 11 SCIAC championships, 178 victories, and seven postseason appearances. Widolff was dismissed in 2012 after violating NCAA regulations over email recruiting of student-athletes at other schools—leaving scars that have yet to heal.
"This is not the way I would have hoped to introduce myself," Cushman wrote in a letter to the Oxy football community posted September 16. "I am aware of the proud Oxy football tradition and am dedicated to re-storing the program. We need everyone to support these players and this team. We will survive and get better."
A tweet by @oxy_football on the evening of October 17, accompanied by a photo of Patterson Field at dawn, reinforced that message with a quote from Victor Hugo: "'Even the darkest night will end and the sun will rise.' #Iotriumphe #Fight4EveryStripe"