Ten standout student-athletes from Occidental's Class of 2023 discuss the challenges and rewards of sticking with their sport through the pandemic
Jazz Henry '23 played his first organized soccer match as soon as he could walk. "I come from a massive soccer family, and my parents put me in the local recreational team right away," explains Henry, an urban and environmental policy major from Laguna Niguel. "After that, I never stopped."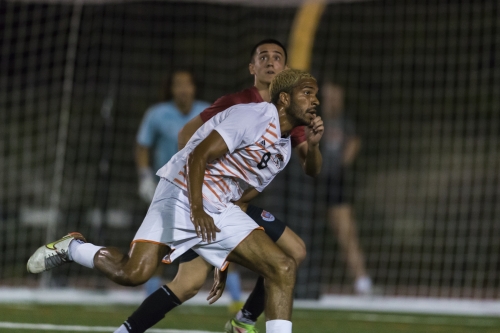 It would take a pandemic to interrupt Henry's game—and for him and hundreds of other student-athletes at Occidental, COVID-19 did just that. Because soccer is a fall sport at the College, Henry missed only one season of play. But for the spring sports squads—baseball, softball, golf, lacrosse, tennis, track and field, and water polo—Division III competition ground to a halt in mid-March 2020, erasing nearly two years of activity.
As the Class of 2023 sets out in the world, we asked 10 outstanding Tigers to reflect on their experiences as student-athletes—the interruption of the pandemic, the anticipation of returning to action, and the jubilation they experienced over the last four years.
In March 2020, COVID-19 shut down the spring sports season at the College. What was your reaction at the time?
Tye Hernandez '23 (track and field), an economics/politics double major from Brea: I was really shocked and disappointed to have my season and first-year experience on campus cut short. I vividly remember having a track meet over spring break at Whittier College and getting the unfortunate news that our season was canceled a few days later.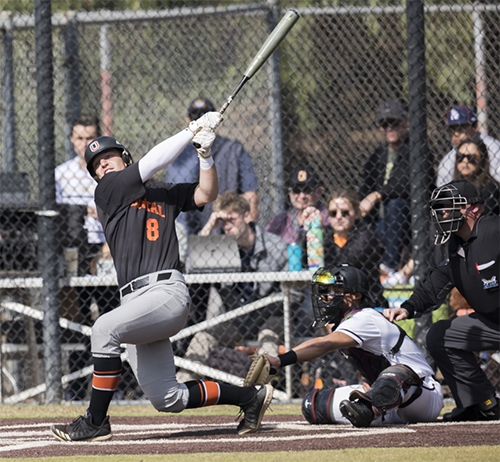 Jonathan Marshall (baseball), a biochemistry major from San Diego: I felt a plethora of emotions—mainly sadness for our seniors who had an abrupt end to their careers, and anger because I felt like I was just finding my stride on the field and I wanted to continue to develop as a player.
Because of delays, the De Mandel Aquatics Center didn't open before COVID shut down the campus. How did you feel at the time?
Chanel Ng '23 (swimming and diving), a psychology major from Honolulu: It was frustrating to hear that we could not train or compete in the new pool. Taylor Pool (or as we called it, Taylor Pond) made it difficult for the entire team to practice together, so the team was eager to break in the new pool. 
Kayla Lin '23 (water polo), a biology major from Palo Alto: We played our last game away at Redlands, where we weren't even allowed to shake hands before or after the game but still played full contact. It was emotional because we were hearing about schools shutting down and we knew that we were probably next. 

Thomas Hoffman '23 (swimming and diving), a philosophy major from Camarillo : I remember being very frustrated. We were all excited to utilize this new space, and I was looking forward to having more lanes for practice and seeing what positive impacts the new pool would have on the team. Once we got sent home, I became unsure if and when I would get the chance to swim in it.
Keegan Klein '23 (water polo), a biochemistry major from Bellevue, Wash.: I personally took the shutdown as another challenge because it tested my relationship with the sport due to a lot of pool closures and so much separation from my teammates.
What did you do during the remote year to stay in playing condition?
Kyle Dosa '23 (basketball), a kinesiology major from Chatsworth: Here in Los Angeles, everything was shut down. I would go to a local park and shoot on the outdoor courts; my mom would rebound for me so I could get more reps in. My brother and I were able to set up some weights in the garage, so I lifted every week to maintain strength.
Sarah Fleming '23 (tennis), a media arts and culture major from Grand Junction, Colo.: During the fall 2020 semester, when classes were online, Courtney Saqueton '23, Lucy Stevenson '23, and I lived together near a racquet club in Vail, Colo. It was surprisingly cheap because it was the off-season and not many people were traveling. We could stick to ourselves, do online classes in the condo, and go on hikes outside. Courtney, who also is on the tennis team, and I were able to practice together at the courts.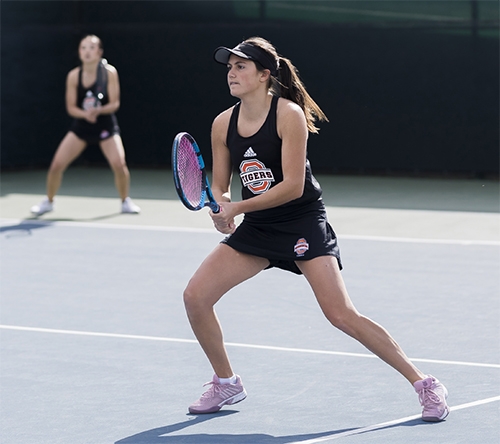 After the skiers kicked us out, we decided to follow the "off-season." For the spring 2021 semester, we found an extended rental in Hilton Head, S.C. Courtney and I practiced at Van Der Meer Tennis Academy the whole semester. Lining up with my media arts and culture major, I did a media internship with the academy, taking photos and helping with marketing. In return, they generously allowed me to practice there at no cost.
Henry: A lot of running. My family lived in an apartment complex at the beginning of the pandemic so I would run the stairs of the building. I would also go to the top of the parking garage and pass the ball around with my brother, since no cars would be there. I liked running outside early in the mornings too. It was definitely tough but I managed.
As the pandemic eased up, I was able to live on campus and train with my teammates who were living in the area. It was great to see the guys and train with them. After we got the confirmation that we would have a season, training was all that was on our minds.
What was it like coming back to the game after the pandemic?
Marshall:  It was an amazing feeling. I felt like during the pandemic I had developed into a better player and I was excited to put on the orange and black again and get back onto the field with my friends. It was a little strange, missing a lot of the familiar faces and essentially two freshman classes, being the freshmen and sophomores (their first time on the Oxy field), but being back on my home field with my friends was a lot of fun.
Dosa: Initially, it was strange. I have been playing basketball year-round for most of my life, so I was not used to the long interruption. I then felt excited and grateful to be back practicing and seeing my teammates.
Hernandez: There was an added layer of gratitude and excitement to finally compete again. Being back in person with all my friends was so refreshing. It made training easier and enabled all the moments spent with your team eating, traveling, and lifting together.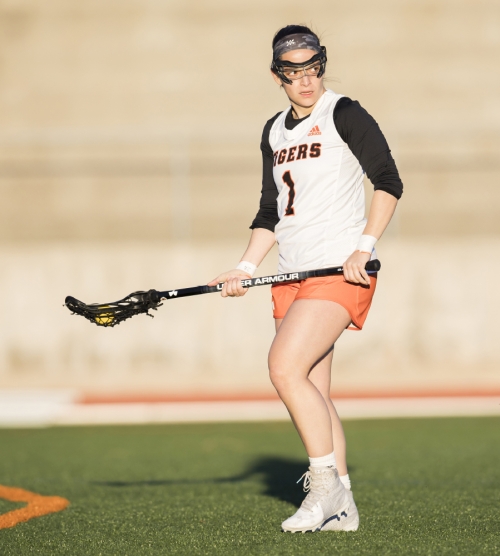 Cara Bekas '23 (lacrosse), a kinesiology major from Glenview, Ill.: It was definitely weird. I went from being a first-year who had never started and played maybe five games to being a junior and starting every game of the season. It was a really big adjustment trying to fit into the role I had back on campus compared to when I had left.
Henry: Half of the team was new and had never played in college, and my classmates and I went from being first-years to juniors so quickly. That came with a lot of expectations. A lot more leadership and responsibility was expected from the upperclassmen, but so many guys stepped up. We had a great group of senior leaders that helped cultivate a strong team culture.
There were a lot of different things about that season, too: COVID scares, weekly testing, and not being able to use locker rooms on away days. A lot of it was different from pre-COVID and my senior season, but being on the field and having a season again was one of the best feelings ever. It definitely helped my transition back to school as well.
Fleming: It was tough at first, because so many of us hadn't played organized tennis for over a year. There's something different about playing a real match with stakes! Being back with my teammates was great, although half the team (all of the underclassmen) were new faces to me. We did a lot of team bonding early on to get to know each other quickly.
How did it feel returning to competition—and the new pool?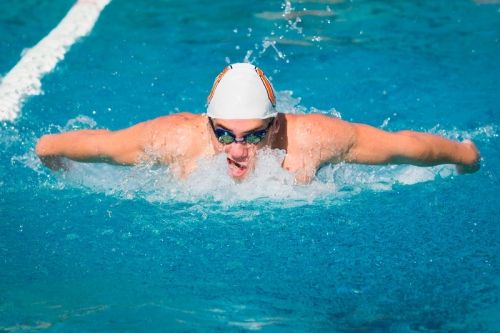 Hoffman: Coming back was strange at first. Having so much time off and returning to a new facility, with a mostly new team, was certainly an adjustment. However, my teammates really helped make it a smooth transition, and helped me to get my bearings quickly as we geared up for the season. For all of us, the season was challenging. Results weren't as we all would have hoped for, but I think coming back after the pandemic and competing is an accomplishment itself.
Klein: Coming back to play in the new pool with everyone I knew was one of the best choices I have ever made because it relit a new sense of competition in me. It was definitely interesting getting back into it with all the new guidelines that were being put up, and I definitely struggled with finding that sports-academic balance in my life but eventually got back into the swing of things.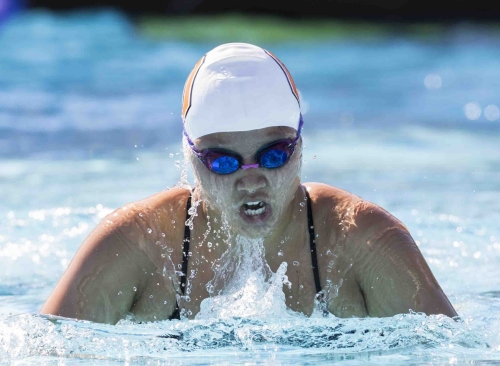 Ng: I was excited to return to Oxy at the start of my junior year because I had not seen the campus or my teammates for 1½ years, so I was ready to start a new season with them in our new pool. Half of the team was new, so it was especially fun to take on a leadership position and guide them through challenges in and out of the pool. I was also nervous to return to competition because I didn't consistently train during the lockdown, so I had no idea if I could live up to the expectations I had set for my return to swimming.
Lin: I felt like a horse gnawing at the bit. I was so excited and ready to get back into the water, especially because water polo, being a physical sport, had a lot of restrictions placed onto it. Not being able to be physically active in the way that I have for more than over half my life, being the water, it made me come to appreciate what I had a lot more. The pool was amazing; it was exciting to be able to use that facility. We went to almost every men's team game at home, and being in those stands, seeing the game, it was just like, "OK, when's my turn?"
Is there a game or moment that stands out in your Oxy athletics experience?
Marshall: One game that stands out to me was a first-year game at Whittier. That was the game where I recorded my first collegiate hit, a double down the line. I remember seeing my parents in the stands stand up and cheer, and my teammates fired up for me in the dugout.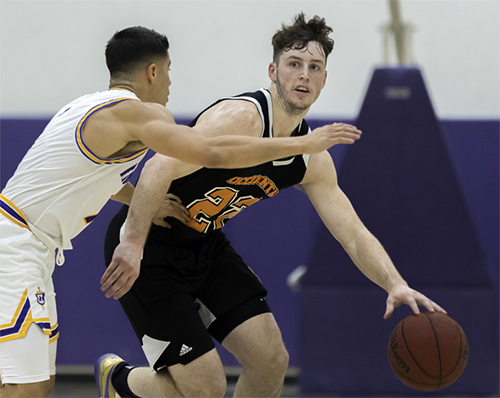 Dosa: During my first year we played Pomona-Pitzer at home on Senior Night. Coming into the game, the Sagehens were undefeated in conference play and we ended up winning in front of a packed, supportive crowd. I made some key shots in the game and provided valuable minutes as a first-year.
Hernandez: In my junior year conference finals, I competed in a couple of races, but my 400 hurdles finals was extra special. This race had five Oxy runners out of a field of eight. Our team dominated this event, and everyone finished with a personal best. Crossing the finish line and sweeping the podium alongside my teammates was a moment I will never forget.
Henry: Things like my first start and goal are moments I will always remember. For the team, though, I think about beating Pomona 2-1 for our Homecoming match in 2021. It was one of our best team performances and the fans were amazing.
In fall 2022, we had an amazing season. We made it to the conference final for only the second time in program history. Before that game, the conference semifinal against Pomona was insane. There were nearly 3,700 people in attendance, and winning in front of the home crowd to go to the final was electric. I remember getting food with some of my teammates at a local restaurant afterward and having the workers there congratulating us and saying they had gone to the game.
Bekas: The most memorable one was when I scored my first collegiate goal as a first-year. We had a night game at Redlands, and I scored off a free position shot. Second to that would probably be my first collegiate start against Claremont-Mudd-Scripps in our season and home opener in 2022.  
Fleming: When Andei Fukushige '23 and I won the doubles consolation finals at the Fall 2022 Intercollegiate Tennis Association (ITA) Western Championships, that was a really fun moment. We had a tough draw in the main bracket and barely lost in a tie­breaker. I was proud of the four matches we went on to win in the back draw. Andei transferred to Oxy as a junior, so we had only played one season together. Eventually we started to figure each other out and I realized at this ITA we could be a really powerful team.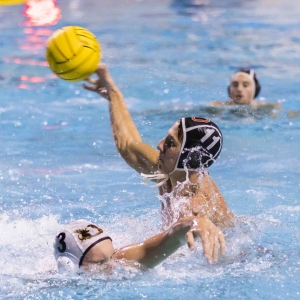 Ng: A particular moment that stands out for me happened at our conference championship meet during my first year. The last event of the meet was the women's 400 free­style relay and I was the anchor of our A team, which made me anxious. I was getting in my head too much, worrying about who was ahead and who was behind me when I swam. But once I looked up from the blocks, I saw a wave of orange on the other side of the pool, screaming our names and doing classic Oxy cheers. The support I felt from my teammates was indescribable and it is still one of my favorite memories.
Klein: One game that stands out to me was when our team beat Redlands for the first time in almost 50 years last year and we had a huge home crowd to help cheer us on.
Lin: I competed on the swimming and diving team my junior and senior year, and during the overlap period of both seasons, we had our senior swim meet and a water polo double-header on the same day. So essentially, I swam in a swim meet, gave two senior speeches, drove to USC, played against USC and CMS back-to-back, and then went home with the team. Playing against USC was incredible because not only were they the NCAA Division I reigning champions but they also had two Olympians competing on their team. They played their starting lineup, and didn't give us any less than their best, which was really respectable. I also won a couple of 1-on-1 match-ups, which was quite a confidence boost. It was definitely an experience and one that I am very proud that I was able to do and accomplish fully.
Hoffman: Our senior meet against Chapman is my favorite moment of my swimming and diving career. The team performed well and everyone supported each other throughout the meet, making it a really special environment. It was the cherry on top that our men's team ended up beating Chapman, with the result coming down to the very end to be decided. That meet was the most fun I've ever had competing and being on a team.
Anything else you'd like to add?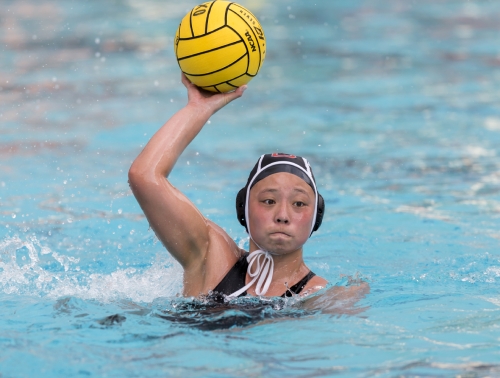 Lin: I love my team; we've been through a lot over the last couple years. We face the constant hardships of our sport that require a lot physically and mentally, but also face external factors and are able to handle them together. They are probably one of my biggest support systems and I couldn't imagine myself where I am today if it wasn't for being on this team. My coaches, the players, the sport have had a major impact on who I am, my identity, and how I can carry myself through the world and for that I am eternally grateful.
Henry: It might sound clichéd, but the moments outside of the game are just as memorable. The funny moments in practice, lift, and the team dinners have always been super special to me. When I was looking at colleges, I really wanted to play soccer, get a good education, and be in Los Angeles, and Oxy gave me all of that. Toe down, boom bang!