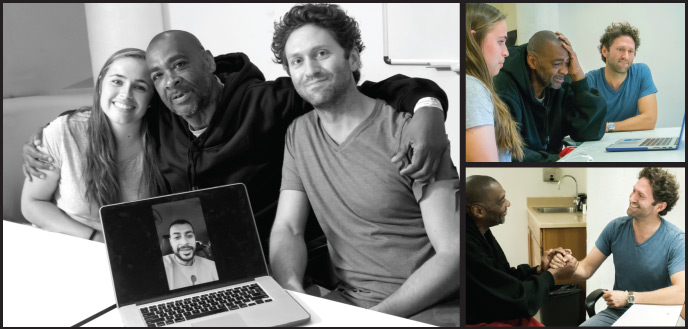 Entrepreneur and sociologist Kevin F. Adler '07 tackles the nation's homeless crisis by rebuilding social support systems and reconnecting loved ones—one Miracle Message at a time.
By Ashley Festa | Photos by Jim Block
Eddie McLeod was a standout basketball player at UNLV, averaging 8 points per game and 5.5 rebounds for the Runnin' Rebels his senior year. Although the 6'8" center never suited up in the NBA after being a ninth-round draft pick by the San Antonio Spurs in 1979, he played hoops overseas and went on to coach basketball in ­elementary and middle schools. Through good times and hard times—and he had experienced more of the latter in recent years—there was one person from his past who was never far from his thoughts: son Darren, whom he hadn't seen for the better part of three decades.
McLeod was staying at San Francisco's largest homeless shelter earlier this year when he met an intern from Miracle Messages named Alexandra Weltman. Weltman helped McLeod record a video message to his long-lost son, then hopped onto Facebook to do some sleuthing. It wasn't long before she located Darren in his native Ireland, who recorded a video reply to his dad—a message that Weltman delivered to McLeod on a subsequent visit to the shelter. In tears, he couldn't wait to record a followup message to Darren.
McLeod got another surprise that day. Miracle Messages founder and CEO Kevin F. Adler '07, who was visiting the shelter as well, realized that McLeod had been his sixth-grade basketball coach.  "I hadn't seen him in 20 years, and here we are getting reconnected," Adler says. "We're all inter­connected."
That's the core of Miracle Messages—recognizing the value of every human being to society as a whole. Over the last three years, the San Francisco-based nonprofit has recorded more than 300 messages, each with the goal of reconnecting homeless people with their loved ones, sometimes after being separated for decades. Almost half have been successfully delivered; nearly all have been positively received. The organization has facilitated dozens of reunions, and more than 30 percent of reunions have led to stable housing.
"We're not just reconnecting people with their loved ones," says Adler, who combines the critical thinking of a sociologist with the drive and resourcefulness of an entrepreneur. "We are reconnecting society to those who experience homelessness."
"If we met at a Christmas party, we know how to begin a conversation," Adler said in a TED Talk last December. "We can look at each other, envision a back story filled with people and possibility, and go from there. Not so much when we see somebody living on the streets. Society has already defined them for us."
Adler dislikes using the word "homeless" to describe people who experience homelessness. "We aren't called 'housed' people, so why are we defining them as 'homeless'?" he asks. "In our society, we define value by who we know, how we look, what we do professionally, where we went to school. But we're so much more than that."
Seeing the inherent value in a group of people who are often overlooked in society, Adler set out to help them become visible again. Having co-founded three edtech startups—alumn.us, a fundraising platform for underserved schools; Entangled Ventures, an edtech incubator; and BetterGrad, an online mentoring nonprofit—Adler saw his smartphone as an opportunity to help reintegrate people who have become disconnected from the world they knew. So he took a walk down San Francisco's Market Street in December 2014 offering warm tea, hot biscuits, and a simple question: "Do you have any family or friends you'd like to record a message to for the holidays?"
One of the men he met that day was Jeffrey Gottshall,
left
, who hadn't seen his family in 22 years. He recorded a video to his sister, niece, and nephew, which Adler posted a few days later on a Facebook group connected to Gottshall's hometown of Montoursville, Pa. Someone tagged his sister within a few hours. After local news picked up the story, Adler says, "messages poured in from former classmates and neighbors who knew Jeffrey and wanted to help." Gottshall is now reconnected with his family after having been listed as a missing person for 12 years.
Emboldened by that success, Adler founded Miracle Messages to scale this work. In September 2016, he was selected as one of 20 participants in the TED Residency program, a four-month, in-house incubator for breakthrough ideas.
While Adler is thankful that the TED program "added legitimacy" to his work with Miracle Messages, he says it was the people he met who enriched his experience. Hailing from a variety of ethnic and religious backgrounds, his fellow TED residents spoke on topics ranging from marine biology to prison reform, fashion to litter removal.
"These people lived the problems they were trying to address. They experienced these things in their own lives in some way. It was personal, not just theoretical," says Adler, whose own uncle (
back row, center
) suffered from schizophrenia and spent 30 years on and off the streets before he died at age 50.
"I never saw him as a homeless man—he was my uncle," Adler says. "He remembered every birthday and was the guest of honor at Thanksgiving. It didn't make sense to me why my uncle might be disregarded by society when he was so important to me."
After his uncle's death in 2003, Adler says, "I started saying hello and having conversations with people in similar situations—to hear their stories and to try to understand their world. What I heard surprised me. Over and over, I heard different versions of the same story: 'I never realized I was homeless when I lost my housing—only when I lost my family and friends.'"
Adler defines homelessness as "the lack of stable housing and the loss of a social support system and sense of belonging"—what he calls the "social home." "Our social support systems shelter us from homelessness," he adds. "So what about for the others?"
Growing up in the East Bay city of Livermore, Berkeley was Adler's dream school, "so I assumed I would go there," he admits. "Then I didn't get in." Adler channelled his frustration into contemplation by writing a letter of appeal and reevaluating some half a dozen other schools he had been looking at—including ­Occidental, where he had applied on the recommendation of a favorite teacher, Ron Nicola (whose cousin, James Sadd, is a professor of environmental science at Oxy).
During a campus visit, he recalls, "I was incredibly impressed by Occidental's diversity, the warmth and intellect of the students I met, and the caliber of the professors and resources. I decided that it would be my school." He returned home to find a big ­acceptance packet in the mail from Berkeley, his 1,235-word appeal having prompted the admissions office to reverse its decision. "I was incredibly grateful," he says, "but I followed my instinct and the words of Mr. Nicola: 'You will do very well at Berkeley or wherever you go. But at Occidental, you will make it your own.'"
A politics major, Adler credits Oxy professor Roger Boesche—who died in May just days after his retirement—as one of the most influential people of his life. In a reference letter for Adler's TED Residency application, Boesche wrote: "In 40 years of teaching, Kevin is the single best student I have ever had. … Watch this man; he is going places."
Of the many lessons Boesche taught him, "Basic decency is where it starts," he says. "You aren't born understanding someone else's experiences. You have to walk over and look over someone's fence, go to a neighbor with a cup of tea in your hand. We need to hear each other's story and build relationships with each other."
Miracle Messages hopes to partner with local service providers to reunite 1 million people—just 1 percent of the world's estimated homeless population—by 2023. The organization is creating those connections all across the country as local chapters are springing up in other cities. In April, Adler earned a one-year, $200,000 grant to launch the first pilot in San Francisco, allowing the organization to help homeless shelters and service providers implement the Miracle Messages resources at their facilities.
Adler is also participating in Mass Challenge, a tech accelerator, in hopes of funding a second pilot in the Boston area. Already, Miracle Messages is in conversation with the office of Boston Mayor Marty Walsh, the Pine Street Inn homeless shelter, and the city's public library system and police department.
Back in the Bay Area, McLeod has been in regular contact with his son since their initial conversation in July, as well as other family members, according to Adler, and they are arranging an in-person visit around the holidays. "Darren plans to surprise Eddie with a special gift for his birthday," he adds.
Reuniting 1 million people will require more than a few partners, but Adler is committed to his mission. "Everyone is someone's somebody—perhaps even someone's uncle," he says in his stump speech. "Maybe we just need to begin with a few simple questions."