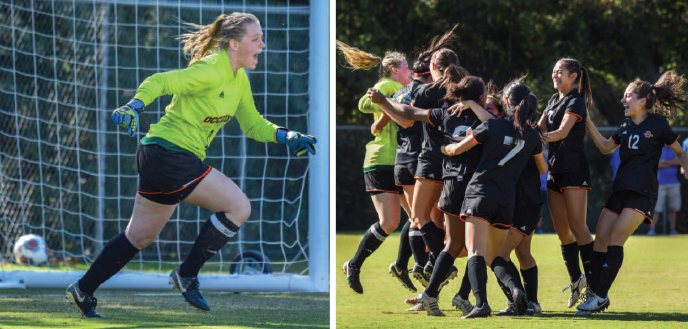 Oxy's stellar soccer squads claw their way into postseason play, topping off an upbeat autumn for the Tigers
It took 110 minutes and a penalty shootout, but the women's soccer team secured its first trip to the NCAA Division III Playoffs with a road win over Pomona-Pitzer on November 3. In notching its first SCIAC Tournament championship in program history, Oxy improved its record to 10-2-5 overall (8-2-4 in conference play). The third-seeded Tigers advanced to the championship game with a 2-1 victory over Cal Lutheran on October 31.
Nicole Castro '19, Kialani Mackey '21, Katherine Kim '19, Grace Hildner '22, Karla Alas-Lopez '20, and Elleni Bekele '20 all scored for the Tigers as Oxy went 6 for 6 in the shootout. The Sagehens missed their final shot high, sending the Tigers storming onto the field in victory. "It was an unbelievable team effort with grit, character, and a team spirit that is the heart and soul of champions," said Oxy head coach Colm McFeely.
The Tigers played their way into the SCIAC tournament with a 1-0 win at Claremont-Mudd-Scripps on October 27, finishing the regular season tied for second place. Senior captain Castro, a kinesiology major from Mill Creek, Wash., headed in the game's only goal to lead McFeely's squad to its first tournament appearance in eight years.
The Tigers surrendered only four goals in 14 regular-season conference matches, recording 11 shutouts along the way. "Our defending record has rightly gotten plenty of attention," McFeely says. "But it's not just our defenders—it starts from our front players having a defending mentality and attitude immediately after the ball is lost."
The Tigers traveled to Abilene, Texas, to face 13th-ranked Trinity University in the first round of the NCAA Division III Playoffs on November 10, losing 1-0 to end "a tremendous season and a great experience for all involved," McFeely says. "This team produced week after week and there's more to come."
clinched their spot in the playoffs, Oxy's men's soccer team came up a little short in their bid to follow suit, falling 1-0 to Chapman in the SCIAC Tournament champion­ship game at Jack Kemp Stadium. The Tigers (14-6 overall, 10-4 conference) had taken down the Redlands Bulldogs with a 1-0 road victory in the SCIAC semifinals to advance to their first SCIAC Tournament final. Playing just hours after the women
Riding high on an MVP-caliber season by senior forward Liam Walsh, left, Oxy found its way back to the tournament for the first time since 2015 with a 2-1 home win over Chapman on October 17. With 5:36 left in double overtime, the economics major from Washington, D.C., nailed a brilliant free kick from 20 yards out, sending eighth-year head coach Rod Lafaurie's Tigers to victory.
Walsh, who led the SCIAC with an incredible 15 goals and shattered Oxy records for single-season (17) and career (31) goals, sent Oxy into its final game against Claremont-Mudd-Scripps with a chance to snag a share of its first regular-season SCIAC title in the program's 51-year history. But a foul in the box and a William Birchard penalty kick in the 94th minute gave the Stags a 1-0 road victory on October 27. 
was cut short due to a depleted roster, Occidental's football team scrapped its way to a 20-0 season-opening win over CETYS University in Mexicali, Mexico, on September 1.  Nearly one year after its season
The Tigers' 2018 debut—the first time an American team had travelled to Mexico to play the CETYS Zorros on their home turf—was the product not just of a long bus ride but a months-long effort to overcome adversity and get back on the field.
The Tigers opened up a 13-0 lead with a pair of scores early in the first quarter. Junior quarterback Joshua Greaves, an economics major from Granada Hills, threw for a pair of touchdowns in the game, and the Tigers' defense mustered its first shutout since a 30-0 victory over La Verne in 2010.
In conference play, though, wins proved to be elusive. Especially tough was a 28-13 loss to Whittier in the "Battle of the Shoes," as the Poets snapped a Division III-leading 33-game skid dating back to October 2014. But Rob Cushman's team showed improvement as the season wore on, yielding fewer than 30 points in three of its seven conference games and persevering through the schedule with the youngest Tigers squad (26 first-years and 10 sophomores out of a 46-player roster) in school history.
Among the standout performers for Occidental was linebacker Jackson Caudle '20, above. The ­biology major from Tehachapi was named SCIAC Defensive Player of the Week following a 10-tackle game (including eight solo tackles) against Claremont-Mudd-Scripps on October 20.