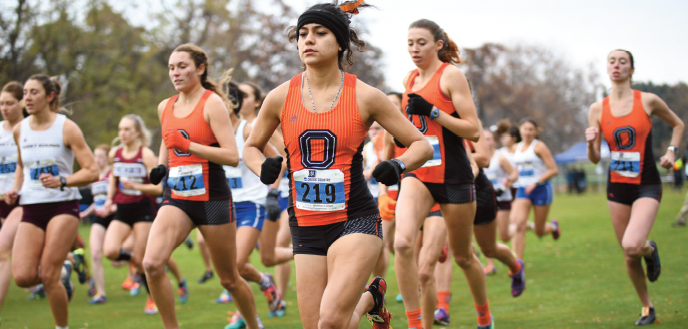 First Team SCIAC honors for Roxanne Valle '19 (women's cross country) and Brody Barkan '19 (men's cross country), and other fall sports standouts
Roxanne Valle '19 finished 10th overall (24:21.4) in the 6K for First Team All-SCIAC laurels to lead the women's cross country team to a third-place finish at the SCIAC Championship at Prado Park on October 27. Aria Blumm '19 finished 13th (24:32.1) for Second Team honors. Earlier in the season, Valle (a physics major from Azusa) was named SCIAC Women's Cross Country Athlete of the Week after  leading Oxy to a seventh-place finish out of a field of 30 teams that included UCLA and USC at the Master's Invitational 5K in Santa Clarita on September 29.
Men's cross country had an impressive showing at the SCIAC Championship, finishing second overall at Prado Park on October 27. Thomas Robertson '20 (third place in the 8K, with a time of 26:29.1), and Brody Barkan '19 (eighth, 26:43.1) earned First Team All-SCIAC honors, while Charles Sheh '22 (18th, 26:56.4) landed on the Second Team. "The men stepped up in a big way," says head coach Rob Bartlett. "They trained hard, they prepared well for this meet, and they performed when they had to. Finishing second is a very nice accomplishment."
Women's volleyball closed out the 2018 season October 27 with a 3-0 sweep of Caltech on senior day. Oxy celebrated the careers of seniors Sabrina Degnan, Allie Sundara, Hannah Wagner, and Michelle St. Louis with a brief pregame ceremony. Head coach Heather Collins' Tigers finished the season at 8-16 overall (3-13 in SCIAC play).
A rapidly rebuilding men's water polo team finished the year with 12 victories, its best overall total since 2008. In their last game November 10, the Tigers defeated La Verne, 11-10, on the road for their second SCIAC win of the season. Head coach Jack Stabenfeldt '14's squad graduates only one senior (Alexander Zim '19), giving Oxy a firm foundation for 2019.