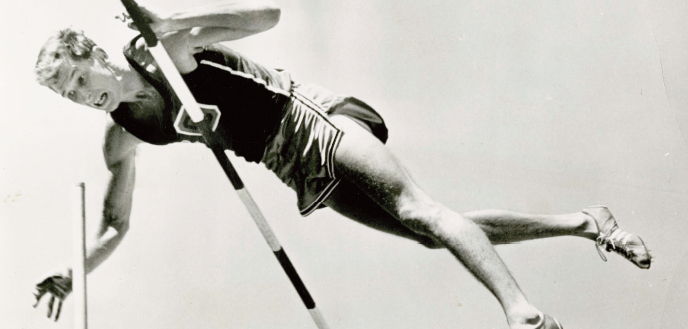 Responses to our trivia quiz, tales of Professor De Rycke, and how education at Oxy—and the United States—has changed over the last 70 years
So You Think You Know Oxy?
I scored an embarrassing five right, three lucky guesses, and 41 wrongs on your quiz ("Trivial Pursuits," Summer). I did get all of the answers on question 37, though, because I was able to see three of the acts listed (Roto, Ravi, and Linda). Without a doubt, though, the best band I ever saw at the Quad was Danny Elfman's Mystic Knights of the Oingo Boingo. Even then you could sense Danny was headed for a much-heralded career.
Mike Padian '76
Rancho Santa Margarita
Dazzling Days
As a pole vaulter myself, I couldn't help appreciating that nice photograph of Bob Gutowski '58 in your excellent Summer issue. In the '50s and '60s we produced not only NAIA- and NCAA- but Olympic-caliber track and field athletes. Five of my teammates held world records! I just wrote a poem about those idyllic days:
Oh, for track and field's incomparable '50s and '60s,
With its convergence of world-class athletes
In a golden land of orange groves and avocados,
Empty freeways, blue skies and sea,
Bodies with gifted potential,
Unknown even to ourselves.
Ah, to rub shoulders with other comrades
Energized our impressionable spirits.
But now we are all scattered.
The sun is setting on our glories.
Most of us don't run, jump, or throw anymore,
Except perhaps carefully, with grandkids.
Those of us still standing, cherish those victories, 
The ecstatic roar and swelling of emotions,
As those fiery waves
Roll on the sand of memory.
Ed Crouch '60
Seattle
No Huddle? No Problem
Trivia quiz was superb! However, I was somewhat surprised that a question referencing football coach Chuck Coker's introduction of the "No Huddle Offense" was missing. It was quite a big deal at the time.
Don Sumner '64
Pasadena
Sister Schools
Having majored in economics and having spent my entire career at the Federal Reserve Board, I was pleased to learn that every year for the last 19 years, economics has been the most popular major at Occidental ("Economies of Scale"). So now there's the London School of Economics and the Eagle Rock School of Economics!
Kay Oliver '72
Washington, D.C.
The Paper Chase
The picture of Laurence De Rycke on the contents page (Summer) brought back a flood of memories. I majored in economics and mathematics at Oxy, and I had De Rycke for International Trade in the fall of 1968. He was unlike any other professor I had the pleasure of knowing. 
De Rycke locked the classroom door when class began. No late admissions. Class exams were unannounced, closed book—our first exam was Oct. 31, 1968: Hallo­ween! He required a research paper; we students were required to go to the econ department secretary and give her a number. The research papers were to be turned into the department with only this number as indication of who wrote it. De Rycke did allow us to turn the paper in a number of times before the official due date. I wrote a paper, turned it in a week or so early, and was crushed by the sea of red ink on the paper, with the attendant message, "If this is your best effort you better see me." 
I went to De Rycke's office; the gist of our conversation was that my writing was unclear, rambling, and didn't really address the topic at hand. He told me, "Look, No. 17, you have to provide economic foundation for your assertions." I took his advice and worked on a mathematical characterization and organized the paper around that idea. I eventually earned an A on the paper.
James D. Brownlow '70
Palmdale
A Gentleman's C
Carol (Crothers) Finch '45's class note (Summer) brings back memories of my days at Erdman in the Marine Corps. Bob Finch '47, Gene Evans '47, Harold Dunn '46, and I were all Kappa Sigmas and had lady friends. Finch and I eventually married them—he to Carol and I to Shirley Dokken '46. 
In regard to economics professor Larry De Rycke: On one of his exams, he asked us to discuss a book he had assigned. I had not read the book, but instead of giving me an F—which I deserved—he let me take a makeup exam and gave me a C. That may have kept me at Oxy vs. Iwo Jima. I have been most grateful to him and his memory.
John D. Jorgenson '47
Portola Valley
Constitutional Crisis
I'm a World War II vet who experienced a united America absolutely dedicated to win against our three distant world enemies. Rosie the Riveters, schools with ROTC programs, and companies all working hard with bond drives and production to bring about our eventual victory—with many brave women and men dying. Since then I've watched our country slowly but surely struggle to retain our heritage, which our forefathers fought diligently to preserve.
Years ago, when I read that Herrick Memorial Chapel had been converted to an all-faith gathering place in order to attract more non-Christian students to Occidental, I became incensed that a historically Presbyterian college would do such a thing.
More recently, I read about the Obama Scholars Program and the plan to bestow up to 20 Oxy students with scholarships each year. I'd be willing to bet there will soon be at least one or more non-Christians given Obama Scholarships.
What does this all boil down to? It's the tremendous and continued threat to our Christian-based U.S. Constitution in our schools—from high schools and especially colleges that teach our young'uns all the anti-American philosophies we've been experiencing for many years. If this sad result is what academia is indeed accomplishing, then Obama was right in 2007, when he declared that America is "no longer a Christian nation."
A. Richard Apple '51
Lompoc