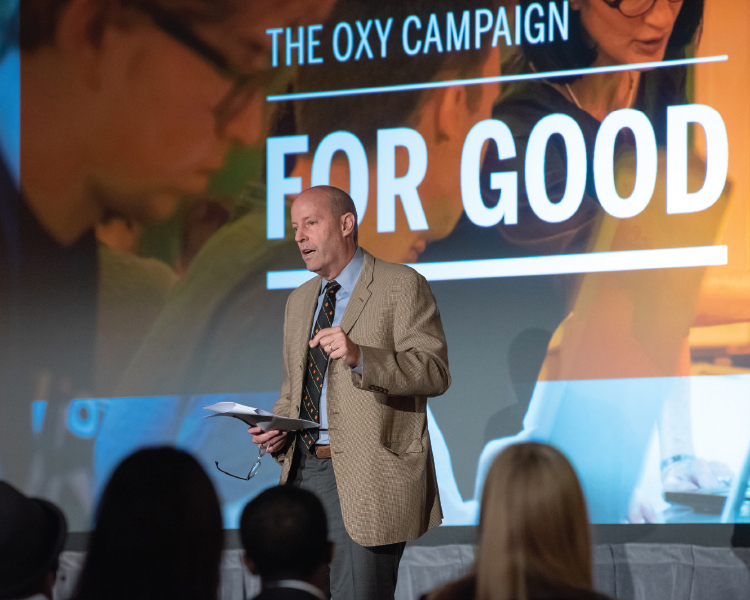 Presidential Search Committee narrows field to five, with an announcement expected in mid-February
The field of candidates to become Occidental's 16th president has been narrowed to five "exceptional and accomplished" individuals by the 21-member, multi-constituent Presidential Search Committee.
If all goes as planned, the committee will submit the names of two or three finalists to the Board of Trustees to make a final decision at its next meeting January 26. "It likely will be mid-February, however, before a public announcement can be made," committee co-chairs Coit "Chip" Blacker '72 and Wendy Sternberg, vice president for academic affairs and dean of the College, wrote in an email to campus November 1.
The committee was formed after Jonathan Veitch announced in February that he would be stepping down in June 2020 after 11 years as president. With faculty, staff, student, trustee, and alumni representatives, the committee has been working with Boston-based Isaacson, Miller, a national executive search firm with higher education expertise, to identify and screen candidates.
Last spring the committee held a series of listening sessions and circulated an anonymous online survey to gather input from the campus community about its priorities and what qualities it would like to see in Oxy's next president. "In consultation with faculty and students, we designed this process from the start to try and ensure that we got as much input as possible from the entire community," Sternberg says.
The initial field of candidates was narrowed to a short list of 10 individuals, all of whom were interviewed by the search committee in November. The five semifinalists are scheduled to participate in a second round of interviews in December. While each of the five semifinalists will participate in a full day of interviews, the candidates will not be participating in open campus forums during their visits, a decision announced at the start of the process. "The committee will be open and transparent to the greatest extent possible, but the world has changed since our last presidential search," Sternberg says, citing the ubiquity of social media. "We need to take seriously our obligation to protect the privacy and confidentiality of candidates and give the College the chance to attract the highest caliber candidates."
To broaden the input into the process, the December interviews will include 11 additional members of the campus community drawn from students, faculty, and staff.
Visit oxy.edu/presidential-search/news-updates for details on the search process and committee membership.
» In two separate elections overseen by the National Labor Relations Board over a recent six-month period, adjunct faculty and a group of Oxy administrative and support staff across multiple departments have voted to unionize. A majority of both groups chose to be represented by Service Employees International Union Local 721, the Los Angeles-based local that represents more than 95,000 public sector employees.
Following both elections, College officials promptly announced that they would respect the outcome and bargain in good faith. "The faculty are at the heart of the educational enterprise at Oxy," Dean Wendy Sternberg said after the adjunct faculty results were announced May 14. "Our students don't distinguish rank and title in the classroom, and it is the faculty-student relationship that is fundamental to the Occidental experience."
Amos Himmelstein, chief operating officer, struck a similar note after the results of the staff election were made public September 9. "Oxy staff across all departments have been and will be vital to carrying out the mission of the College. Regardless of what the final vote results were, the College will continue to develop stronger connections with staff."
Roughly 110 adjunct faculty make up one bargaining group; approximately 80 staff members are included in the other. Oxy's facilities management and hospitality services staff has been represented by Teamsters Local 911 for decades.
» Occidental maintained its No. 39 ranking among national liberal arts colleges in U.S. News & World Report's 2020 Best Colleges survey. In competing college guide rankings, The Wall Street Journal/Times Higher Education listed Oxy No. 36 among U.S. liberal arts colleges, while Forbes ranked Oxy at No. 38.
Occidental receives four-star ratings for academics and quality of life from The Fiske Guide to Colleges, and ratings of 91 for academics and 96 for financial aid from Princeton Review's The Best 385 Colleges. Oxy also appears on U.S. News'and Kiplinger's "Best Values" lists. 
Track and field and volleyball standout
Sabrina Degnan '19
was among 30 semi-finalists nationwide for the NCAA Woman of the Year Award. A psychology major from Atascadero, she is the first Oxy athlete to be among the NCAA's Top 30 and was recognized with her peers at the NCAA's awards dinner in Indianapolis on October 20. Degnan was a national qualifier in the javelin, won multiple SCIAC championships in both the hammer and javelin, and was named the SCIAC Field Athlete of the Year in 2019.