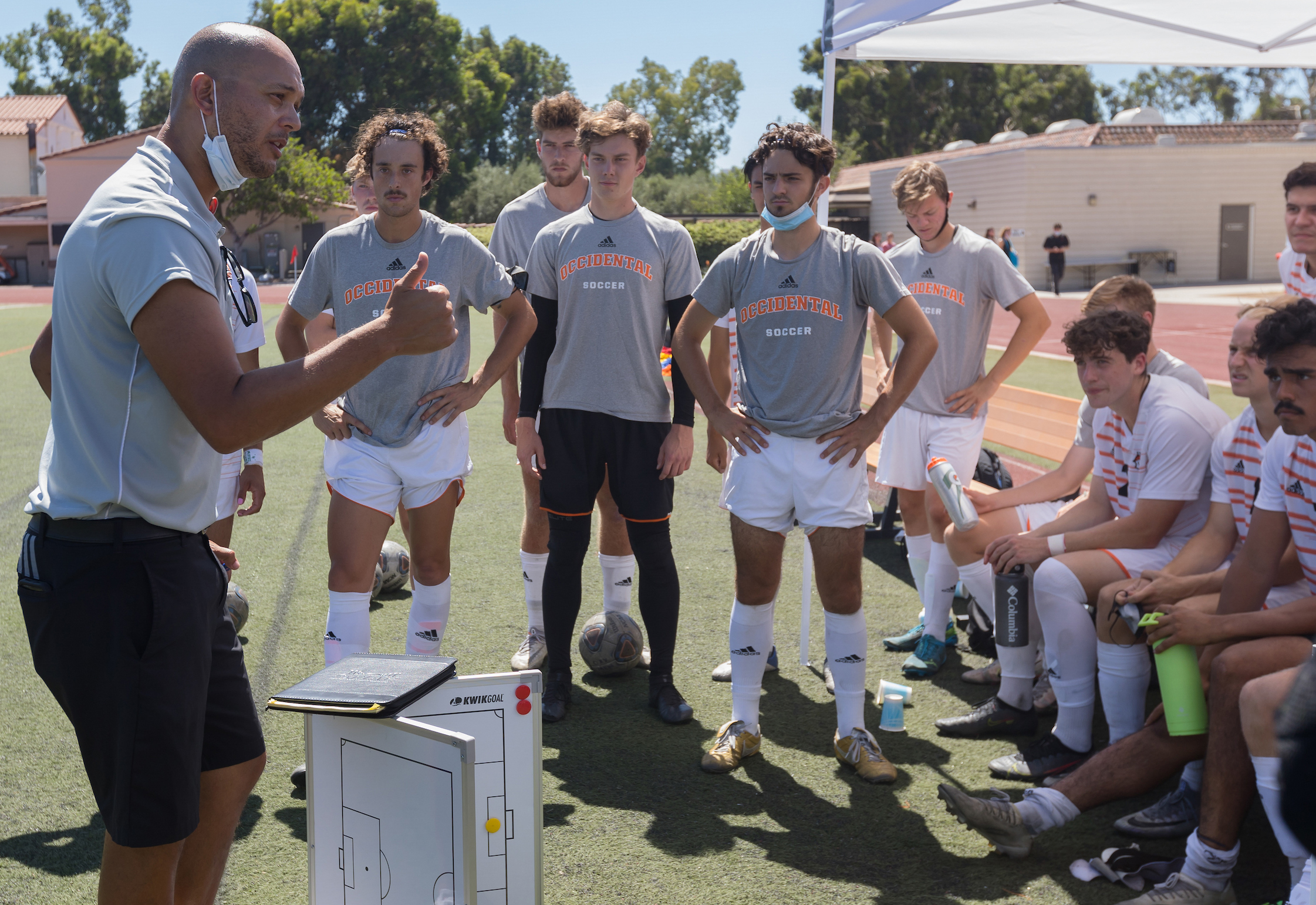 Oxy's coaches are more than excited to return to in-person interactions with their players—to say nothing of getting back into competition 
After a year of texts, emails, phone calls, and training over Zoom, Oxy's coaches are more than excited to return to in-person interactions with their players—to say nothing of getting back into competition, Prior to the start of the school year, we checked in with them by email (pandemic habits die hard) to discuss the role of sports in the life of an Oxy student-athlete.
What characteristics do you look for in a student-athlete?
Heather Collins, volleyball: I look for a true competitor. Of course, we all look for a pure athlete with great talent; however, I seek out the player in the gym that never lets a ball hit the floor, goes after everything, and is hungry all of the time.
Kelliner Croushore, softball: Talent on the field is important, but in addition to that we look for high-integrity people, who have worked hard, accomplished multiple goals, and have made it a habit to succeed. I look for the intangibles: How are they going to affect the dugout or the locker room? I want players that will combine an Oxy education and the experience of being a collegiate athlete into alumnae we are proud to call Tigers for life.
How do you measure success beyond the scoreboard?
Colm McFeely, women's soccer: Seeing student-athletes grow and mature over their four years with the program is truly rewarding. Leadership development, a team-first mentality and a willingness to leave everything on the field for your teammates and your school is success whatever the scoreboard says.
Anahit Aladzhanyan '07, women's basketball: By how hard we work, how well we work together, and how much we improve. It's all about the process and staying in the moment and giving each moment your best.
Luke Wetmore, baseball: Wedding invitations, baby photos, and recommendation requests.
What advice do you give student-athletes in striking a balance between the classroom and competition?
Jack Stabenfeldt '14, water polo: Early in the recruiting process, we make it clear that being a student-athlete at Oxy is challenging. There's no shortcut here, and it requires a strong will to be responsible and disciplined. The next thing we discuss is an understanding of prioritization. Academics is always priority one, and water polo is priority two. This helps the coaches and players navigate the season more effectively.
Rod Lafaurie, men's soccer: It's easier to strike a balance when you have a sport, and if you don't want that challenge, then this is not for you. Maybe it was because it was my last semester of college, but I can assure you that the worst GPA I had as a college student was my second-semester senior year when I didn't have regular practices and games while I was preparing for my professional soccer career. So I would make a strong argument that playing sports aids in striking a balance, rather than hindering them.
Rob Bartlett, track and field and cross country: If you are admitted to Occidental, there is no reason you can't excel in the classroom and as a student-athlete. Holding yourself to that standard won't always be easy, but it is possible and ultimately incredibly rewarding.
Will Morris, golf: I want our student-athletes to have a special college experience—the ability to expand their horizons, get to explore and experience all the opportunities Occidental provides and that we are fortunate enough to have because of our location. We are located in, and an integral part of, one of the great cities in the world.
In your experience, how do student-athletes benefit from playing sports at Oxy?
Hannah Khin, women's lacrosse: They have a family in Los Angeles the minute they step on to campus. Many of our players come from all over the country so it's great having a group of people who they know are there to help support and cheer them on both on and off the field.
Brian Newhall '73, men's basketball: They grow as people. We are the best classroom on campus.
Top photo: Men's soccer coach Rod Lafaurie, left, talks to his players during the Tigers' September 12 contest vs. Birmingham Southern. Photo by Sam Leigh.