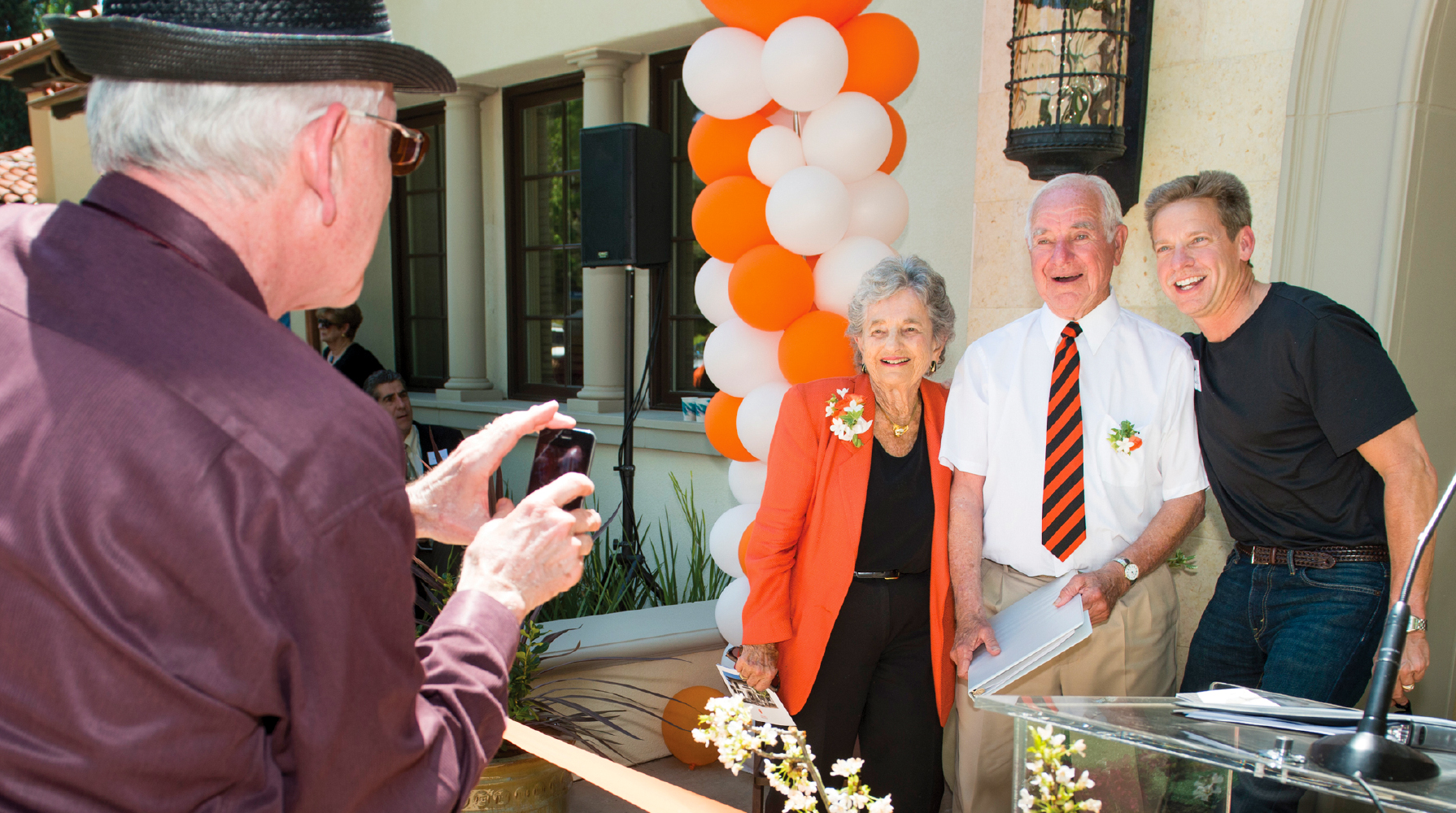 Perpetuating the architectural legacy of Myron Hunt's master plan for campus, Jack Samuelson '46 brought his own flair to more than two dozen projects at Oxy
When Jack Samuelson '46 was awarded an honorary doctorate from Occidental in 1997—half a century after belatedly completing his degree in mathematics following World War II—he had a very exacting vision for what his Commencement robe should look like. "Consistent with the desire for special design details in any work that I do, I had expectations for the robe of a Doctor of Science—I wanted orange piping on each sleeve," he wrote in his 2003 memoir, The House That Jack Built. He had "a heck of a time" finding someone to make it, until his favorite seamstress, daughter Lisa, "came to the rescue —and she did it so well that the doctors on the faculty at Occidental were envious!"
The Samuelson touch echoes throughout the Oxy campus, perhaps nowhere more than in the alumni center named for him and wife Sally Reid Samuelson '48. Built on the former site of the Omega Kappa Chapter of Phi Gamma Delta fraternity house, opposite the main entrance to the College, the building brims with details sprung from his imagination, from the playful tile that accents the countertops and chairs to the twin tigers etched into the glass double doors at the front entrance. "We built it to last 100 years," Samuelson said at the Samuelson Alumni Center's dedication on April 20, 2012.
Samuelson nearly lived to see his own cententary, dying July 17, 2022, at age 97. A native of Los Angeles, he enrolled at Oxy after graduating from Hollywood High School. "Out of my dreams, I walked through the ornamental gates onto a beautiful campus in September 1942, and began what would become a lifetime love affair with this wonderful college of the West," he wrote in 2012. "It was here I came to study math, physics, and economics; but more importantly, I also came to understand and appreciate the student honor code, delve into ethics, philosophy, and Judeo-Christian theology, and develop an appreciation of the arts."
His studies were interrupted in August 1944, when he attended Naval Officers Training School at Cornell University. He reported to the USS Louisville as a gunnery officer in January 1945, completing his service 18 months later. Returning to Oxy in the fall of 1946, he met his future wife, Sally, in a philosophy class taught by Cyril Gloyn '27. (The couple was married for nearly 72 years at the time of her death in 2020.)
In 1946, Jack and his younger brother, Bob, founded Samuelson Brothers (known today as Samuelson Partners) to engage in general construction and commercial development. The firm worked on hundreds of projects, including office buildings, schools, churches, shopping centers, manufacturing plants, athletic stadiums, and residential communities in California and Arizona.
On the Oxy campus, Samuelson was instrumental in more than two dozen construction projects, including the building of Booth Hall, Herrick Memorial Chapel and Interfaith Center, Rush Gymnasium, the Arthur G. Coons Administrative Center, Keck Theater, Mullin Family Studio and Art Gallery, and Samuelson Alumni Center, as well as renovations to a host of Myron Hunt-designed buildings, including Johnson, Norris, Weingart, and Thorne halls, Johnson Student Center, and Samuelson Pavilion. (Samuelson's last building project for Oxy, a veterans housing complex near campus, was completed in 2019.)
The conversion of the old Art Barn and Women's Gymnasium into Samuelson Pavilion embodied Samuelson's approach to his work. "Once again, this was a building no one thought could be successfully renovated … it was scheduled to be torn down," Facilities Management Associate Vice President Larry Klumas wrote in 1998. "Jack's creativity and building expertise saved the whole enterprise."
Samuelson joined the Board of Trustees in 1974, chaired the Buildings and Grounds Committee for 13 years, and served as national chair of the College's Compass for a New Century Campaign from 1992 to 1997. In addition to his honorary degree, he received the Alumni Seal Award in 1983 and the Alumnus of the Year award in 2011.
In addition to his service to Occidental, Samuelson was a past chairman of Hollywood Medical Center and YMCA of the Foothills, and past president of the La Cañada Unified School District board. He served on the boards of several nonprofit housing companies, including Southern California Presbyterian Homes, Beacon Affordable Housing (which Jack and Bob co-founded), and Keystone Housing Enterprises. "His commitment to affordable housing, in particular, had profound impact," said John Cochrane III, president and CEO of HumanGood, a Glendale-based nonprofit organization providing housing, healthcare, and support services for seniors.
Jack Samuelson is survived by his children and their spouses, including Reid Samuelson '72 and wife Joyce (Todd) '74; Lisa (Samuelson) and husband Chuck Paugh; Laura (Samuelson) '77 and husband Kevin Murphy '79; and David Samuelson and wife Michelle.
Six by Samuelson: His Occidental Best
Prior to the dedication of Samuelson Alumni Center in 2012, Jack Samuelson worked with the Office of Alumni Relations on a display case for the lobby. In addition to the Samuelson Center, he chose his six favorite Oxy projects spanning more than 50 years of work for the College.