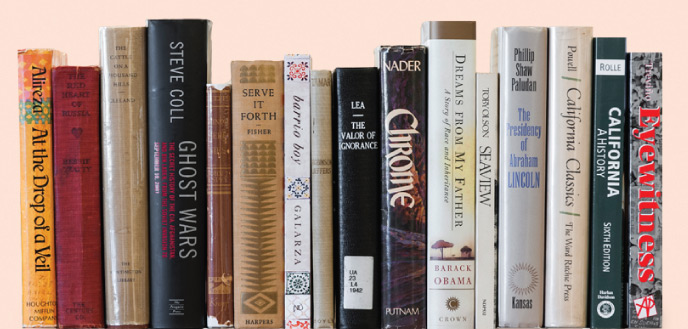 Oxy alumni have published hundreds (if not thousands) of books in just about every genre you can download. Here are 18 for the ages 
The Valor of Ignorance (1909) by Homer Lea 1900. Lea's book about the inevitability of military conflict between America and Japan—the title sarcastically refers to the blindness of U.S. foreign policy—was dismissed at home but reportedly sold 84,000 copies in Japan. After the 1941 attack on Pearl Harbor, it was reissued with fulsome new introduction by Clare Boothe.
The Red Heart of Russia (1919) by Bessie Beatty 1907. "I had been alive at a great moment, and knew it was great." Beatty provides an eyewitness account of the 1917 Russian Revolution, based on her dispatches as a foreign correspondent for the San Francisco Bulletin.
Tamar and Other Poems (1924) by Robinson Jeffers 1905. Jeffers' third volume of poetry established his reputation as one of America's best new poets. Even so, it was originally ignored upon its publication. East Coast reviewers discovered his epic poems in an expanded edition that was issued the following year.
The Cattle on a Thousand Hills: Southern California 1850-1880 (1941) by Robert C. Cleland 1907. Cleland's pioneering account of Southern California's transition from a Mexican cattle frontier to an agricultural American community on the eve of great urban expansion remains in print. (Cleland also wrote the first History of Occidental College, published in 1937.)
The Gastronomical Me (1943) by M.F.K. Fisher '31. Published six years after Serve It Forth put Fisher on the map with her essays about "eating and about what to eat and about people who eat," The Gastronomical Me is regarded by Fisher enthusiasts as her most personal and lasting volume.
Minor Heresies (1945) by John Espey '36. Drawn from a series of arch reminiscences of his Shanghai childhood originally published in The New Yorker, Espey established his literary reputation with this first book.
California: A History (1963) by Andrew Rolle '43. Rolle was named the Robert Glass Cleland Professor of History at Occidental in 1965, not long after the publication of this book, now the standard one-volume history of California. Currently in its seventh edition, it has sold more than 100,000 copies.
Barrio Boy (1971) by Ernesto Galarza '27. Recently reissued in a 40th-anniversary edition by the University of Notre Dame Press, Galarza's childhood memoir has become a classic of American immigration and acculturation.
California Classics: The Creative Literature of the Golden State (1971) by Lawrence Clark Powell '28. Powell notes in his preface that "active work" on his book—drawn from a series of columns he wrote for Westways—"began in 1967, although I have been preparing for it all my reading life, which began about 1912." It's now a classic itself.
Chrome (1978) by George Nader '43. Winner of a Golden Globe in 1955 for Most Promising Newcomer, Nader turned from acting to writing following an eye injury in the 1970s. Chrome shattered science fiction boundaries by depicting a homosexual love affair between a man and a robot.
Seaview (1982) by Toby Olson '65. Olson's second novel begins in California and follows three men and two women on a cross-country trek to an apocalyptic confrontation at a golf course on Cape Cod. Winner of the PEN/Faulkner Award for American fiction in 1983, Seaview was reissued by Hawthorne Books in 2007.
At the Drop of a Veil (1991) by Marianne (Likowski) Alireza '43. In 1945, Alireza left her old life behind in California when she married a wealthy Saudi citizen. She spent the next 12 years in an extended family alongside her mother-in-law, sisters-in-law, children, and servants. Her memoir recounts her life in Saudi Arabia and her daring escape with her children.
The Presidency of Abraham Lincoln (1994) by Phillip Paludan '60 M'63. One of the country's leading Lincoln scholars before his death in 2007, Paludan won the 1995 Lincoln Prize awarded by Gettysburg College for this, his fourth book on Lincoln and the Civil War.
The Zone (1998) by Barry Sears '68. The only Oxy biochemist to become a best-selling author, Sears turned this blockbuster diet book into a franchise, spawning a dozen sequels that have sold 5 million copies and been translated into 23 languages.
Eyewitness: A Filmmaker's Memoir of the Chicano Movement (2001) by Jesus Salvador Treviño '68. With a director's eye for detail, Treviño recounts the strikes, struggles, boycotts, walkouts, and milestones that resulted in the largest social and political movement in the history of Latino communities in America.
Queen Bees and Wannabes: Helping Your Daughter Survive Cliques, Gossip, Boyfriends, and Other Realities of Adolescence (2002) by Rosalind Wiseman '91. Tina Fey adapted Wiseman's New York Times bestseller into the hit 2004 comedy Mean Girls starring Lindsay Lohan.
Ghost Wars (2004) by Steve Coll '80. While holding down a day job as managing editor of The Washington Post, Coll found the time to write this news-breaking account of the CIA's involvement in the covert wars in Afghanistan that fueled Islamic militancy and gave rise to al Qaeda. Ghost Wars earned him his second Pulitzer Prize.
Dreams From My Father: A Story of Race and Inheritance (2004) by Barack Obama '83. En route to becoming the first African-American president of the United States, Obama published this best-selling memoir, which includes a chapter on his formative years—both of them—at Oxy.