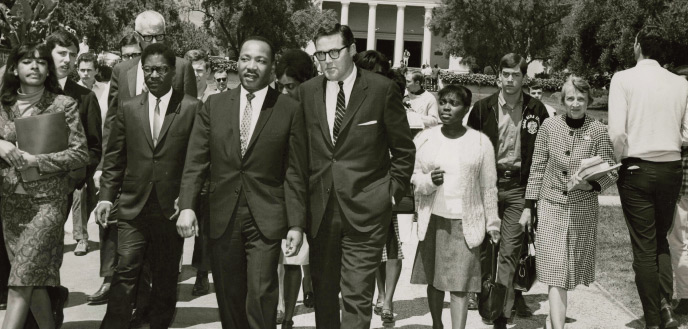 As Oxy honors Martin Luther King's legacy through community service, President Richard Gilman remembers King's historic 1967 visit to campus
Hundreds of students, faculty, alumni, and staff fanned out to more than 20 locations across Los Angeles on January 28 as part of the College's annual Martin Luther King Jr. Day of Service. From weeding and planting gardens to working phone banks and canvassing neighborhoods, "We are honoring the great work of Dr. King by forming sustainable relationships with community organizations," explains Ella Turenne, director of the College's Office of Community Engagement, which organized the daylong event.
As part of this year's ceremony, students listened to audio from the address given by King in Thorne Hall during his visit to campus on April 12, 1967. Occidental played host to King at the invitation of President Richard C. Gilman, who undertook a number of initiatives early in his presi­dency (1965-88) to address the emerging presence of minority students on the Oxy campus. "Efforts to introduce diversity in the student body at Occidental had begun in the early 1960s, and even earlier, but they were both limited and sporadic," Gilman wrote in 2003. "In the desire to raise awareness to a higher level, I decided to seek out Dr. King, then pastor of the Dexter Avenue Baptist Church in Montgomery, Ala., and widely recognized as the foremost civil rights leader in the country, to speak on campus."
Gilman's letter, written in July 1966, extended an open invitation to accommodate King's schedule. When he spoke to a packed Thorne Hall the following April, King addressed "The Future of Integration." He recounted the legal history of the system of segregation dating back to 1896, and the Supreme Court's Plessy vs. Ferguson decision that "established the doctrine of Separate but Equal as the law of the land." That decision was overturned by the court on May 17, 1954, heralding the modern civil rights movement.
Nearly 13 years later, King told the Oxy audience, "Our music, our language, our material, our cultural patterns, and even our food, are an amalgam of black and white. … Yes, we are tied together in a single garment of destiny, caught in an inescapable network of mutuality." It seems only fitting, then, to honor King's legacy by bringing the College closer to the surrounding community, building toward a common dream.