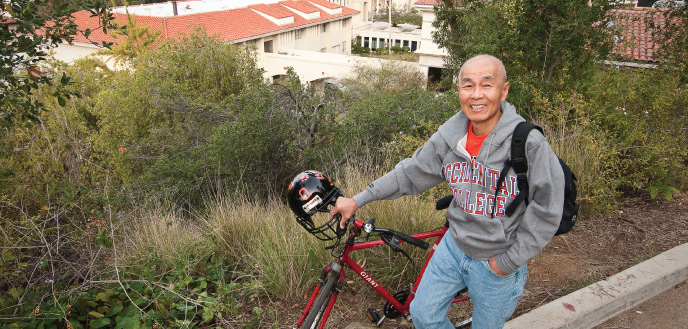 "Cosmic time is the same for everyone, but human time differs with each person. Time flows in the same way for all human beings; every human being flows through time in a different way."— Yasunari Kawabata
Tetsuo Otsuki, Occidental's Bertha Harton Orr Distinguished Professor of Chemistry and a beloved colleague, teacher, mentor, and friend, died in his sleep on March 14 after a yearlong battle with cancer. He was 69.
"He died as he wished—in his own bed, with family and friends nearby and his dignity intact," Dean Jorge Gonzalez wrote in a message to campus. The Occidental flag flew at half-staff the next day in his memory, and his ashes were scattered over the Pacific Ocean.
Otsuki, known to everyone as "Dr. O," was diagnosed in February 2011 with multiple myeloma—cancer of the blood cells. He fought the disease with the help of oncologist Dr. Len Farol '94 and others, and his battle against the disease and his remission was chronicled last issue ("Second Opinion").
"He changed my life," Farol says. "I don't think he ever realized what he did for me. He took an immigrant child and helped him, and I wouldn't be where I am today if it ­wasn't for his support."
Over the last 25 years, Otsuki influenced the lives of hundreds of students who found him a demanding but supportive teacher. Upon news of his passing, tributes and memories of Dr. O flooded Oxy's Facebook page.
"His joy in life and his love and passion for chemistry touched many lives," says Veronica Torres-McLane '96, a second-grade teacher in Los Angeles. "The ways in which he challenged me as my professor have impacted my love for science and the passion I want to instill in my own students."
Otsuki's prognosis took a turn for the worse in January when the cancer, a particularly virulent strain, returned. After several procedures in February, including spinal surgery to remove a tumor, Otsuki declined further medical treatment. He entered hospice care and returned home March 3.
The next day, close to 200 people came to Otsuki's Pasadena house to pay their respects. The line of well-wishers stretched out the front door, across his tidy frontyard, to the end of the street. Otsuki was energetic, charming, and in good humor, reassuringly holding the hands of colleagues, alumni, and students, and even high-fiving one visitor. A steady stream of friends and family continued to visit Otsuki in his final days.
Otsuki continues to give to the College. Former students are working to establish an endowment in his honor for the College's Undergraduate Research Center. And shortly before his death, he established the Dr. O Humanitarian Award Fund to recognize Oxy administrators, staff, and alumni who have worked hard to improve the College.
"He believed strongly that the essence of a liberal arts college was the quality of its community. He embodied those qualities with a level of devotion and thoughtfulness that is truly unmatched," says Occidental President Jonathan Veitch. "He was a great friend, a good colleague, and a remarkable person. We'll miss him deeply."
Carolyn Adams, executive secretary to Dean Gonzalez and one of Otsuki's closest friends, says the award reflects his sense of nurture, strong will, and loyalty to Oxy. "He gave his all to the College," she says.
The unconventional award reflects an unconventional man. He bicycled to work in the pre-dawn hours wearing an Oxy football helmet (he was a tireless booster of the Tigers). Other loves, in no particular order: baking (he made chocolate-chip cookies for his students before every exam), Audrey Hepburn (photos of the actress lined his office), knitting ("It's a girly thing, but I find it very relaxing"), and growing roses.
Otsuki was born in Kyoto, Japan, on April 23, 1942, the youngest of three siblings. The son of a high school principal and a schoolteacher, he received his bachelor's, master's, and doctoral degrees in chemistry from Kyoto University.
Otsuki left Japan as a young man to stake his career in the United States despite few professional connections and a shaky grasp of English. Before arriving at Oxy in 1986, he taught stateside at the University of Chicago and Southern Illinois University. His success came in large part from his tenacity and hard work. "He was a consummate scholar and perhaps the most dedicated person I've ever known," says close friend and former colleague Wayne Bolen, professor emeritus at the University of Texas, Galveston.
Otsuki's mind was clear to the end. Days before he died, he wrote to his friends in a clear and elegant hand of his gratitude for their support and his fondness for the College and his adopted country. "Without you, I don't think I could have come even close to this stage of my life. Beyond this point, I go alone. Thank you so very much. Wishing you the very best! Love, Tetsuo."
He is survived by a sister and brother; his daughters, Sachiko Noda and Nahoko Jean Otsuki; a niece; a granddaughter; and countless friends around the world.—RHEA R. BORJA
A celebration of life for Otsuki was held on Saturday, April 14, at 2 p.m. in Upper Herrick, followed by a reception on Norris Patio.