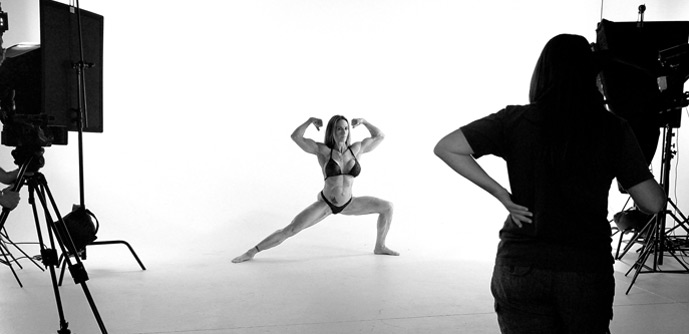 Good food, hard bodies, fish wars, and a "Harlem Shake" to boot
Salud! Napa. Armed with a voracious appetite and a desire to share scrumptious recipes, Ariel Ceja '05 set out to create a site dedicated to the celebration of good food and wine. Since its launch last May, "Salud! Napa" has logged nearly 60 installments covering everything from pozole (in episode 1) to pasta alla puttanesca (in episode 56), with Ceja's mother and sister, Amelia and Dalia, serving as co-hosts. Ceja studied film at Occidental, has worked as general manager for Ceja Vineyards, and opened Bistro Sabor, a small eatery in Napa.
Cutting Up. Veronica Pinkham '12's documentary short—a look into the lives of competitive female bodybuilders and their rapidly decreasing presence at muscle contests—was created as her senior thesis at Oxy, where she studied in the Media Arts & Culture program. Through the film and accompanying website, she hopes to facilitate a dialogue between members of the bodybuilding subculture on the current issues surrounding women in the sport, as well as provide an opportunity for people to rethink their preconceived ideas of beauty, strength, femininity, and related issues.
Alaska Fish Wars (Nat Geo Wild). If competitive fishing is your thing, set your DVR for this reality series featuring third-generation Alaska commercial salmon fisherman and former Tigers basketball standout Gavin Keohane '03, one of three boat captains followed by a documentary crew during Alaska's three-week fishing season last summer. Keohane has been captain of his own vessel, the North Crow, since graduating from Oxy. He's still awaiting word on a possible Season 2.
CatAList TV. In Episode 13 of Season 3, the CatAList team offered its own take on the "Harlem Shake" viral-video craze, replete with tiger head and the wackiness that ensues around the 15-second mark.