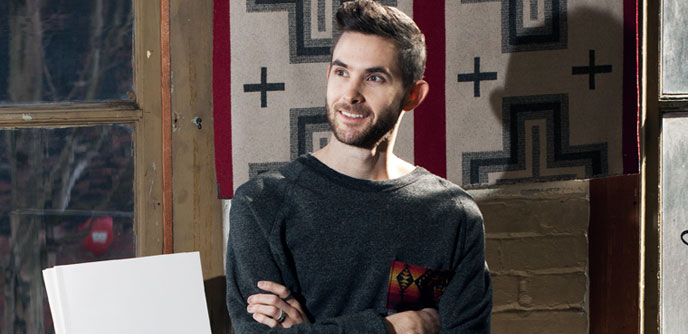 LiFT Label founder Bobby Bonaparte '10 charts new territory with a DIY fashion line that reflects his hometown's culture
By George McIntire '11 | Photo by Dan Osterghen
In the first episode of "Portlandia"—Fred Armisen and Carrie Brownstein's IFC series that skewers and satirizes the life and culture of Oregon's largest city—Armisen remarks that Portland is a place "where young people go to retire."
Quite the opposite is happening on the third floor of an industrial loft in Portland's warehouse-abundant Pearl District. There, tightly nestled between several giant printmaking machines, resides the headquarters of LiFT Label—the 2-year-old streetwear clothing line and artist collective founded by Bobby Bonaparte '10. LiFT exemplifies a made-by, made-for, and made-in-Portland attitude that channels Bonaparte's interpretation of the city's energy and conscious sensibilities in addition to his own environmental and skateboarding inspirations through its apparel and art.
LiFT's "office" has no private entrance or formal walls and occupies no more than a couple hundred feet. It is cluttered with giant rolls of untouched cloth, numerous prints of LiFT's triangular logo, and a rack that includes a sample of nearly every piece of clothing LiFT has ever made.
Bonaparte's New Year's resolution was to write down and/or draw at least one creative idea every day, an effort that has proved to be valuable to his creative process. "Even when I don't feel particularly inspired one evening, I'll sit down to do a page and end up with three pages of amazing designs," he says. "It allows my mind to flow, and it induces a zen-like state of creativity."
The label's top-selling, signature product is a granular grayish wool crewneck soft as kitten's fur with a colorful Pendleton pocket—a soft nod to Bonaparte's Japanese minimalism influences and Portland's affinity for Pendleton material. The locally sewn piece, inspired by an 8-foot-long T-shirt at a local art show, retails for $178.
LiFT Label has made waves in Portland fashion circles and potentially prosperous inroads in scenes beyond the city's borders. LiFT tank tops have appeared on "Port­landia" and HBO's "Girls," the label had a featured exhibit at the unabashedly hip Ace Hotel, and a Pendleton-pocketed T-shirt has been worn by up-and-coming rapper Schoolboy Q. LiFT is currently sold in nine stores locally and in three stores outside Portland. Bonaparte aims to rope in up to 40 more accounts by summer's end in cities in­cluding San Francisco, New York, and Tokyo.
"We've been impressed with Bobby's attention to detail and quality of materials he sources for each piece," says Joe Magliaro, partner and creative director at Table of Contents, a retailer based in Portland. "The LiFT hats that we carry at TOC are produced in Oregon on one of the last circular-knitting machines in America."
A native of Washington, D.C., Bonaparte and his family moved to the Bridge City soon after his first birthday and took up residence in Portland's Hoyt Arboretum in the city's western quadrant. Growing up, playing, and getting lost in a 187-acre backyard had a profound influence on Bonaparte, who credits the Arboretum for LiFT's nature-oriented stance.
LiFT's roots date back well before Bonaparte's time at Oxy. He picked up skateboarding in early middle school, which eventually generated an interest in DIY culture. Like most skaters, he yearned to jump and skate higher, so as inspiration he started to write the word "lift" on his skateboard and shoes.
Bonaparte discovered an old silkscreen that belonged to his aunt and soon after produced a bundle of T-shirts, which he gave to friends and sold to local skate shops. By the time he reached high school he had already designed LiFT's signature triangular logo.
A Japanese studies major, Bonaparte remembers "What is Enlightenment?," taught by professors Malek Moazzam-Doulat '92 and Dale Wright, as the most daunting but rewarding endeavor of his time in college. "Worst grade at Oxy, but it was the class I learned the most in," he notes with a chuckle.
For much of school, LiFT took a backseat to campus life and Bonaparte's other extracurricular activities. He studied on the outskirts of Tokyo as a junior and stayed in Japan over the following summer to intern at Wieden+Kennedy, the Portland-based ad agency behind Nike's "Just Do It" campaign.
The experience reignited his creative drive, and prompted him to partner with his freshman roommate Trace Wallace '10 and enter LiFT in the Occidental Business & Entrepreneurial Challenge. The duo won first place, and LiFT matured overnight and woke up with a legitimate business blueprint. "We came together, dedicated hours in cafes drafting mission statements, emailing and editing the business plan, and practicing our elevator speech," Wallace says. "Bobby is incredibly innovative and passionate about making products people will love."
Bonaparte returned to the City of Roses after graduating and took a marketing job at a local software firm. The job paid well enough, but Bonaparte missed the intellectual stimulation and motivation that LiFT had given him.
At the urging of Anthony Villella—an old grade-school friend that he met over coffee—Bonaparte dusted off the silkscreen machine and produced a few dozen tank tops that sold out instantly. That provided him with the confidence he needed to move forward with LiFT. In May 2011, he quit his day job and jump-started LiFT in the basement of his house, where every aspect of the business, from sewing and cutting to silkscreening and office duties, was conducted. Shortly thereafter, he moved into the Pearl District loft.
Bonaparte's drive is the living embodiment of the conscious aspect of LiFT. He is only able to put in 70-hour work weeks and sustain a budding art career—his current show is "a meditation on quantum physics and enlightenment"—because he is 24/7 LiFTed. With LiFT's annual sales in the five figures, he hopes to expand the largely self-financed venture with some outside capital.
While Bonaparte is a bit shy about sharing his ambitions, he believes the time is now for entrepreneurs like himself to truly shape his city's image: "We love Portland so much, and we want to share that with the world."
George McIntire '11 is a freelance writer based in San Francisco. He has been published in the Los Angeles Times, San Francisco Bay Guardian, and 7x7 magazine.