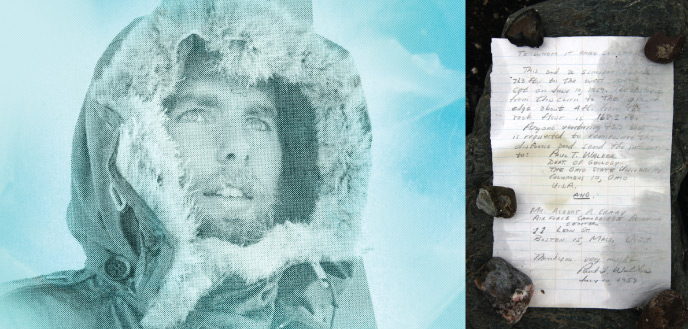 An impromptu dig in the Arctic unearths a message in a bottle from pioneering explorer Paul Walker '56—54 years after he wrote it
From an early age, Paul T. Walker '56 seemed destined to explore the unknown. Fascinated by the uncharted snow­fields of the North and South Poles, at 16 the Pasadena native and a buddy drove the entirety of the 1,390-mile Alaska Highway—a journey that cemented his decision to study glacial geology at Occidental under a young professor named Mark Meier. (He followed in the footsteps of his father, Paul S. Walker '20, who majored in history/English and played right tackle as a three-time All-SCIAC pick for the Tigers football team.)
By the time the younger Walker—"P.T." to his family—died at age 25 in 1959, following a stroke on an ice shelf in northern Canada, he was an accomplished glaciologist and fearless explorer. His name resurfaced last December following the publication of a message in a bottle, discovered only last summer by a pair of biologists exploring the same remote arctic terrain that Walker had trekked more than 54 years ago.
"To Whom it May Concern: This and a similar cairn 21.3 feet to the west were set on July 10, 1959. The distance from this cairn to the glacier edge about four feet from the rock floor is 168.3 feet. Anyone venturing this way is requested to remeasure this distance and send the information to: Paul T. Walker, Department of Geology, The Ohio State University, Columbus 10, Ohio, USA and Mr. Albert P. Crary, Air Force Cambridge Research Center, 11 Leon St., Boston 15, Mass. USA. Thank you very much."
As stunned as he was to find out about Walker's message—first reported on Dec. 12, 2013, in the Halifax Chronicle Herald—colleague and historian Jim Lotz (who wrote a eulogy on Walker for the journal Arctic) "was just so pleased because it brought Paul back, in a way, and the work he had done," Lotz told Los Angeles Times writer Geoffrey Mohan. "Because he had a brilliant career as a glaciologist and all of a sudden, to be cut short that way."
After graduating from Occidental, Walker helped to map shear zones in the ice cliffs of Red Rock Lake, Greenland. During the ­Inter­national Geophysical Year program in Antarctica in 1957-58, he worked as a glaci­ologist for the Arctic Institute of North America. He took and studied core samples of ice, traversing 1,100 miles in a Sno-Cat in 80 days, in the area of Ellsworth Station.
Walker returned to the United States in 1958 to help with the compilation and analysis of glaciological and geological data from Antarctica that was being done at Ohio State, where he was working on his master's. He was appointed glaciologist with the Air Force's Ellesmere Island Ice Shelf Project, joining the party in May 1959. Three months later, he had a stroke in the field. After being flown back to California for ­medical care, Walker's copious notes on the stages of his illness were of great value to his doctors. Paralyzed and all but blind, he died at his parents' home Nov. 11, 1959.
Walker's last research project, Glacio­logical observations in northern Ellesmere Island 1959, was completed after his death by colleague William G. Mattox Jr. A 1,400-foot-high hill on Ward Hunt Island off the coast of northern Ellesmere Island—the signature landmark on that icebound coast—was named Walker Hill in his memory.
"We've been camping next to Walker Hill now for over 10 years," Laval University biologist Warwick Vincent told the Times. Following Walker's 1959 request to the letter, Vincent and his colleague, Denis Sarrazin, measured the distance between the cairn and the glacier, which had grown from 1.2 meters to 101.5 meters in the 54 years that had passed—because the glacier has shrunk dramatically, Vincent notes. Logically enough, they amended Walker's note with their own message and replaced the bottle in the cairn where they found it.
Portions of this story are adapted from a September 1962 Occidental Magazine article, "Walker Hill."