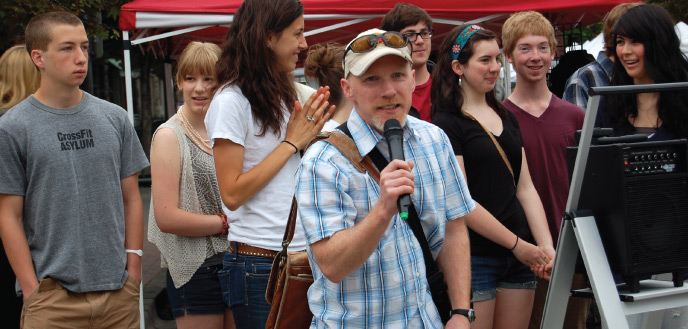 Taking a page from his mentor, Professor Bob Winter, teacher Doug StanWiens '89 immerses his Boise High School students in the city's architectural history
By Andy Faught
Early on in his first semester at Oxy, Doug StanWiens '89 sat among his freshman classmates in Thorne Hall listening to Bob Winter discuss the niceties of ancient Greek and Roman architecture when, in an unexpected burst of exuberance, the Arthur G. Coons Professor in the History of Ideas showed he was no slouch at ancient Greek comedy, either.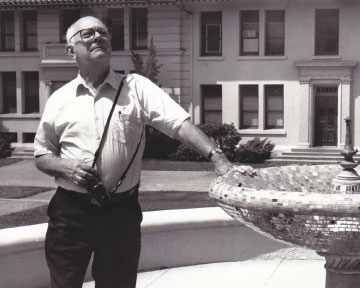 "To the chagrin of everybody in the audience, Dr. Winter started leaping across the stage with his hands forming arches in the air, yelling out, 'It's the arches! It's the arches!'" StanWiens recalls with a laugh. "We're all 18 years old, thinking we're really cool, and here's this grown man jumping across the stage like this." 
"I was excited about the subject," says Winter, who will receive an honorary degree from Oxy at Alumni Reunion Weekend in June. "I couldn't help but be excited in front of my students."
Winter's impromptu glissade eventually ignited a passion in his young protégé that endures to this day. In 2006, StanWiens formed the Boise Architecture Project (BAP) at Idaho's Boise High School. The idea was to give his AP history students something to fill their time during the last month of school, after they'd taken their national tests. What resulted was a full-blown survey of the city's architectural gems—photos and descriptions of which can be found at the project's website, boisearchitecture.org. 
"This really resonates with a lot of my students, who are not so interested in the stereotypical history class in which you memorize facts," StanWiens says. "They can see history in the buildings." 
More than 1,000 students have taken part in BAP, including middle- and elementary-school students. In conjunction with Idaho's sesquicentennial in 2013, many of them are finalizing documentary videos celebrating the state's architectural heritage. Senior Brielle Ibe, a self-professed history buff who has led elementary school children on tours of historic Boise buildings, took advanced placement U.S. history from StanWiens as a junior, "and his lectures were my favorite part of the week." 
For StanWiens (who appended the name of his wife, Michelle Wiens '90, when the couple got married), his love of architecture is mostly a happy accident. The Seattle economics major enrolled in Winter's Los Angeles Architecture course as a senior because it sounded like "a cool class."
"It was a spring semester class in sunny Los Angeles," he says. "It was a great way to get out and see some amazing, cool buildings with a bunch of your friends. I think we all thought it was kind of a fluff class after taking four years of economics."
Not with Winter as the tour guide. He's the author of An Architectural Guidebook to Los Angeles—a project he began with the late David Gebhard in 1965 and long regarded as the bible of L.A. architecture scholarship. His Oxy students would pile into a bus on Friday afternoons and visit some of the region's architectural masterpieces, including Pasadena's Gamble House and block-style homes designed by Frank Lloyd Wright. 
"I look back and think how privileged I was to be able to do that," says StanWiens. "I teach my students the way I was taught at Oxy—through a liberal arts lens. My whole interest in architecture has been piqued through the idea that you can connect history to something tangible like architecture."
After 16 years at Boise High, StanWiens is taking on a new job this fall at the Singapore American School. He plans to incorporate architecture because "it is too important of a part of the human experience to leave out." BAP will continue in his absence.
For StanWiens, it all dates back to that August day in Eagle Rock when Winter, in a moment of architectural jest, brought down the Thorne roof. "I recreate that lesson for my students every year," he says. "They do the same thing I did—they look at me like I'm crazy. It's about a passion for something that is so wholly different from their experience that they'll never forget it."
Winter, who turns 90 in July, was gratified to hear about the Boise effort in a recent letter from StanWiens. When it comes to building passion for architecture among ­students, he says, "you can't begin too early."