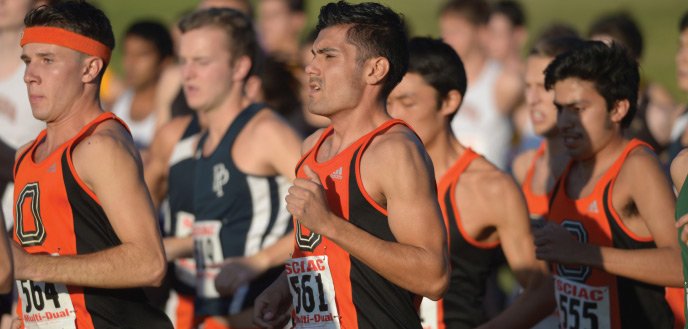 After his 18th birthday, cross country and track standout John Guzman Aguilar faced deportation to his native Mexico and was separated from his family. Five years later, he's on course to be the greatest distance runner in Oxy history
By Michael Wells | Photo (below) by Caleb Williams
John Guzman Aguilar '15 is quickly putting together quite a resume at Oxy. The distance runner and junior transfer from Riverside Community College earned All-American honors in the fall for cross country, winning the SCIAC and West Region championships along the way. He has a 4.0 grade point average as a politics and Spanish major. And despite missing significant time due to a preseason gluteal strain, he finished fifth in the 5K at the SCIAC Championships on May 3.
But his most challenging race was the one he ran before ever setting foot on campus. After graduating from Upland High School in 2009, Guzman Aguilar was all set to run and study at UC Riverside on an athletic scholarship when a letter from Citizenship and Immigration Services arrived in the mail. A Mexican immigrant who was in the process of applying for U.S. citizenship, he was informed that he had until August 30 to leave the country.
Because his application was submitted as a child—and because he legally stopped being a child after turning 18—"they told me that I had to go back to Mexico," says Guzman Aguilar, who'd been living in the States for nearly 10 years with his parents, Isidiro and Maria, and sisters Stephanie and Diane. "You receive a letter that says you have until this date to get out of the country. And if you don't get out, all of the process goes to waste: You become ineligible to apply for 10 years, and they come forcibly deport you."
With no other recourse, he traveled at first and found some family to stay with in Mexico City, where he had spent his early childhood. But that distance was too far for  his parents to easily visit, so he ended up in the Baja California town of Ensenada, where he rented a room from a family friend. "At first I was very scared, especially because not long before that my grandfather had been killed in Mexico," Guzman Aguilar says. "That was still fresh in my memory."
Guzman Aguilar spent two years making ends meet before he was able to get in front of a judge and return to America legally. Once he was home in Upland, he was not sure what opportunities awaited him. "I ­hadn't run for about a year and a half, because I was working a lot," he says. "I'd really given up on running and maybe even school."
His high school coach, Mike Wilson—who had moved on to Riverside City College—offered Guzman Aguilar a fresh start. "He called me up and said, 'Do you want to go back to school and run? I can get you priority registration and get you back into school, but you have to run.'"
Guzman Aguilar accepted, but finding his form as an elite 10K and distance runner would be a long road back. "Academically, everything was going well. Athletically I struggled a lot," he says. "It wasn't easy going from no exercise to 60- to 70-mile weeks."
Once his stride caught up to his grades, Guzman Aguilar faced graduation from the two-year college with scholarship offers from coast to coast. "I started looking at UCLA, and Berkeley contacted me to run, too. I had a lot of offers to go up north toward Oregon," Guzman Aguilar says. "There was definitely the incentive of money."
But he ultimately wanted an environment that was about more than just sports—and Oxy track-and-field and cross country head coach Rob Bartlett first heard about Guzman Aguilar in an email he received from Wilson. "John immediately jumped out at me because of the combination of his athletic ability and fantastic grades," he says. Bartlett invited him to visit, and Guzman Aguilar was quickly sold on Oxy's focus on the scholar-athlete.
"As much as I love running, I love being in school," he says. "I like to read, I like to write. At Oxy, the first thing Coach Bartlett did was walk me around campus and say, 'This is the head of the department that you're applying for. This is the library.' When I ­visited the UCs, some didn't show me their library or their academic facilities at all."
In his first year at Oxy, Guzman Aguilar was appointed captain of the cross country and track teams, and he's excelling out of competition as well. "What's impressed me most about John since he joined us is his character," Bartlett says. "He is one of the most humble, mature, and team-orientated people I've had the pleasure of coaching."
After an injury-plagued spring, Guzman Aguilar plans to return in peak condition for his senior year. As for his immigration status, only the formalities remain. "Once you're a permanent resident, you have to wait five years," he says. "It's just a matter of time."