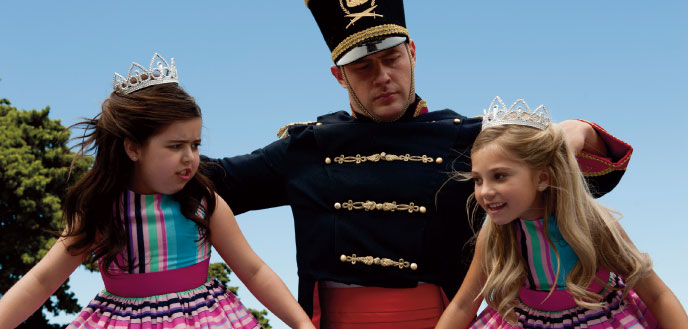 New offerings from Oxy authors—including a Royal Adventure for Sophia Grace & Rosie
Sectarian Politics in the Gulf: From the Iraq War to the Arab Uprisings, by Frederic M. Wehrey '94 (Columbia University Press; $45). Beginning with the 2003 invasion of Iraq and concluding with the aftermath of the 2011 Arab uprisings, Wehrey investigates the roots of the Shi'a-Sunni divide now dominating the Persian Gulf's political landscape. Focusing on three Gulf states affected most by sectarian tensions—Bahrain, Saudi Arabia, and Kuwait—he identifies the factors that have exacerbated or tempered sectarianism. He also builds a historical narrative of Shi'a activism in the Arab Gulf since 2003, linking regional events to the development of local Shi'a strategies and attitudes toward citizenship, reform, and transnational identity. Wehrey is senior associate of the Middle East Program at the Carnegie Endowment for International Peace in Washington, D.C.
The Grace Filled Divorce: Allowing God to Redeem Your Pain for the Greater Good, by Melody Bacon '78 (Deep River Books; $14.99). Bacon draws on her doctoral research and clinical work as a psychologist for her first book, combining insights from Jungian analytic psychology, contemplative Christianity, and family systems theories to assist individuals in navigating the often-turbulent waters of divorce. "While this book centers on the experience of divorce, the principles it delineates can be applied to other relationships," she writes. "Though this work has been a while in the making, I can truly say it had its genesis during my time at Oxy." Bacon lives in San Juan Capistrano.
College Stress Solutions, by Kelci Lynn Lucier '99 (Mascot Books; $14.95). From coping with deadlines to dealing with classmates to contemplating the future, College Stress Solutions teaches students how to use simple exercises to overcome their anxiety and find success while at school. Lucier majored in English and comparative literary studies at Occidental and has a master's in higher education administration from Harvard. A freelance education writer and consultant, Lucier is co-founder of collegeparenthandbook.com and the "College Life Expert" on About.com. She is a mother of two and lives in Boise, Idaho.
Sophia Grace & Rosie's Royal Adventure, co-written by Erik Patterson '00 (Warner Bros. Home Entertainment; $19.98 DVD, $24.98 Blu-Ray). Sophia Grace Brownlee and Rosie McClelland—the pre-teen Brit chatterboxes who went from YouTube sensations to frequent contributors to "The Ellen DeGeneres Show"—are sent by "Ellen" to Switzelvania as special correspondents tasked with covering the coronation of a new queen. Once there, they encounter three very different princesses competing for the throne. Together, the girls hatch a royal plot to help the best candidate win. (Hey, you can only watch Frozen so many times, right?) Patterson's other credits include Another Cinderella Story (2008), A Cinderella Story: Once Upon a Song (2011), and Radio Rebel (2012). He lives in Studio City.