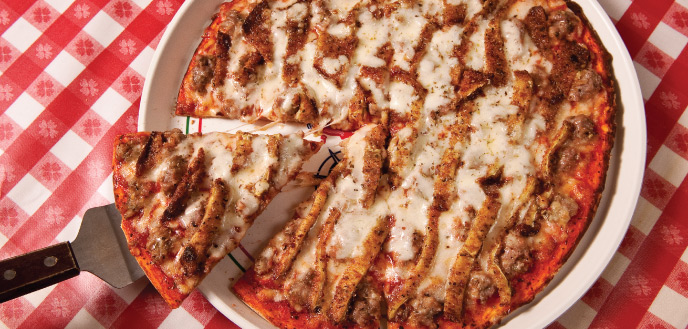 Pulitzer Prize-winning food writer Jonathan Gold adds an honorary degree to his plate—and serves up 10 tantalizing Eagle Rock and Highland Park dishes
"Drop Jonathan Gold in virtually any ­concrete strip mall universe in this town, particularly one in the San Gabriel Valley, and he'll probably be able to tell you if there's anything good to eat there," says LA Weekly food editor Amy Scattergood. "He'll also probably tell you the 10 restaurants that pre-dated the Sichuan palace he's recommending, with numbers and dates and name variations. How he manages this kind of knowledge, much less keeps all those restaurants straight, is itself a good subject for somebody's dissertation."
That's part of the magic of Jonathan Gold, who won the Pulitzer Prize for criticism at LA Weekly in 2007—the only restaurant critic so honored—and a veteran of the city's food scene for more than 30 years now. "The thing that makes Jonathan so special as a restaurant critic is not his ability to critique the food on the plate, but to place that food in a cultural context," says Los Angeles Times food editor Russ Parsons, who has worked with Gold on and off since 1991 (Gold returned to the Times in 2012). "Anyone can tell you where to find Chinese pancakes. Jonathan helps you understand why there are Chinese pancakes in that area, what makes them good, and what the presence of those pancakes says about Southern California in general."
To celebrate Gold's robing at Commence­ment on May 18 (alongside architect Elizabeth Diller and civil rights pioneer Odessa Woolfolk M'73)—and to mark the College's Eagle Rock centenary—we asked the Los Angeles native to share his 10 favorite dishes in the neighborhoods surrounding Occidental. "I've always been fond of Oxy," he says, "and I suddenly am fonder."
Eggplant and Sausage Pizza | Casa Bianca
The oldest restaurant on Gold's list—and the one with the longest lines on a Friday or Saturday night, as any patron will tell you—Casa Bianca was opened in January 1955 by Sam and Jennie Martorana and Sam's brother, Joe. Sam, who died in 2007, manned the ovens at Casa Bianca for more than half a century. "His pizza was idiosyncratic to an extreme: thin when the fashion was for puffy crusts; judiciously topped in an era marked by bubbling excess; and sliced into the odd parallelograms characteristic of bar pies from the South Side of Chicago, which is where he learned to cook," Gold wrote in 2011. "I defy anyone to spot decline in the signature eggplant-sausage pizza. The sausage is still fresh and homemade; the fried eggplant still crunchy; the tomato sauce still well-reduced; the crust still thin, crisp, lightly charred and quick to stiffen."
1650 Colorado Blvd., Eagle Rock | 323-256-9617 | casabiancapizza.com
Duck Carnitas | CaCao
God bless the Mayans and Aztecs, who were the earliest known cultures to grind cacao seeds in the pursuit of chocolatey goodness. CaCao Mexicatessen offers a 21st-century take on a Mexican deli, and made Gold's
Los Angeles Times
list of 101 Best Restaurants in 2013. "CaCao, it must be said, has a fairly open mind on what might go into a taco," he wrote, "so if you're one of those guys who feels options should be limited to carne asada, chicken, and pork al pastor, the restaurant probably isn't for you. They make carnitas out of duck, for one thing, neatly splitting the difference between the classic Mexican preparation and French duck confit, and sometimes they make chicharrones out of duck cracklings just to mess with your mind."
1576 Colorado Blvd., Eagle Rock
| 323-478-2791 |
cacaodeli.com
Chicken Pot Pie | Good Girl Dinette
A familiar name in culinary circles from her days at Blue Hen, Diep Tran documented her efforts to create a new restaurant, Good Girl Dinette, at the vanguard of the new wave of eateries that have transformed Highland Park cuisine. Soon after it opened in 2009, Gold wrote, "Good Girl Dinette is a clean, airy space, filled with earnest couples and young families, serving bubbly soft drinks they make with farmers market fruit (the Meyer lemon is especially good), preparing a menu of Vietnamese-American comfort food that is especially friendly to vegans. … The chicken pot pie, made with a yellow Vietnamese curry and topped with a dense, crisp-topped biscuit, is wonderful." Two years later, in compiling his list of 99 Essential Restaurants, he was just as enamored: "[It] tastes like something a homesick emigré might have made in Iowa in 1936."
110 N. Ave. 56, Highland Park | 323-257-8980 | goodgirlfoods.com
Huaraches | El Huarache Azteca
El Huarache Azteca bills itself as "the most authentic Mexican restaurant in L.A. since 1996," and made Gold's list of 99 Essential Restaurants in 2011. "The famous dish here is, of course, the huarache, a flat, concave trough of fried masa the approximate size and shape of a size-12 sandal, mounded with beans and tough, thin shards of grilled steak or chile-red nubs of marinated pork, a layer of shredded lettuce and strata of grated cheese and Mexican-style cultured cream," he wrote in
LA Weekly
. "If you are up to the challenge, you can get it piled high with the cabeza: rich, gelatinous meat from a cow's head, cooked down into an ultraconcentrated essence of beef with the consistency of refried beans."
5225 York Blvd., Highland Park
| 323-478-9572 |
elhuaracheaztecala.com
Bigos | Polka
Soon after taking up residence in Glassell Park, Andrew and Kasia Dabrowski rented a nearby property that had housed a failed restaurant to take a flyer on Kasia's Polish cooking. With a rave in the Times' Food section, Gold chaperoned Polka onto the L.A. culinary dance floor in January 1995. His favorite menu item? Bigos—a mix of stewed sauerkraut, mushrooms, chunks of Polish sausage, and beef. Polka "serves filling, home-style, multicourse Polish dinners for almost nothing—it's like having your own Polish grandmother in the neigh­borhood, and you don't have to help with the dishes afterward," he wrote in LA Weekly in 2006. The Dabrowskis retired to their native Poland in 2011, but with Michal Budny at the helm, Polka hasn't lost a step.
4112 Verdugo Road, Eagle Rock | 323-255-7887 | polkarestaurant.com
Lamb Barbacoa | My Taco
A fixture on the Highland Park landscape for nearly 20 years now, My Taco is the brainchild of Jorge and Maria Garduno and their children George and Vanessa. The house specialty is lamb tacos and goat stew, a recipe perfected by Jorge's father as a cook in Mexicali, Baja California. "There are few pleasures more reliable in Los Angeles than the lamb barbacoa at My Taco in Highland Park: a delicate, spicy tangle of long-cooked meat crisped on hot metal, blackened at the edges, caramelized to a sweet, subtle gaminess," Gold wrote in the Times last May. "This barbacoa is customarily ordered by the plate or by the really big plate—you tear off pieces with a tortilla and moisten them with the hot goat consomme that comes in a foam cup on the side. … If you want to add chopped onion and cilantro, maybe a few drops of mild yahualica salsa, it's up to you."
6300 York Blvd., Unit #4, Highland Park | 323-256-2698 | my-taco.com
Gorditas | Gorditas Lupitas
During the taco-truck brouhaha of 2008, when their very existence was threatened by legislation, Gold championed the city's restaurants on wheels with an LA Weekly manifesto titled "Keep on (Taco) Trucking." "The best thing I had to eat last week was a massive carnitas huarache, from the Gorditas Lupitas truck on Eagle Rock Boulevard near Avenue 34. I ate it while leaning against a warehouse wall in Glassell Park, washed it down with a bottle of Mexican Coke and perfumed with the exhaust of a thousand diesel trucks. … A great street taco is happiness translated into the language of warm tortillas, finely chopped onion and a hot sauce that brings you to your knees." Gourmet writer Margy Rochlin was sold: "Taco-truck connoisseur Jonathan Gold introduced me to this Highland Park mainstay, and now I want it to split and multiply."
Eagle Rock Blvd., between Ave. 34 & Estara Ave.
Crispy Sweet Potato | Little Beast
Housed in a Craftsman bungalow just east of Cindy's (the landmark Eagle Rock diner that recently changed hands), the newest restaurant on Gold's list turns 1 in June. The titular "Little Beast" is the son of husband-and-wife restaurateurs Sean Lowenthal (a former sous chef at Chateau Marmont) and Deborah Schwartz. A "spitfire of a hockey-playing little chef who loves the blues and plays guitar," 11-year-old Miles embodies the couple's spirited approach to progressive American comfort food. Gold singles out Chef Sean's Crispy Sweet Potato, a seasonal offering that packs brown sugar bacon, crème fraîche, pickled Fresno chile, scallion, salsa verde, and arugula into a small-plate sensation. How sweet it is.
1496 Colorado Blvd., Eagle Rock
| 323-341-5899 |
littlebeastrestaurant.com
Honey Orange French Toast | Auntie Em's Kitchen
"Comfort food with attitude" is how Auntie Em's founder Terri Wahl—former lead singer and guitarist for the Red Aunts, an all-female punk band—has described her cheerfully retro, red-brick restaurant, an Eagle Rock institution since 2002. "I probably got more letters and emails about Auntie Em's than I did about any other L.A. restaurant, and every time I drove past the place on a weekend, people milled outside waiting for a table," Gold wrote in 2008. "And where Auntie Em's is still a grungy breakfast joint, it is at the moment a grungy breakfast joint where the omelets are scrambled with all manner of organic squashes, the bacon is thick-cut and applewood smoked, and the puddinglike French toast, garnished with fresh berries, is lightly scented with orange and enrobed in a crunchy frieze of beaten egg." We're not in Kansas anymore.
4616 Eagle Rock Blvd., Eagle Rock | 323-255-0800 | auntieemskitchen.com
Ube Shake | The Oinkster
Eagle Rock has become something of a laboratory for new restaurant concepts in recent years. Consider Spitz, whose founders, 2005 Oxy graduates Bryce Rademan and Robert Wicklund, have expanded to four L.A. locations since opening their flagship eatery in 2006. That same year saw the arrival of the Oinkster, veteran chef André Guerrero's take on "slow fast food," including pulled-pork sandwiches, pastrami, and a hugely popular Burger Week celebration each June. The Oinkster Hollywood opened in April, making good on a longtime promise to expand the franchise. (It's not like Guerrero hasn't been busy, having launched the "kinda old school" neighborhood Italian-American restaurant, Maximiliano, at the corner of York Boulevard and Aldama Street in Highland Park in fall 2011.) A staple of both Oinkster menus is the $6 Ube Shake, described by Gold as "artisanal soda pop, Fosselman's-based milkshakes purpled with the Filipino tuber ube." Others simply describe them as delicious.
2005 Colorado Blvd., Eagle Rock
| 323-255-6465 |
theoinkster.com