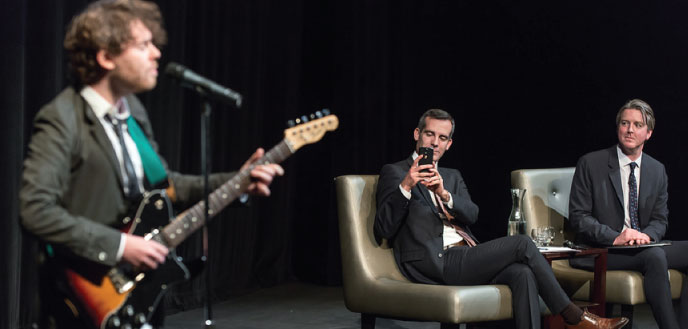 Los Angeles Mayor Eric Garcetti returns to his old teaching grounds; associate professor Broderick Fox examines Zen & the Art of Dying; future Batman Ben Affleck '95 swoops into the Oxy bookstore; and an accident claims the life of Adrianne Wadewitz, an ambassador of the digital future of learning
Los Angeles Mayor Eric Garcetti snaps a photo of musician Gabriel Kahane ­during a conversation with Los Angeles Times architecture critic Christopher Hawthorne in Keck Theater on February 13. Garcetti and Hawthorne discussed ways to make Los Angeles a more pleasant place to live and work. The city's design aesthetic should follow quality of life, the mayor said, adding that he sees two significant changes in its future: more self-sustaining neighborhoods and more transit.
Occidental has joined 12 leading U.S. colleges and universities to develop a program to bridge the gap between college grads and the needs of high-growth employers. Working with Koru, a provider of immersive learning, the group aims to provide real-world experience, practical skills, and professional networks to help seniors and recent grads land an attractive first job. "We cannot spend four years providing a rigorous education and then merely shake our students' hands and wish them good luck when they go out into the job market," says President Jonathan Veitch. For more info, visit joinkoru.com/college_partner.
Filmmaker Broderick Fox, associate professor of art history and visual arts at Occidental, has received a 2014 Artistic Innovation grant from the Center for Cultural Innovation. The funds will help cover the post-production costs for his current documentary project. Zen & the Art of Dying profiles how Zenith Virago and the community of Byron Bay, Australia, are taking more creative and environmentally sustainable approaches to end-of-life planning.
two-time Oscar winner and Batman-to-be, swooped into the Oxy bookstore for a quick perusal of the textbook section February 5. He  Ben Affleck '95,
didn't make a purchase, but he paused long enough for a photo with Sigma Lambda Gamma 
sisters (l-r) Jasmine Tovar '14, Karina Ortiz '15, Arely De-Leon Barrientos '14, and Janan Burni '14. The image quickly became one of the most-liked in Oxy Facebook history. Affleck stars this fall in the movie adaptation of the 2012 bestseller Gone Girl.
Adrianne Wadewitz: 1977-2014
Adrianne Wadewitz was an ambassador of the digital age of learning. In her two years at Occidental, as the College's Mellon Digital Scholarship Postdoctoral Fellow in the Center for Digital Learning + Research, she helped to shape and deliver the 2012 Digital Scholarship Institute, guide CDLR-sponsored faculty learning communities, and taught a number of Core Studies Program courses, most recently Through the Looking Glass: Perspective and Reflections on Childhood (alongside adjunct assistant professor of psychology professor Heather Banis '82). As her fellowship drew to a close, she had taken a job at Whittier College, starting this fall, to help develop its digital liberal arts program. "I'm extremely happy!" Wadewitz (who had a Ph.D. in English from Indiana University) wrote in March. "I have a job I'm going to love in a city I adore. Life doesn't get better than this."
An avid rock climber, Wadewitz was critically injured in a fall during a March 29 Joshua Tree climb after the rock face cracked. She was airlifted to the Desert Regional Medical Center in Palm Springs, where she died April 8. She is survived by her parents, Betty M. and Nathan R. Wadewitz of Fort Wayne, Ind.; her significant other, Peter James of Los Angeles; and a network of friends and colleagues who had come to know and love her through her tireless work in the "Wikimedia" community.
"Adrianne Wadewitz is a model of the future we all want for our profession, for our students, for our society," wrote Cathy Davidson, professor at Duke University and co-founder of HASTAC (an online collaborative platform for the humanities, arts, science, and technology). In the words of HASTAC Scholars director Fiona Barnett, "As a scholar and teacher, Adrianne connected Wikipedia, pedagogy, feminism, participatory learning, knowledge, and more in a very beautiful—and engaging—model which made room for others to jump in and start learning." In colla­boration with Alex Stinson, a master's candidate at Kansas State University, she had recently completed a research article titled "Crowdsourcing Historiography: The Shape of Historical Uncertainty and Multiplicity on Wikipedia."
Over the last 10 years, Wadewitz wrote more than 49,000 edits to Wikipedia, and ranked 813th among all editors. One semester, in grading a student's paper on the novel Frankenstein, she discovered "whole swaths of the paper were plagiarized from the article I wrote on [author] Mary Shelley," Wadewitz recalled in a YouTube video. "So I got to write in the margin, 'I know this is plagiarized from Wikipedia, because I wrote it on Wikipedia.'" But she wrote it with a smile.