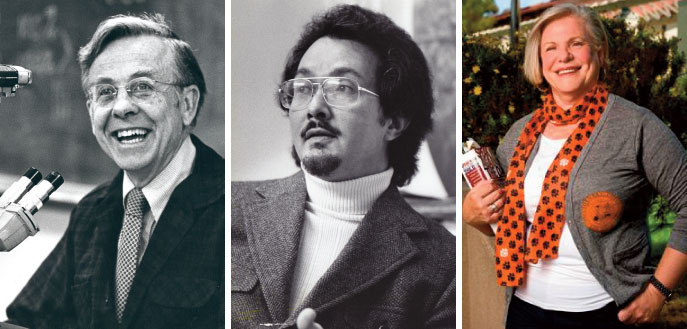 John McMenamin '40 introduced his biology students to the wonders of California's outdoors. Bill Neblett challenged his philosophy classes with questions of justice, fairness, and forgiveness. Deborah Martinson believed in the transformative power of words. All will be fondly missed
John W. McMenamin '40 embodied the spirit of lifelong learning. The professor of biology emeritus was well into his 80s when he embraced digital photography. "What a joy to work in the digital darkroom after all those years spent in the smelly film darkroom of Norris Hall as I taught students to print photos to illustrate research projects for my classes," he wrote in 2006.
As for his primary digital endeavor— macrophotography of insects in and around his Oceanside home—"The real satisfaction comes from the biology one learns by studying the photos," McMenamin noted. "Every close-up photo of an insect brings joy in discovering intimate structural details."
A native of Tacoma, Wash., McMenamin died February 11 in Oceanside. He received his teaching credential from UCLA in 1942 and his M.A. in 1946, having taught at Antelope Valley Joint Union High School and Junior College in Lancaster from 1942-45. He joined the Occidental faculty in 1946 and completed his Ph.D. in zoology from UCLA three years later.
McMenamin's teaching and research interests focused on cellular and developmental biology. Later in his career he studied the histology of fishes, especially the structural adaptations of the ovary of surfperch (the live-bearing marine fishes along the West Coast).
During his 12 years as chair of the College's biology department, several institutional grants provided modern facilities and instrumentation for research and the number of faculty members in the department doubled. John and his wife Adelaide (Grant) '40 (who worked in the alumni office for 20 years, retiring as director of alumni relations in 1979) frequently hosted students and alumni in their home and organized field trips to locales such as the Borrego Valley, Palomar mountain, and Yosemite.
After retiring from Occidental in 1982, McMenamin retired to the tidewaters of Puget Sound, where he had spent summers as a boy "messing around" in rowboats and fishing for silver salmon and cutthroat trout. He and Addie built a single-story cedar home in Longbranch, Wash., moving to Oceanside in 2001 for its climate and to be nearer to sons David '69 and Stuart '71.
In recognition of their unblemished record of support for Occidental—an unbroken string of annual giving dating back to 1940—the College created the McMenamin Society in 2007 to recognize donors with five or more years of continuous support.
In the McMenamins' 2013 holiday letter, John reflected on "the aging processes. Our naps are long, delicious, and continue to refresh," he wrote. "Remarkably, Addie never complains about her blindness, although she is impatient at not seeing food on her plate or at not recognizing the faces of friends. … We're now in post-retirement in benign Oceanside, where we spend a lot of time reminiscing about our good old days, and what lovely days they were."
During her first philosophy class with Bill Neblett in Johnson Hall, Debbie Rothman '77 remem­bers the professor standing under a large "No Smoking" sign chain-smoking ­cigarettes, and lighting them using the bottom of his shoes. "I was concerned about the possibility of his setting himself or the classroom on fire," she says, "but this also prompted a very interesting discussion about the difference between rules and ethics."
Neblett, who began teaching at Oxy in 1965 as a doctoral student, prompted many such philosophical exchanges in his 39 years in the classroom. He died April 8 at his home in Fountain Valley at age 79. A 1956 graduate of Florida State University, he earned his master's degree at FSU and his Ph.D. at UCLA, where he was a Fulbright Scholar at the London School of Economics. He taught classes in moral, social, and 20th-century philosophy; published in such journals as Ethics and the Journal of Philosophy; and wrote several books, including The Role of Feelings in Morals (1981), Sherlock's Logic (1986), and Heloise: A Story of Love, Sex, and Metaphysics in the Wild and Marvelous Sixties (2007).
Heloise is set against the backdrop of West Los Angeles and Hollywood. It's an area that was familiar to Neblett as an actor in improvisational theater, an acoustic bassist in modern jazz orchestras, and a percussonist in avant garde music groups. He also lived at various times in England, Cuba, and Brazil.
For professor of sociology Jan Lin, who joined the Occidental faculty in 1998, Neblett "became a great confidant and somewhat of a father figure, as we were a generation apart. We both had studied at the London School of Economics. We shared many intellectual and personal conversations and jazz concerts. I enjoyed his colorful stories of growing up in Key West, Fla.; visits to Cuba, where his grandfather was a missionary: and under­water diamond mining ventures in Brazil with the family of his wife, Delza. Sometimes we would gather with former students, and the presence of multiple generations of Oxy people was positively effervescent."
Last September, Neblett had dinner with Lin and former students Rex Weyler '70 and Denny Zane '69 at a restaurant in Santa Monica. "Bill was a lovely, loving, and engaging guy," Zane writes. "He could light up a dinner party with his intellect, wit, humor, and his sincere interest in everyone present. He would do the same in the classroom. He was egalitarian to the core, a moral philosopher, rigorous but never 'lost' in the weeds. He was always about justice, fairness, and forgiveness, not simply because these were interesting issues, but because they truly mattered."
Zane calls Neblett "my dear friend and mentor, probably the most important influence of my young adult life. He shared with me the life of Los Angeles that he knew: Sunset Strip, Tio's Café, and Filthy McNasty's, where friends, java, and jazz were found. He gave me confidence in my own intellect. Louise and I were married in his and Delza's living room, with [daughter] Vianne carrying the ring. I treasure the opportunity we had these last few years to gather again, to listen to music and discuss the world we live in."
At the outset of one of her classes with Neblett, Rothman recalls one "uptight" classmate, "who obviously did not understand holistic grading based on papers and essay exams," ask about the criteria on which  grades would be based. "There's really only one thing I look for," Neblett replied—"the engagement of the student's mind with the material." The student, apparently dissatisfied with the answer, returned to the next class with a drop/add slip. Rothman, who teaches English honors students, still quotes Neblett's rubric to this day.
Deborah Martinson believed in the transformative power of words. A teacher of creative nonfiction, she served as professor of writing and rhetoric and director of writing programs at the College, as a summer faculty fellow at the Norman Mailer Writers Colony in Provincetown, Mass., and as the founder and force behind the Occidental Writers Network for the last 19 years. Her commitment to that group was such that in August 2012, when Oxy began the process of gutting and renovating Johnson Hall—leaving the group without its usual meeting space—she had everyone to her home in Burbank instead.
A member of the Oxy faculty since 1991 and the 2009 winner of the Tod and Linda White Teaching Prize, Martinson died of cancer on April 26 at age 67. She continued to teach throughout the spring even as her health declined. "She lit up when she entered the classroom," one colleague said.
Martinson was a graduate of Cal State Chico who received her master's at Cal State Northridge and her Ph.D. in English literature at USC. She specialized in the areas of biography, autobiography, and fiction within historical and political contexts, and wrote a pair of biographies of women whom she called "complicated": Lillian Hellman: A Life with Foxes and Scoundrels (2005) and the recently completed Virginia Durr: Southern Radical Come Hell or High Water, a life of the white Alabama civil rights leader.
She is survived by her husband, Barry; daughter Hope; son Jay; four grandchildren; and her German shepherd, Tina Fey. A celebration of Martinson's life will be held at Occidental this fall.