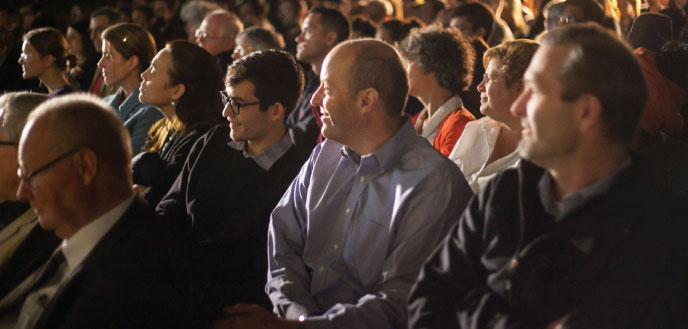 Lessons of the Third L.A.
Any longtime Angeleno is familiar with the vast literature of abuse that has been heaped on our city over the last century. From H.L. Mencken and Aldous Huxley to Joan Didion and Pico Iyer, Los Angeles long has been portrayed as a shallow cultural wasteland. "I'm here 'til Wednesday, and will take advantage of any cultural opportunity the city has to offer, like mudslides," Woody Allen once cracked at the Oscars.
How, then, to account for the fact that more than 500 people showed up at Thorne Hall in March to hear a thoughtful and ­fascinating debate over architect Peter Zumthor's proposed redesign of the Los Angeles County Museum of Art? The Third Los Angeles Project—Los Angeles Times ­architecture critic Christopher Hawthorne's brilliant series of conversations this spring—has given the lie to the old stereotypes by tapping into a deeply felt need for a searching conversation about the city and its future. The six-part series also reflects Oxy's intention to be part of that ­vital conversation. There are very few existing public platforms for discussing Los Angeles and our collective idea of the city. That's what we are working with Christopher to create.
The series grew out of an Urban & ­Environmental Policy class that Christopher—an adjunct professor—is teaching this spring titled Architecture and the Built Environment in Los Angeles. The class and the series are based on his compelling ­hypothesis that the city is entering a third phase of its development. Today, Los ­Angeles is undergoing major shifts and facing new civic challenges. Its cultural center is migrating from west to east, major investments in public transit are challenging the dominance of the car, and dense multi-family residential architecture is gaining in popularity—challenging the city's long-held aversion to the alien concept of "density."
To explore where the city is headed, Christopher assembled an impressive group of experts—historians, cultural critics, ­policymakers, authors, architects, and ­activists—to take an interdisciplinary look at everything from the ways in which immigrants and their native-born children are shaping the city to the question of whether the single-family home will continue to shape Los Angeles' built environment. ­Insights have been plentiful. The LACMA event featured a debate between museum director Michael Govan, critic Alan Hess, and architects Mark Lee and Sharon Johnston about the value of preserving William Pereira's original buildings—"He was one of the most important shapers of Southern California," insisted Hess—versus the value of taking the creative leap necessary to create an urban icon like Walt Disney Concert Hall. "It's a worthy risk," Govan concluded. (Pereira, incidentally, designed Oxy's Arthur G. Coons Administrative Center.)
Christopher's class of 19 students—not only UEPI majors, but everything from ­biology to art history and the visual arts—have been active participants throughout. At the last of the series, which explored the future of the L.A. River, Samuel Wylie '15 read a love letter to Los Angeles, and two other students aired excerpts of their video­taped interview with river activist and poet Lewis MacAdams. "It's reviving a city, a kind of city of the imagination," MacAdams said of his decades-long fight for the river. "All you have to do is add water."
The result has succeeded beyond all our expectations. Audience demand has ­exceeded seating capacity for each program, which is why the LACMA debate was moved from Choi Auditorium to Thorne Hall. For every talk, audiences have shown up early and—unlike Dodgers games—­remained in their seats until the end of each two-hour program. It's been a stimulating and powerful expression of Oxy's strategic plan—our commitment to engaging with the city, building collaborative partnerships that enhance our curriculum, and taking advantage of the rich intellectual opportunities the city has to offer.
I'm delighted that Christopher has agreed to provide an overview of his series at Alumni Reunion Weekend. I encourage attendees to sign up now for Christopher's Third Los Angeles presentation at 4 p.m. on June 12. It's your chance to get a taste of what has turned out to be one the hottest tickets in town—and to get a vivid sense of where Oxy and Los Angeles are headed.
Jonathan Veitch, President