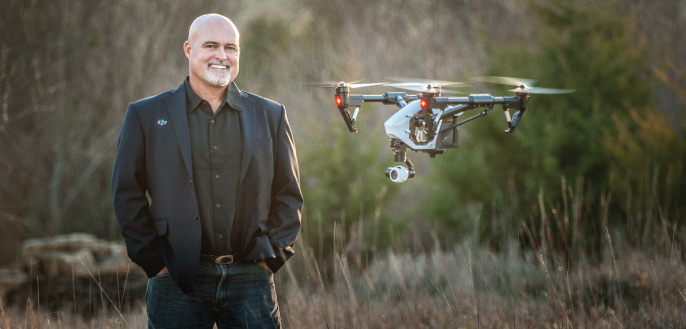 From trade shows and grade schools to African villages and archeological digs, Randy Jay Braun '84 preaches the virtues of drone photography as he works to rehabilitate its bad-bot image
By Ashley Festa | Photo by Muffet Petren
It began with a little white lie. Randy Jay Braun '84 was listening to a tech podcast in February 2013 when he heard about a small, remote-controlled quadcopter that could carry an action camera. A professional photographer for 30 years with his own business on Maui, Braun thought drone camerawork sounded pretty cool. But with a sticker price north of $1,000, he says, "I knew my wife wouldn't go for it. So while she was out of town, I used all her Amazon points to buy it."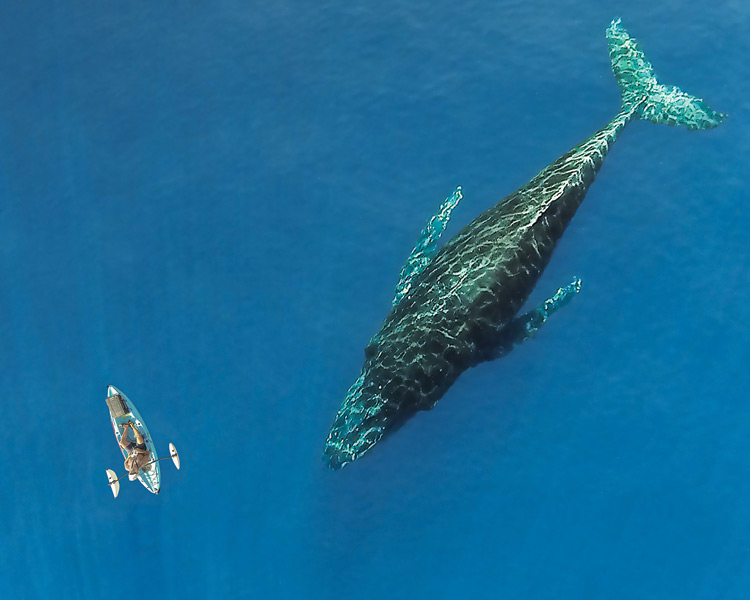 Braun kept his new toy hidden in the basement of his house for the next five months. But when he used it to shoot aerial footage of the Maui Film Festival in June 2013, his secret was out. "It's funny—I couldn't figure out what had happened to all of my Amazon points," says Anne-Noalani Prestowitz Braun '86. "Then, when I read the paper, I was able to put two and two together. Stealth move by my drone-loving husband!"
Although Anne humored him in the beginning, "I felt it was more of a novelty, a passing fad," she admits. "But as time went by and he produced these stunning images, I could start to see the value of this new aerial perspective. It's easy to become a bit blasé when your husband is a photographer and you've seen literally thousands and thousands of images. But some of these new drone shots would stop me in my tracks."
Braun's wife wasn't the only one who took notice. DJI, a camera drone business based in Shenzhen, China (the country's equivalent to Silicon Valley), began using his photos on its website and then asked him to help with social media. Company executives gave Braun drones to test fly and eventually offered him a position as director of product experience, which he calls a "dream job."
"Randy was among the first professional photographers to embrace these aerial imaging platforms and ­incorporate them into his camera bag," says Stacy Garlington, events and product experience specialist with DJI North America. "His stunning aerial imagery has had a tremendous impact on the industry since the release of the DJI Phantom 1 in 2013."
A little more than a year into his new role, Braun flies all over the world as an "evangelist" for drones, logging more than 200,000 miles in 2015. "It's my job to get the word out about drones and introduce them to industries that might have good uses for them," he says.
One of the public's biggest qualms about drones that Braun encounters is the danger of flying into manned airspace, even accidentally. A pilot encountering a drone when approaching a runaway is a potentially disastrous situation. Braun uses his frequent appearances at conferences and organizations to address such concerns, highlighting the automatic safety responses built into DJI's products. For example, each drone is programmed with GPS coordinates of airports all over the country and recognizes them as no-fly zones.
"Our drones are also programmed with real-time flight restrictions, such as a no-fly zone around a visit from the president or the pope," he says. "Your drone is going to stop in mid-air before it even comes close to a football stadium."
Braun works to change the perception of drones as he touts the future of the technology at conferences. "We really don't read a lot of good news about small drones in the media. But it's coming," he told an audience of more than 6,000 at Dublin's Web Summit in November. In Braun's talk, titled Drones for Good, he shared images from a DJI-sponsored humanitarian project using drones to map and scan areas damaged by last April's earthquake in Nepal, to aid future planning.
Drone is almost a dirty word, Braun notes—conjuring thoughts of military implications and invasion of privacy to many. DJI's drones are built solely for recreation or useful purposes, he says, with potential benefits to countless industries. At the moment, Braun is working with the agriculture industry, teaching agronomists how to use cameras to pinpoint problem areas and react quickly and accurately, potentially saving thousands of dollars. Infrared cameras can be used to help first-responders such police, firefighters, and search-and-rescue teams locate victims more quickly.
As an undergraduate at Oxy, Braun never dreamed he'd find himself on this career path. He started out wanting to be a filmmaker, learning about visual anthropology in an independent pattern of study and graduating with a bachelor's degree in sociology and anthropology.
Braun has loved photography since he was a preteen and even had his own darkroom growing up, but he nearly flunked his sole photography class at Oxy. (Because he was already an advanced photographer, he found the assignments too easy, and "wasn't trying my best.")
Since his career has taken a new turn—Braun travels to China about six times a year—he hasn't had time to get bored. "As an artist, I can place a camera anywhere above the ground, regardless of the terrain around me," Braun says. "I can move the camera a foot or two up and to the left to change the composition. It's like having a magic tripod in the sky."
Ashley Festa wrote "Take a Chanson Me" in the Spring 2015 magazine.