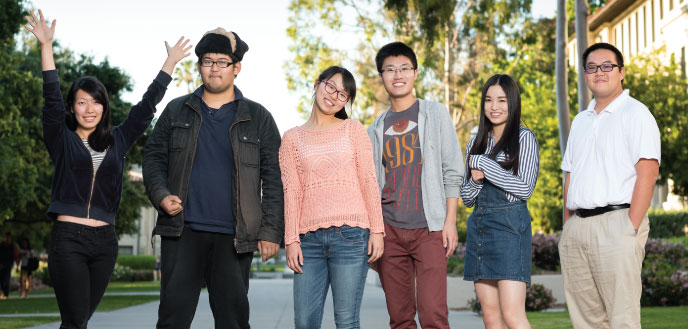 Oxy's international enrollment is booming, with Chinese students leading the charge. How are they adapting to Oxy—and how is Oxy adapting to their needs?
By Samantha B. Bonar '90 | Photos by Marc Campos
China's National Higher Education Entrance Examination—commonly known as the gaokao—takes place at the end of junior year in high school, lasts two or three days, and can make or break a student's college fortunes. The Middle Kingdom's higher-education system can't support the huge number of applicants, and less than a third who submitted applications in 2009 were admitted to the highly competitive system.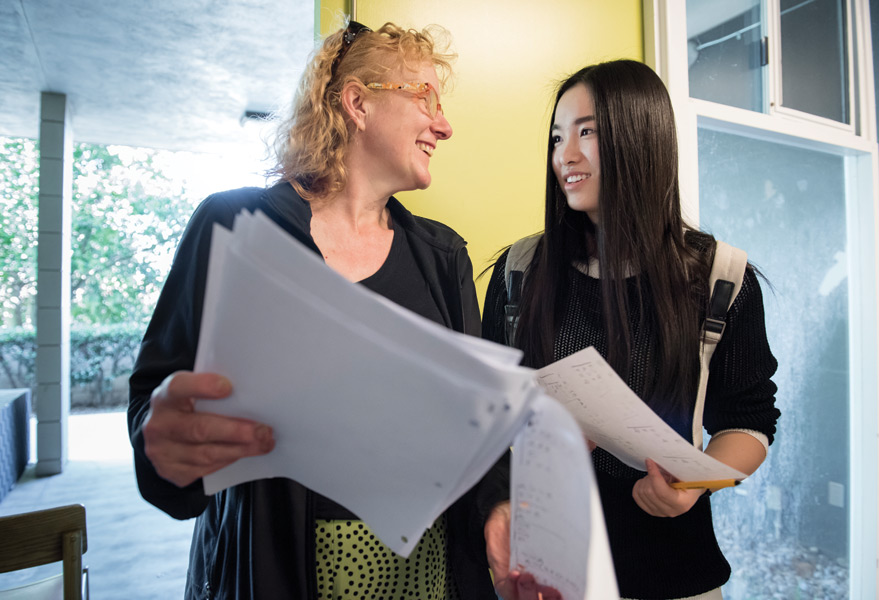 By her own admission, one of the main reasons Lyra Yu '18 decided to come to college in the United States was "to escape the gaokao." "For Chinese students, three years of their high school is spent just preparing for that test," says the Ningbo, China, resident. In her homeland, she adds, you have to decide your major ahead of entering college—and she "really had no idea" what she wanted to do. "I tried six courses from eight majors in my first year at Oxy," says Lyra, who is now leaning toward a math major and philosophy minor.
Shuyi Chen '18, a biochemistry major and public health minor from Shanghai, believed it would be easier for her to pursue her dream of becoming a physician in America than at home in China, because "I wasn't doing very well in Chinese school. I'm not good at math, and it's the most important subject there."
In record numbers, Chinese natives such as Lyra and Shuyi are seeking college education abroad, and the United States is their No. 1 destination. In the 2014-15 school year, more than 300,000 Chinese college students studied in the United States, according to the Institute of International Education. That's a fivefold increase over the last 10 years, according to Inside Higher Ed, and true to historic patterns, graduate students make up the majority of Chinese enrollment in U.S. colleges. But more students than ever are pursuing undergraduate degrees in America—with California tops on the list of desired states.
Occidental is riding the wave of this rising tide, reflecting not only the surge of applicants to American schools but Oxy's own concerted push to attract a more diverse enrollment. "The College's Strategic Plan emphasizes 'urban and global,' and the latter doesn't just mean sending our students abroad but diversifying our residential student body," notes Vince Cuseo, vice president of admission and financial aid. 
In the last three years, the overall percentage of international students enrolled at Oxy has almost doubled, to 6.3 percent. Oxy's current international enrollment includes students from 27 countries on six continents. More than 75 percent of the 136 international students enrolled this spring hail from Asia, and students from China account for more than half that number.
Of the 265 Chinese students who applied to Oxy, 99 were admitted (a 37 percent admit rate—lower than the overall admit rate of 45 percent), and 22 enrolled in the Class of 2019. Today, according to Student Affairs, there are as many Oxy families for whom Mandarin is their primary language as Spanish.
"There were no Chinese students here in the 1990s," says Professor Xiao-huang Yin, chair of the American studies department and special adviser to President Jonathan Veitch on Chinese initiatives, who has taught at Oxy since 1991. In the early 2000s, of the one or two who came here each year, "most transferred," he says. "They felt isolated. There was no Chinese community on campus." By 2013, he says, things had stabilized. "More students stayed. They found a community among themselves."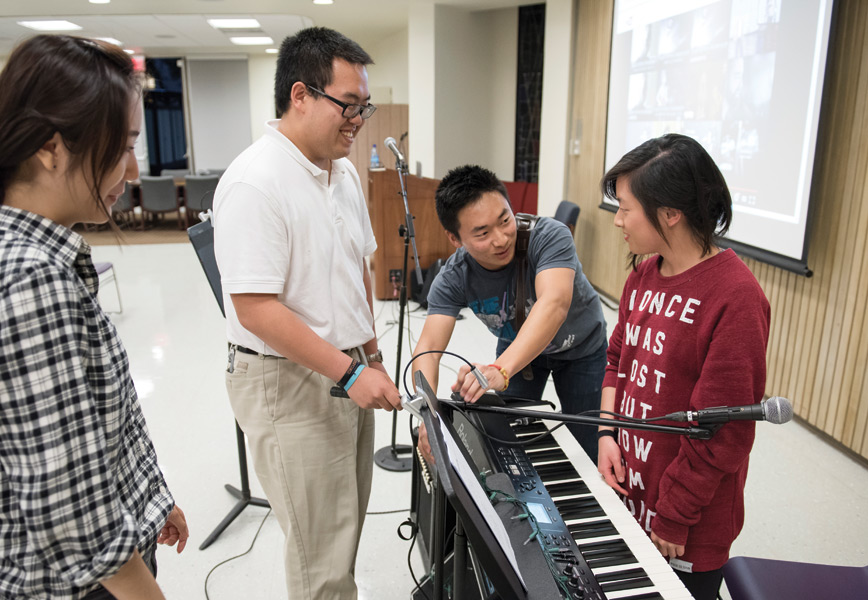 When Nick Yeh '17 of Taiwan was choosing a college, it came down to Oxy and Macalester, a small liberal arts college in St. Paul, Minn., with an enrollment similar to Oxy's. "I visited Macalester in April, and it snowed 6 inches," recalls Nick, a double major in DWA and theater. He chose Oxy not only for its warmer climate, he says, but because "It's also closer in terms of travel back home."
"Oxy's main selling point abroad is Los Angeles," says Carter Delloro, assistant director of admission, who oversees international recruitment. "Many students are coming from large metropolitan areas and are hesitant to commit themselves to a rural campus for four years. Oxy allows them to be in one of the major global centers for anything they want to study, and frequently gives them an off-campus community that can help with homesickness or culture shock."
President Barack Obama '83's time at the College is a selling point as well. "There is the Obama bump," admits Huntington Wu '19, a psychology major and education minor from Shanghai, who chose Oxy over Boston University "because of the small class size and the stronger emphasis on education."
On his first trip to Oxy with a tour group, "I thought the school was really pretty with its Spanish-style architecture," says Chenli "Henry" Yuan '18, a Japanese studies major from Jiangsu. "I also remember walking into the library and finding myself amazed by the large number of students studying there, since that was a Saturday."
Most Chinese students use consultants or "agents" to help them apply to U.S. schools, and Oxy's students are no exception. "I had an application agent from America," says Lyra. "She made a list of schools according to my interests and personality. I felt that Oxy was the best for me because it has a very strong biology pre-med program. I also heard that Oxy has many great professors who can guide you."
Lyra also knew about the College from fellow Ningbo resident Mengyu Han '16: "She attended Oxy as the first person from my city." Above all else, "Nothing beats word of mouth," Delloro says. "When they have friends or acquaintances attend and rave about their experiences, it makes our job a lot easier." Oxy already has developed some "feeder" schools in China, he notes, including Beijing No. 4 High School, Shanghai American School, and Shenzhen College of International Education.
So how does Oxy recruit students in China? "We were the third liberal arts college in the United States to start a WeChat account [a popular social app in China]," Delloro says. "We have a student worker who spends three hours a week posting on the site and communicating with students and families who reach out to us." (In addition to being a resident adviser, Henry helps out in the admission office as an "international ambassador.")
The College also participates in the China Liberal Arts College Tour, a nonprofit organization created in 2009 "to promote and deepen Chinese students' understanding of the liberal arts colleges and American college education in general" (Delloro, who does not speak Mandarin, spends two weeks in China every August with the program). Professor Yin—who himself attended graduate school at Harvard after receiving his undergraduate degree from Nanjing University—and College admission administrators go on yearly recruiting trips to Nanjing, Shanghai, and Beijing. The College has also mobilized alumni in the region to attend college fairs and field questions, and has materials on the Oxy website and the International Programs Office's website in Mandarin.
Application fraud among Chinese students is a huge issue. According to a May 2015 article in The Atlantic, citing educational consulting company Zinch China, "90 percent of Chinese applicants submit fake recommendations, 70 percent have other people write their essays, 50 percent have forged high school transcripts, and 10 percent list academic awards and other achievements they did not receive."
Oxy utilizes several defenses against such chicanery. "We read their entire applications very closely," Delloro says. "Our best defense against fraud is the live interview. We look at either the third-party interview they have submitted via our partner companies, InitialView or Vericant, or in many cases we will set up a Skype interview with someone on our staff. That way we can talk to the student directly to assess their English ability, motivation in coming to the States, the veracity of the application, and the integrity of their thought process."
Once applications have been verified and talented students have been admitted, however, issues still abound, for both the students and the campuses. Chinese students find reality quite different from the idealized perspective of American life that they've gleaned from TV and the movies. They struggle with integrating both into campus and American culture. They have a hard time making friends, as well as adapting to U.S. testing and grading styles (more essays and papers). And they miss the food back home: "My first year I would bike down to Little Tokyo a lot and get a bowl of noodles," Nick admits.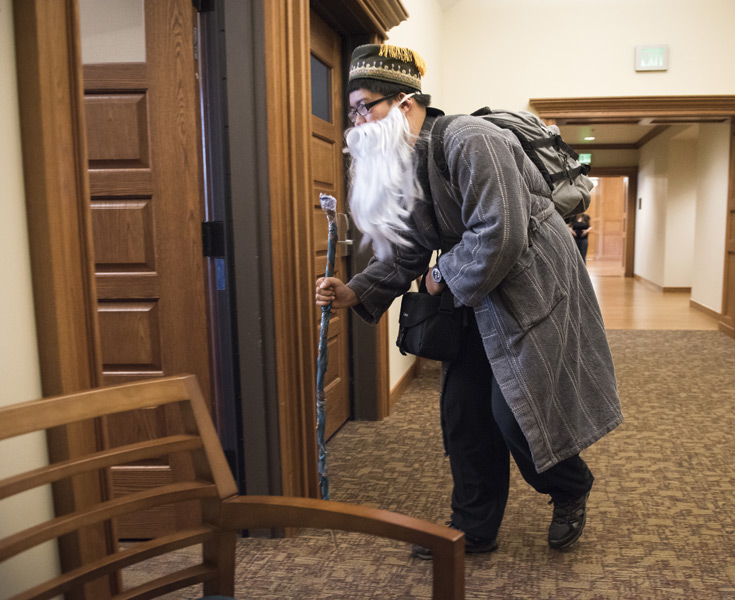 "A lot of people haven't eaten Mexican food," Huntington says. "They need some time to adapt to that. I'm still getting used to how to eat tacos. A lot of people remember the noodles and gruels at home. I go to 99 Ranch Store [an Asian American supermarket] and cook my own food." (To which he adds: "Why is there a ban on raw eggs in the dorms?")
Many find that it is easier to group together with other Chinese native speakers and form insular communities on campus. Many say they only socialize with Americans in the classroom or lab, and wish their American peers would reach out to them more. "American students and I discuss academic issues and lab projects," says Shuyi. "I really hang out more with Chinese students. I know I should try to make friends more with American students."
"We want Chinese food or Chinese movies," Lyra says. "I normally socialize with Chinese students during the weekends and holidays. During weekdays I hang out with American students, but the relationships are more academic."
"I do have a bunch of American friends, but also I have really a close relationship with international students," says Eva Wang '18, a DWA and economics double major from Shanghai, citing food preferences, living habits and language as reasons why she felt more comfortable, particularly during her first year, spending time with other Chinese students. "But as time goes by, I'm engaging more with clubs and events, so I try to get out and make more friends." (Eva now participates in Dance Production and is on the Impact Fund board.)
The students' goals for their college experience drive their choices—such as how much they integrate or try to master English. For example, do they plan to stay here after college for grad school or to work? They might be more motivated to make American friends and improve their writing skills. Or do they just see their time in America as an extended study-abroad experience, in which case they are fine just hanging around with other Chinese "expats"? How linguistically competent do they feel, what is their personality like—how extroverted or introverted? Are they risk-takers or shy? Like anyone abroad, stepping out of their comfort zones can be hard. That's why programming and resources are so important.
In the fall of 2011, two Chinese students enrolled with the Class of 2015. Neither returned to campus as sophomores. "We didn't really look at whether they were a good match for Occidental," says Teresa Kaldor, director of institutional research. "They have to know what they're getting into. It's a culture shock for them. You have to connect with the right students."
Oxy learned from that experience, however. Now, ­according to Robin Craggs, executive director of international programs, Occidental has all sorts of programs in place to make the transition to life in the United States easier. International students now arrive a week earlier than their classmates and go through a specialized orientation program conducted by professional staff and upper-class international and U.S. students. They also mix with other newcomers as participants in OxyEngage, which involves three days of field trips to spots around the city. "This helps them get familiar with L.A., meet students other than international students, and get over jetlag," Craggs says.
Arriving on campus was Lyra's first visit to America. "This was the first college I'd ever seen," she says. "The first person I met was from the Orientation team. She was very kind and warm." Within two weeks, however, she says she had begun to feel like an outsider. "When people would meet me for the first time they would talk about their hometown, their high school, their life experience here. I couldn't communicate with them about those things. They don't know about my hometown, they don't know about my high school. Our life experience—TV shows, books—is different."
However, history professor Sharla Fett took Lyra under her wing. "In my first CSP class there were 16 students, and my professor knew me well. She was a very kind person. She took care of you in every aspect of your life—your academic learning and your life here. I thought, 'I'm being taken care of. That's so nice.'"
Fett, meanwhile, calls Lyra "a joy to work with," adding, "I'm always impressed with international students who are not only facing the challenge of college writing requirements, but doing so in a second language." 
"I feel like when I first came here everyone was so nice to international students. I met an older American girl who assured me I'd have a very good time here," Shuyi says. However, "When school started it was very overwhelming because of all the reading and writing and homework. But we have a lot of resources on campus and that's how I overcame it."
"They are surprised by the loneliness. Culturally, they're not really prepared," says Yin. "No matter how they understand America in China, when they come here it's different."
Many of the Chinese students at Oxy expressed similar frustrations about their freshman experience, but all noticed a big improvement by their sophomore year. "For a philosophy class, it's community-based learning so we go to a local high school and tutor a logic-based course," Lyra says. "We work in a group and we discuss everything. My advice and opinions are being noted. I feel like I play an important role in that class—which makes me feel like I am a part of this community."
Indeed, professors say that their Chinese students add much-needed perspective to classes. Sasha Day, assistant professor of history, teaches a course called China and the World. "It has been great having different perspectives in the class, and having more voices from China has enriched the discussions and the experience for non-Chinese students," he says.
"It took me almost a year and a half to overcome the reluctance to discuss in class because they speak so well and quick," Shuyi says. "Gradually I've come to participate as well. My professor thinks our opinions are important. No matter what you say, as long as you are trying, Professor Day will give long feedback to you and really listen to you."
"Chinese students have had a unique perspective that has added greatly to how the class has unfolded," Day says. "They have made me look at the course material in new ways, and teach differently as well."
"Having several Chinese international students in my CSP seminar—Slavery and Emancipation in Film and History—was an eye-opening experience for me, as I got to have conversations with my students about their perspectives on U.S. history and American films," Fett says.
"I think they're adding a very crucial part to what we're trying to create here: global citizens," Yin adds. "How can you be a global citizen if you don't understand China? It's the world's second-largest economy. It's helping to prepare our students for the future."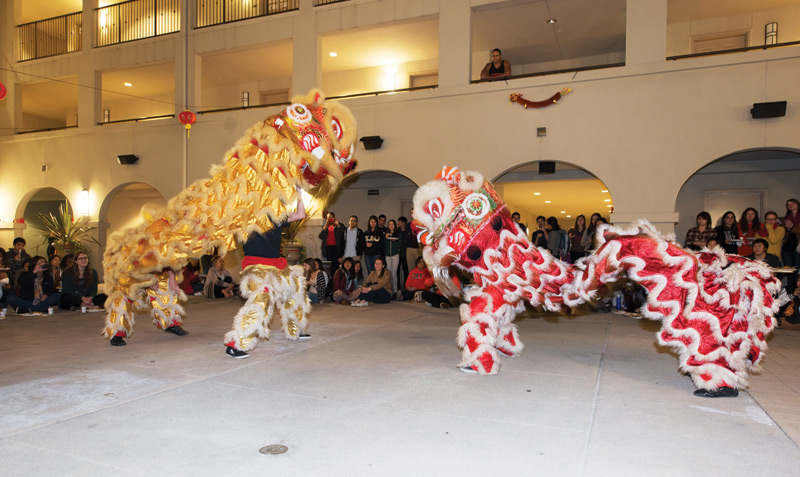 While there's a sense among some faculty that more could be done to help international students assimilate better—such as a Multicultural Summer Institute for incoming first-years from around the world—the College is stepping up its efforts in a number of areas. Residential Education and Housing Services, for instance, has established a global diversity floor in Newcomb Hall (12 Chinese students currently live there).
Oxy's International Programs Office, meanwhile, collaborates with the Hameetman Career Center and Center for Academic ­Excellence, participates in a "Buddies" mentoring program for international students (three current upper-class mentors are Chinese), and hosts international coffee hours. The office also works with clubs and groups such as the International Student Organization and the Chinese Culture Club—more than 300 students participated in the latter's Lunar New Year celebration this year.
Behind the scenes, IPO puts on workshops on the intercultural classroom and inclusive teaching and learning with faculty in the Cultural Studies Program. It also regularly gathers data from these faculty about how their students are doing.
As a result, Oxy's retention rate of Chinese students has improved greatly. Of the seven Chinese students who enrolled in fall 2012, all seven returned for their second year, and five returned last fall as juniors. Of the 34 who enrolled in fall 2014, 33 came back for their sophomore year.
"I see a lot of progress being made," Yin says. "We have the website in Chinese. We have the Chinese Culture Club. Student Affairs is doing a tremendous job, and Admission is explaining Occidental better over in China. The bottom line is, we want them to survive and succeed."
"Oxy gave me what I wanted: a strong education, a welcoming environment, a place where I can study and prepare for grad school," Huntington says. But he also addresses the elephant in the room—which surfaced publicly during the Oxy United for Black Liberation protests last November—of international students being "walking ATMs" to fill college coffers. (International students typically are ineligible for­ ­financial aid at most colleges. Personal and family ­resources are the main source of funding for nearly 80 percent of international undergraduates, according to the Institute of International Education.)
"Most Chinese students here on campus, me as well, are middle class," Huntington says. "My parents saved up for many years for me to be able to come here. It took 50 years of hard work for my family to come to the position they are now. Four of my uncles and aunts actually died of starvation. A lot of the people were able to come here because of a long period of hard work and suffering."
Despite any personal misgivings about last November's protests, Huntington helped out in the cleanup of Arthur G. Coons Administrative Center following the five-day occupation. "The choices others make are their choices," he says of his fellow students. "I may not exactly agree with you, but I accept that you're there. I'm not going to attack you. But also, accept me over here."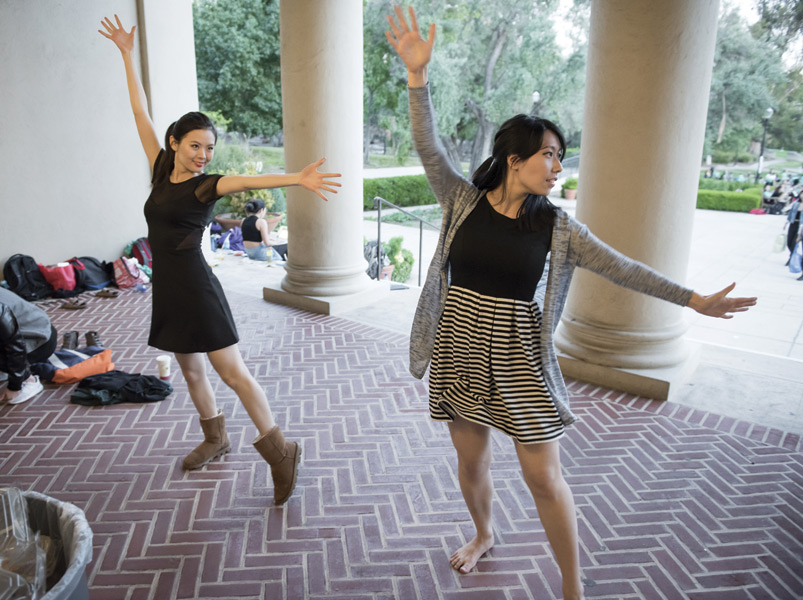 The college experience is transformational for most—perhaps even more so for Oxy's Chinese population on campus. Lyra was surprised by the Black Lives Matter protests on campus last fall, the likes of which she had never seen in China (where there would be severe consequences for similar actions). "This kind of movement in America is happening every day. I was impressed by their braveness to have this kind of campaign." She also was surprised when the issue of women's rights was brought up on campus and in classes. "I questioned, 'Is this issue in America so severe, or do we just pay attention to it here?' Minority rights, women's rights—I've never thought about these issues in China. Chinese people want peace. We have a hard time to fight for our rights."
"I think you learn with adversity and challenges," Nick says. "Coming to L.A. was definitely hard in the beginning. There were some times when I struggled, but at the same time the community here, the openness of the culture, has been very welcoming"—particularly Christian Fellowship, with which he is actively involved.
"Oxy changed my personality," Eva says. "I wasn't a person with a lot of initiative when I was in China. Chinese education is more passive. You just sit there and teachers throw things at you. At Oxy, I feel like there are many opportunities that I want to explore by myself, and I want to design my education."
"I feel like in America you can become the person you want to become and I think the general trend is as long as you work hard enough and are proactive it's very likely that you can receive the result of your hard work," says Shuyi, who has gotten involved in Dance Production and is one of the board members of the Women in STEM Club. "The first female astronomer said, 'Never be limited by other people's imagination.' I used to think a lot of things were impossible. In China, I thought it was impossible for me to become a doctor. But now, here, I feel that the path is more and more clear for me. After two years, I feel more and more capable of becoming the person I want to become." 
Ethan Saltzman '16 contributed reporting to this story.