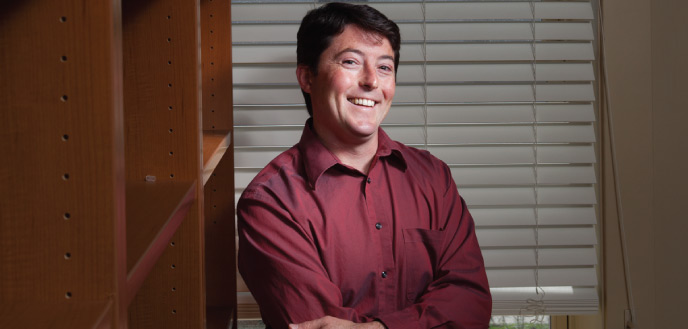 Associate professor of psychology Andrew Shtulman studies people's intuitive ideas about how the world works—and finds that people are usually wrong
By Peter Gilman | Photos by Max S. Gerber
If there's a Heaven, Andrew Shtulman is in for a rather rude awakening. But rest assured, that probability isn't high on his list of concerns. This is a man who puts his faith in science.
"I don't believe in God," says the 36-year-old associate professor of psychology. "I used to, but I stopped believing after college, after I decided that scientific explanations for the origin of the universe and the origin of life were sufficient."
Since he arrived at Occidental in 2007, Shtulman, whose specialty is cognitive developmental psychology, has focused on why our intuitive concepts—even when bolstered by education—are often directly opposed to scientific facts, particularly in the case of evolution.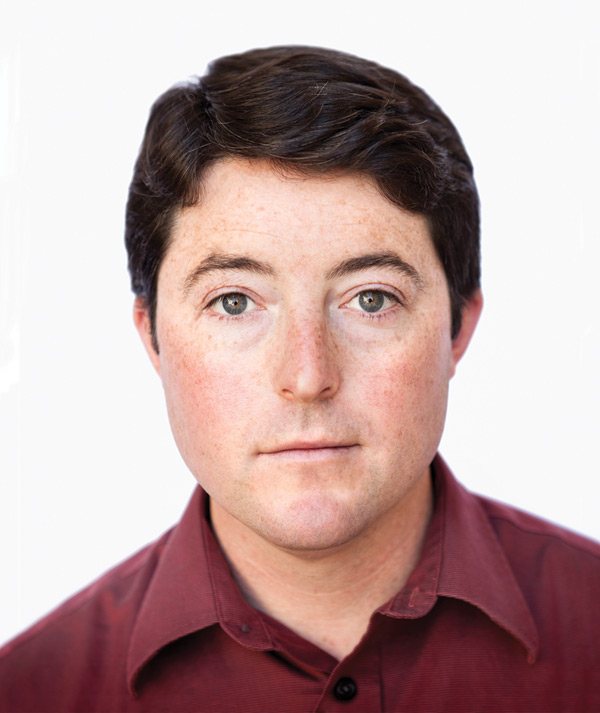 "The answer that a lot of people endorse, myself included, is that humans are a creature that's evolved to make do with reality, but not understand the way reality actually works," he says. "So we come into the world with concepts that help us deal with other people and deal with the environment, but those concepts don't necessarily help us understand what science has come to show us as the real workings of nature. And those kinds of concepts are the concepts that religion capitalizes on."
Shtulman's own early evolution began in his hometown of Oberlin, Ohio, and grew to include stops in Massachusetts, Kansas, and finally Virginia for high school as his father, who worked for the United Way, moved the family every few years. "There was no reason he had to move," Shtulman says, "he just liked moving to different United Ways."
His dad was Jewish, his mother converted, and they attended synagogue, but by the time the family had reached Kansas (not exactly a hotbed of Jewish life), "we stopped going. That was OK by me, I never really enjoyed it," Shtulman admits. "My parents didn't have a scientific view of the world but they didn't particularly have a religious view, either. They were just secular, and that seemed fine."
His interest in evolution and other's reaction to it was sparked during high school in Poquoson, Va., a town of some 12,000 located 10 miles east of Newport News. "Learning about evolution in ninth grade, there were students in my class who just refused to listen. They said, 'This is all lies. God created us in our present form,' and I was just shocked that people believed that," says Shtulman, who thought that pattern of thinking was attributable and confined to a public high school education in Poquoson. He was wrong.
"I thought when I went to Princeton I wouldn't encounter the same kinds of people, but I did," he says. "So I couldn't explain the difference in our beliefs as just being a matter of lack of education or lack of smarts, because [at Princeton] they are clearly well educated. So that revitalized this interest in why we believe those different things."
And thus Shtulman found his calling. "I think I was always destined to be a psychology major," he says. "I saw this unique opportunity in psychology to study the differences in beliefs relative to religion and science."
But the road to his Ph.D. was not without bumps. "I had this moment when I seriously considered dropping out of academia," admits Shtulman, who has a Ph.D. from Harvard and was a postdoctoral fellow at MIT. "I had applied to 15 or 16 different jobs and didn't get a single interview, and I was having difficulty publishing things, and I was like, 'What is it all for?'"
When he considered the option of a home at a liberal arts college, his existential crisis was averted. "Once I set my sights on that, Oxy was a great choice. One of the motivations was that as an academic I can write, but I'm not reliant on writing for my paycheck. It worked out really nicely. Also because it was the only interview I got."
The choice has benefited both parties. Over the last six years, Shtulman has been awarded two grants in excess of $1.1 million. In 2010, he won the prestigious National Science Foundation Faculty Early Career Development grant worth close to $500,000, one of only 425 recipients out of 2,500 applicants nationwide. His proposal, "Investigating the Causes and Consequences of Conceptual Change," examined at what stage in a child's life scientific evolution can be taught. (Spoiler: Early!)
In 2015 Shtulman landed a $600,000 grant from the James S. McDonnell Foundation 21st Century Science Initiative in Understanding Human Cognition Scholar Award. The prize will allow him to investigate why "people eschew scientific explanations in favor of either supernatural explanations or natural, yet empirically incorrect, explanations."
The funding benefits Oxy students, allowing four undergrads each summer to work with the professor for 10 weeks. "Also, I've brought many students to conferences with me," Shtulman says. "For them it's a life-changing experience. I feel like that's a good use of money."
Gabrielle Lindquist '15, a psychology major from Kirkland, Wash., would concur. She spent a summer as a research assistant, "studying if kids could be taught the process of natural selection," she says. "It was the thing that got me interested in research. Now I'm a research coordinator at the University of Washington's Social Cognitive Development Lab, so I kind of owe my career to Professor Shtulman. I felt so lucky to be included and see what the conference was like. He's an amazing mentor."
Cara Neal '15, a cognitive science major from San Anselmo, also worked on the project, which will be published in November. "I'm thinking about studying some kind of child development for grad school, and I never would have been exposed to that field without doing research with him," she says. "He was the most engaging, knowledgeable professor I'd ever had."
"It's exciting not only that he's brought in grant money, but the fact that he's trained so many students and shepherded along so many students in their research projects," says fellow psychology professor Andrea Hopmeyer. "I used to joke, when I'd go to conferences, it was like being at a zoo with peacocks showing off their feathers," she says, "and what's nice about Andrew is he's really invested in being a scientist and collaboration and sharing ideas. He has all the reason to prance around like a peacock, and he doesn't."
The man is definitely humble; just try and get him to reveal the secret to winning grants. "I'm just persistent," Shtulman insists. "You should apply for as many grants as possible. In my nine years at Occidental I've applied for nine grants and received only three of those, so I've been rejected twice as often as I've been accepted."
Grants run in the family. Shtulman's wife, Katie Roundtree, is associate director of grants and contracts for the College of Arts and Sciences at USC. Together they have two children, Teddy 10, and Lucy, 5.
Next spring will see the publication of Scienceblind: Why Our Intuitive Theories About the World Are So Often Wrong, Shtulman's first book for a general (non-academic) audience. "I have lots of [family] anecdotes in my book, mostly from Teddy 'cause he's older," says Dad. "I haven't done the thing most people expect me to do though—administer standard tasks to my kids."
Instead, it's the kids who are doing the tasking. "I've gotten really passionate about baseball because they play it," Shtulman says. "We've become a baseball family. I'm the scorekeeper for Teddy's team and the coach of Lucy's T-ball team."
"We're phenomenally lucky to have him at Oxy," says Hopmeyer. "It's hard to do what he's done, which is to bring in grants and publish at the level he's published, all while raising two young children and being a very active father."
In a sense, it's all part of evolution, according to the gospel of Shtulman. "Understanding evolution is fundamental to understanding all living systems and how humans have evolved, and how all the stuff we do has roots in our evolutionary origins," he says. "The world just makes so much more sense from an evolutionary perspective. But I also say the world would be a better place if everyone understood physics or chemistry." 
Peter Gilstrap wrote "Hometown Gory" in the Winter issue.