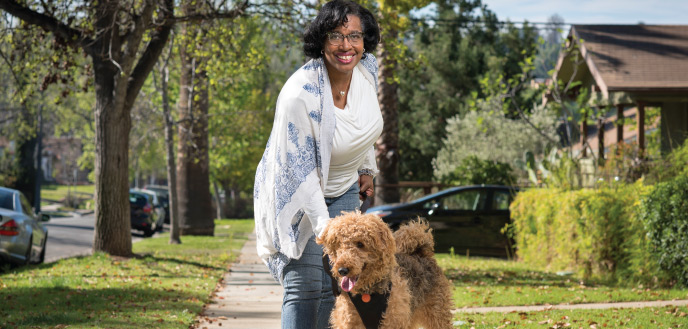 Rhonda Brown, Oxy's new vice president for equity and inclusion, describes diversity as a catalyst for action—and she wants to get the dialogue going across campus
Rhonda Brown is building something new. "I've been planting trees all day!" says the College's new vice president for equity and inclusion and chief diversity officer, who arrived at Oxy in February from Philadelphia's Temple University. Following an afternoon of digging up soil and putting down roots, she marvels over the student energy, the distinct arid climate, and a bold coyote neighbor.
Brown witnessed a different kind of energy on her first visit last November as a finalist for the newly minted position. A scheduled series of presentations to various campus constituencies coincided with a five-day protest and occupation of the Arthur G. Coons Administrative Center by hundreds of members and supporters of Oxy United for Black Liberation, whose list of 14 demands to President Jonathan Veitch called for a more inclusive campus included elevating the new chief diversity officer's position to vice-presidential status—which came to pass.
"It was powerful to hear people so passionate and vocal," says Brown, who met with members of Oxy United inside the AGC during her campus interview. "Ultimately, I came to believe everyone wants the same things, to be heard and respected, and I felt I could be that conduit for students."
"Rhonda described diversity as a catalyst that draws you into action, and that really spoke to us," says Kerry Thompson, associate professor of biology and interim vice president for academic affairs, who co-chaired the search committee. "She will give language and best practices to an ideal of diversity and inclusion that we all strive for."
Brown is tasked with working with many students and faculty who remain skeptical of Oxy's commitment to equity and inclusion. The position "is necessary in order to facilitate productive dialogue between faculty, staff, students, and administrators while further reinforcing the College's mission statement," says Ricardo Parada '18, a politics major from Albuquer­que, N.M., and one of two students on the search committee.
"Rhonda brings empathy and enormous generosity of spirit" to her role at Oxy, says Veitch. "I cannot imagine a better colleague and interlocutor."
Born in the year of the freedom riders, attending the March on Washington as a baby with her father, and growing up in a tight-knit, diverse community in Coatesville, Pa., Brown was inculcated with the principles that valuing difference and "inviting everyone to the table" were important.
A graduate of Albright College and American University Washington College of Law, Brown began her career as an attorney at Moffitt and Jones in Alexandria, Va., where she handled criminal defense and legislative work. While she felt engaged by the issues she was working on, it was the late Annadora Shirk, an Albright professor and mentor, who encouraged Brown to consider the many ways she could make an impact on young people. Brown subsequently traded her legal career for one in higher education in 1989, and in the years since she has served in various diversity and inclusion roles at Albright, the College of the Holy Cross, the University of Notre Dame, and Temple.
She describes indelible experiences, from building community between new and tenured faculty of color, to forging relationships with mentors who once organized with Martin Luther King Jr. The infusion of social justice and civil rights in the fabric of a college are especially important to Brown, but she is not immune to the broader challenges sweeping colleges and universities.
During her tenure as associate vice president for institutional diversity, equity advocacy, and leadership at Temple, Brown's office faced periodic budget cuts, resulting in the loss of three staff members. In response, Brown partnered with the College of Education to design a diversity certificate program that ultimately produced a line of funding to support another staff member in her office. "Rhonda didn't miss a beat," recalls Theresa Powell, Temple's vice president for student affairs. "The best thing about the program she created is that ultimately it served more people at the university than what we had before."
Brown's life can best be described as bicoastal. Daughter Ashleigh is a rising senior at Temple University majoring in environmental studies and urban geography. "The hardest thing I've ever done was to start the drive to L.A. knowing Ash was at home crying," she says. "My heart was breaking, but I knew I needed to start a new phase of my life, and that she needed to finish an important phase in hers." Four months later, the pair are "masters" of early-morning phone calls, text­ing photos, and late-night FaceTime sessions.
Brown's interest in Oxy stemmed from a variety of factors, including the College's history of activism and its size. "I looked back at my career and asked myself, 'Where was I the happiest?' I wanted a small campus with a self-supportive community where you know your students—where you could turn up to their sports meet to cheer them on.
"Life is about second chances and making the most out of the cards you are dealt," she adds. "It is also about risk."
On March 29, Brown engaged a Choi Auditorium audience of students, faculty, and administrators in a public dialogue to address some of the College's most pressing concerns. Among the ones she is tackling immediately include ensuring that future faculty searches are conducted with diversity in mind, facilitating conversations between students and faculty within departments where students have felt unheard, and rolling out a core diversity training for faculty to help them deal with a wide array of Oxy students, from first-generation college attendees to distinct racial, gender, and sexual identities.
There also is the ongoing challenge of reconciling student activists' rights to free speech with the ongoing operations of the College. On April 8, more than 150 members of Oxy United for Black Liberation assembled in the bleachers of Rush Gymnasium where a luncheon was being held for admitted students and their families. Brown successfully negotiated an understanding in which sophomore Chance Ward was given the microphone to address prospective students about the protests and the experiences of students of marginalized backgrounds at Oxy.
A week later, at a second lunch for admitted students and their families in the Quad, an admission officer attempted to prevent Ward (who was not part of the event) from speaking, which student members of Oxy's Diversity and Equity Board interpreted as "physical misconduct." Between the two events, Brown explained in a letter to the Oxy community, she invited several students, including Ward, to meet with her to discuss their plans for the second luncheon. "I received no response to my invitations, and no arrangements were made," she wrote.
Noting that the College will always welcome student speech, "including dissent and protest, provided of course that it is not disruptive," she added: "Let's all encourage one another to pause, take a moment to reflect and be open to the conversations that will help us move forward. I have ambitious, but I believe realistic, goals for our community, and I look forward to partnering with you."
Rhonda Brown is building something new. She hopes to model a culture that buttresses Oxy's mission to foster honest dialogue about diversity and equity. She recounts some advice given to her by a mentor at a formative time in her career: "The opportunity to work with students who will go out and do great things in the world is incredible. Just one little bend can point them in a direction that will open up the whole world for them."—REKHA RADHAKRISHMAN