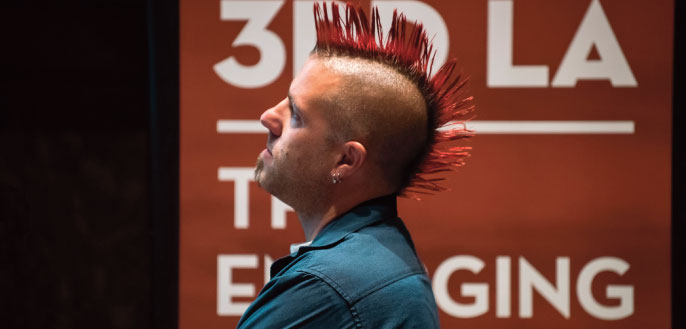 Oxy's 3rd L.A. series returns with a new set of conversations on Olympic dreams, urban revolutions, homelessness, technology, and the suburban lawn
When students in Christopher Hawthorne's urban policy class at Oxy were given the opportunity to organize a session for this year's 3rd L.A. series, they quickly decided on the growing problem of homelessness in Los Angeles. The resulting discussion—including scholars, government officials, and activists—was often passionate, examining the causes and possible solutions to the situation.
Whatever the topic might be—from suburban lawns to Olympic dreams, from street design to the impact of technology such as Uber and Lyft on the streets of Los Angeles—3rd L.A. brings together experts and audiences with a common passion for the city.
"The series is really a natural and complementary extension of Oxy's commitment to a sustained engagement with the city and region around the campus," says Hawthorne, the Los Angeles Times architecture critic. "Its basic goal is to hold up for scrutiny a city that is moving into a dramatically new, if uncertain, phase in its civic development."
Here's a brief recap of what Hawthorne and his students brought to light this spring.
While rising income inequality and state legislation gutted rent control, allowing landlords to take affordable housing off the market, the criminalization of homelessness also played a major role in exacerbating the problem, panelists said in the student-organized Homelessness and the Right to the City on April 6. The result has disproportionately affected the African-American community, noted Charles Porter of the United Coalition East Prevention Project. But St. Francis Center executive director Jose Ramirez cautioned that there is no one-size-fits-all solution because of the diversity of L.A.'s homeless: families, veterans, the mentally ill, substance abusers, and young people aging out of foster care. "Building a human connection is so important," he said.
Because homelessness pushes people's emotional buttons in a way that other issues do not, "We need to figure out how to break down divisions in the community, get over that fear, and have a more honest conversation," said Alisa Orduña, director of homelessness policy for Mayor Eric Garcetti. "Then we can mobilize and get the policy done."
"It's interesting how the lawn has been politicized," New York architect Elizabeth Diller observed at the February 17 panel Turf Battles: The Lawn in Los Angeles. "It used to stand for democracy, and now it stands for waste." And while she and her fellow panelists all agreed that while the suburban lawn—widely regarded as a water-wasting indulgence in an era of drought—should be rethought, none felt it should be eliminated.
"Lawn used in a sparing way makes a lot of sense—it has a cooling effect, it does some amazing things, and it is aesthetically beautiful," said landscape architect Jim Burnett. "But when you look at Palm Springs from the air, there's way too much lawn. It's a question of scale."
A more eclectic approach to yard plantings is better for the environment, but the approach some have taken—spreading gravel over black plastic sheeting—creates a heat island "that is hot and ugly and doesn't absorb carbon dioxide the way grass does," Oxy biology professor Gretchen North told the Choi Auditorium audience. "There are better ways to save water."
"When you change the street, you change the world," former New York City Transportation Commissioner Janette Sadik-Khan '82 said at back-to-back 3rd L.A. presentations March 16-17. She discussed her book Streetfight with Hawthorne at the Hammer Museum and the offices of Gensler, the global architecture, design, and planning firm. Drawing on her six years as commissioner and her current work as a consultant, Sadik-Khan reiterated her call to recapture streets for pedestrians, citing the resulting gains in safety, economic growth, more efficient rapid transit, and sheer livability. "Streets are what make a city great and not so great," she said.
While acknowledging that density is destiny, Sadik-Khan said that much still can be done to recapture streets in sprawling Los Angeles. "It's really important to have a vision and a plan for where you're going." Mayor Garcetti "has laid out a good plan—that's a critical first step," she added. "Moving quickly to show what's possible is also critical."
Given the debt, displacement, and militarization of space that have characterized recent Olympics, can Los Angeles prove an exception to the rule? Examining the past and future of the Games in Los Angeles, 3rd L.A. panelists participating in the March 30 session Three L.A.s, Three Olympiads held out some hope that if the 2024 Games come to Los Angeles, the city might be the recipient of some long-term benefits.
Skepticism is part of the legacy of the Olympics in Los Angeles, which hosted the 1932 and 1984 Games, said sports and urban historian Frank Guridy. Yet in contrast to the checkered record of Beijing's "Bird's Nest" Stadium built for the 2008 Games, L.A.'s 93-year-old Coliseum "has played a critical role in the political and cultural life of the city," he said. "It's been a space of inclusion."
LA84 Foundation president Renata Simril saw the 2024 bid as an opportunity "to focus on what's possible. We actually have the city and country operating with each other, something that doesn't happen very often."