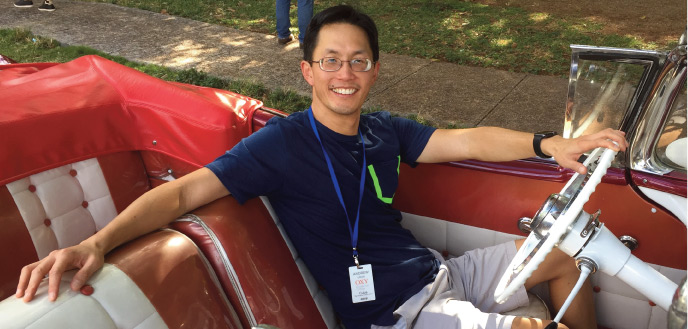 Taking a flyer on a trip to Cuba with his wife and a cargo full of Tigers, Andrew Louie '95 reflects on the country's treasures and unexpected pleasures
Last November 25, I was working my shift as an emergency medicine physician in Torrance when I mentioned to a co-worker that I was getting on a plane in six hours to vacation in Cuba. "You know he died, right?" my colleague said—"he" being Fidel Castro, the Cuban dictator who wielded power from 1959 until his retirement in 2008. Now, with Castro dead and news coverage everywhere, I knew I was in for quite an adventure.
My wife, Maribel Rios Louie '97, and I had always wanted to visit Cuba, but the logistics of doing so seemed a bit overwhelming. When President Barack Obama '83 lifted some of the more strict travel requirements, we knew we had to see it before the deluge of American tourists. As serendipity would have it, we received a Tiger Travel flyer in the mail advertising an alumni trip to Cuba. We had never traveled with a group before, but this looked great—and we knew we would be in the company of educated and fun Oxy alumni.
The 44-minute flight from Miami to Havana on November 26 was uneventful, and the bus from the airport shuttled us all into the heart of old Havana. Along the way, we passed Revolutionary Square, where throngs of Cubans had lined up to pay respects to their beloved leader. There was no celebrating, as there was in Miami's Little Havana. (Following Castro's death, the government declared a nine-day period of mourning in which alcohol sales were suspended and music was discouraged.) Thousands waved Cuban flags in the streets and stood in line for five hours just to pass by a picture of Castro, who had already been cremated.
After dinner and a good night's rest, we explored Old Havana. As we had lunch on the waterfront, an architect spoke about how Cuba's history had shaped urban planning. He gave us all pause to ponder the crossroads that the island nation was facing with the possible influx of foreign investments. Will the charm of old Havana, where three buildings collapse every day from decay, turn into a overcrowded city like Shanghai? Afterward, our group cruised through the streets in exhaust-spewing, classic American convertibles. We stopped at a park and took a group picture with our fellow Occidental tourists—five generations of alumni from 1950 to the 1990s.
Dinner that night was held in a restaurant or "paladar," in which Cuban residents convert their homes into private restaurants—one example of how the Cuban people are branching out and becoming entrepreneurs. (One night, we ate dinner at a state-run restaurant that was much more formal than the private residences.)
In the days that followed, we experienced the country's history and culture. We toured a Holocaust memorial and the Bay of Pigs ­museum. We watched a Cuban dance troupe practice and explored Ernest Hemingway's house, where a watchtower offered a spectacular view, and a boat on the grounds conjured memories of The Old Man and the Sea.
We visited a cigar factory, of course, as well as the National Museum of Fine Arts. We listened to a lecture on the transculturalization of Cuban music  at the University of Havana, and spoke with a current student about the free education system. On our last day, we listened to the Orquesta de Cámara de Cienfuegos, whose repertoire ranged from American classics like "Over the Rainbow" to the Cuban Cha-cha-chá that had everyone up and dancing. After that, it was back to Miami.
As I reflect on the trip, I realized that the best part was interacting with the people—both the Cubans and the tour group participants. We spoke with locals who were trained as electrical engineers, but were driving taxis or buses because they made so much more money. We spoke with Oxy graduates and reminisced about what dorms everyone lived in. Our group was diverse not only in age but also by profession—from a New York City lawyer to a Utah tour group operator, to a economist from Wisconsin, to a retired airline pilot from Corvallis, Ore. After every meal, the seniormost Oxy graduate would always remark to me, "Just like Clancy's!"
Perhaps you've heard the expression "Experience is to the soul what education is to the mind." With this alumni trip to Cuba, I ­accomplished both and feel so much more fulfilled than I was before. I was proud to be part of the Oxy community.