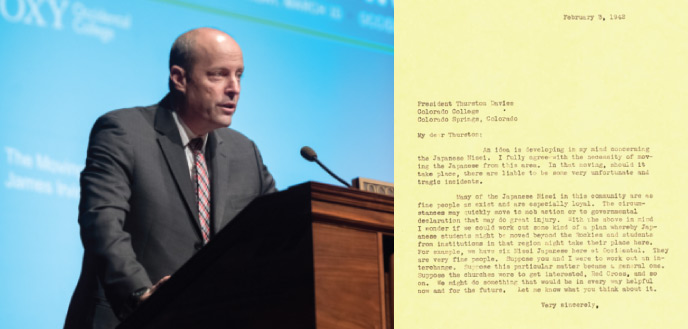 Faith in Our Mission in Uncertain Times
After the bombing of Pearl Harbor in December 1941, Occidental President Remsen Bird took immediate steps to place the College on a war footing. At the same time, he began a tireless advocacy campaign on behalf of Oxy's Japanese-American students and alumni in the face of widespread fear and hatred, helping several to transfer to colleges in Ohio, Illinois, and Kentucky. "I am of the opinion that the attack [on Japanese-American citizens] is not fundamentally on the side of patriotism," he wrote to U.S. Attorney General Francis Biddle. "Perhaps it has other emotional content and a very different end than the building of the strength of our democratic faith and practice."
Bird's principled position echoed in Thorne Hall on March 10 when Oxy and the Association of Independent California Colleges and Universities convened a daylong symposium of campus and nonprofit leaders to consider how to respond to major changes in federal immigration policy. In front of more than 250 provosts, deans, and other representatives from 44 Southern California schools, Salam Al-Marayati of the Muslim Public Affairs Council drew explicit and striking parallels between the experience of Japanese-American citizens during World War II and the experience of American Muslims today. Maria Blanco, head of the UC Davis Law School Undocumented Legal Services Center, reminded everyone of the historic role colleges and universities have played in preserving democratic values in times of crisis. While that role can be manifested in a variety of ways, whatever form it takes, "It conveys an essential message that we are doing all we can to provide a measure of support and safety to students, who are the mission of our institutions," said immigration law expert Lucas Guttentag, who teaches at both Stanford and Yale.
At Occidental, we believe that the policy changes now being debated in Congress and in the courts would have a direct impact on who we are and what we do. Oxy's mission calls on us to prepare our students for leadership in an increasingly complex, interdependent, and pluralistic world. The commitment to the wider world expressed by the creation of Oxy's first foreign exchange program a century ago is embodied today in such distinctive offerings as the Kahane United Nations program, overseas study, and the kind of international academic exchange that is at the heart of our science programs.
Oxy's cosmopolitan approach also is expressed in the makeup of our student body: They come from 31 different countries, multiple religions, and from every kind of background. It could not be otherwise on a campus so deeply connected with a global city like Los Angeles, and an institution that historically has sought to give talented students access to a transformative education, regardless of their background. Angelica Salas '93, executive director of the Coalition for Humane Immigrant Rights of Los Angeles, made that point in very personal terms at the symposium when she thanked Oxy for believing in her as a high school senior: "You don't know how many people I know who are doing this work because this College invested in us."
Occidental's mission also calls on the College to foster not only the fulfillment of the individual aspirations of our students but to act on a deeply rooted commitment to the public good. As was the case when confronted with the reality of Oxy students being placed in detention camps during World War II, we have a responsibility today to speak out for the most vulnerable members of our community. We need to do so in a way that is true to our calling, as Remsen Bird did, to build the strength of our democratic faith and practice. How best to act is not always clear—ultimately, the March 10 symposium raised as many questions as it answered. What was clear was the collective desire to put our institutions' intellectual weight behind a principled response to the challenges we face.
In November 2015, Sen. John McCain (R-Ariz.) rejected GOP calls to adopt a policy that the United States accept only Christian refugees fleeing Syria, excluding Muslims. "My faith is that all children are God's children," he said. At Occidental, we continue to share that faith—the same faith Remsen Bird held in the College's mission and its students and alumni 75 years ago.
Jonathan Veitch
President