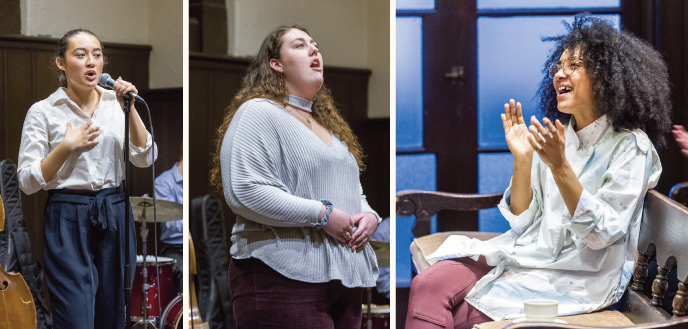 Four-time Grammy winner Esperanza Spalding sparkled in the classroom and on stage, coaching student singers to be storytellers and showing them how it's done
The first time Esperanza Spalding performed at the White House, it was February 2009, and she performed "Overjoyed" on the upright bass in front of an audience that included President Barack Obama '83 and that year's Library of Congress Gershwin Prize honoree, the legendary Stevie Wonder.
Nine years later, with an armload of Grammys (including Best New Artist for 2011, the only jazz artist in history to win that honor) and half a dozen albums to her name, the 33-year-old musician and Harvard University professor of practice visited Occidental on February 2 as the 2018 Hume Fellow in the Performing Arts. After holding an hourlong master class for students in Booth Music Hall, Spalding mesmerized a capacity Thorne Hall audience with a free public concert.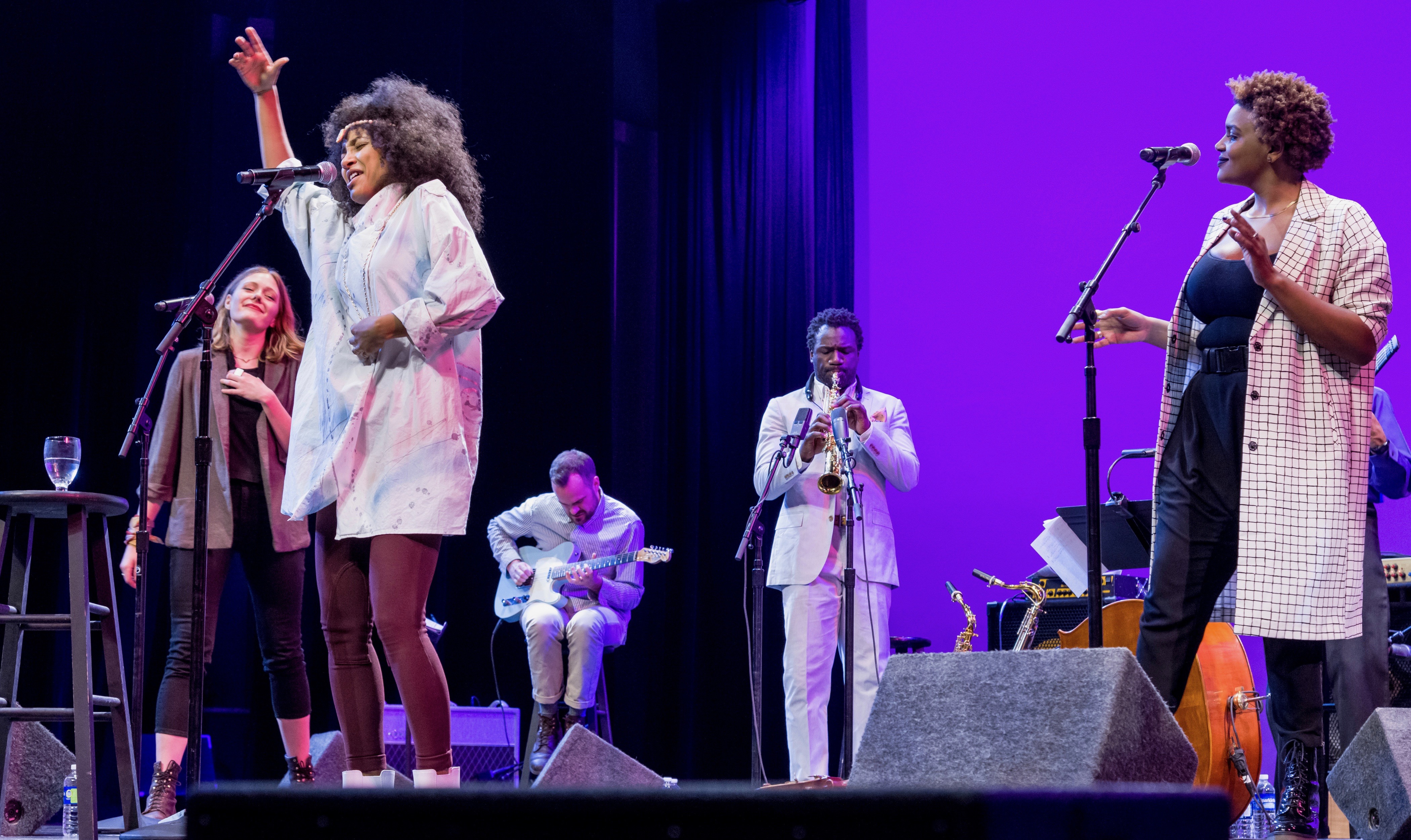 Occidental students Inez Leon '21, an undeclared major from San Marino, and Cate Selna '20, a music major from Oakland, were the lucky recipients of Spalding's coaching at the master class, with Leon singing "Brave and Wild," a jazz and R&B-influenced song of her own composition, and Selna performing Billie Holiday's "God Bless the Child," a song she first sang as a high school senior in choir.
"We're storytellers first," Spalding reminded the aspiring singers. "Everyone can sing now. It's boring. Use the space to transmit to the audience what only you know."
Spalding stressed to the students that they must understand the meaning behind the lyrics they sing and make them relevant to their own experience. "What did these lyrics emerge from? Put it somewhere in your reality," she said. When Selna sang Holiday's song a second time, Spalding told her, "This time you were talking to us. Before, you were talking to yourself."
"I feel something different," Selna said.
"I know, we did too," Spalding assured her.
Getting feedback from Spalding "was surreal," says Selna, who began singing when she was 10. "She gave me advice that I didn't expect, advice that deeply affected the technique that I used to deliver the song." During her performance, Selna adds, "I completely forgot that there was an audience watching. It felt like Esperanza and I were having a collaborative, constructive conversation."
Since the master class, she says, "I approach the delivery of songs from a slightly different angle now. Instead of learning a song solely within the context of its original creator, I look at lyrics and melodies as expressive things that guide my personal analysis and delivery. Music is communication for me; it's when I can be most expressive and vulnerable. Esperanza solidified that idea for me."
Leon describes her experience of singing for Spalding as "incredible. She could have touched on any technical mistakes or flaws I had made in my performance, but she chose to tackle the one thing that was most important to address: that I needed to remember that songwriters are storytellers before anything else.
"I was so caught up in putting on a good performance that I forgot to tell the story of my song and forgot to communicate the meaning of the lyrics I had written," adds Leon, who started singing "as soon as I could talk" and began writing songs at age 9. "In doing so, I received the best songwriting and performance advice I probably will receive in my entire music career."
Created in 2005 by an estate gift from the late G. William Hume '50 M'52, who taught music, speech, and history at Occidental before being named director of Thorne Hall in 1958, the Hume Fellowship has brought a distinguished roll call of performers to Oxy, including percussionist Dame Evelyn Glennie, mezzo-sopranos Jennifer Larmore and Frederica von Stade, Jeffrey Kahane and members of the Los Angeles Chamber Orchestra, and, most recently, pianist Vijay Iyer and trumpeter Wadada Leo Smith.
"One of the many hats that Bill Hume wore while at Occidental was as the guest lecturer on jazz for the History of Civilization course that all students took," says David Kasunic, associate professor of music and music department chair. "I trust he would be thrilled that his generosity made this concert possible. Esperanza Spalding is the consummate musician, an extraordinary communicator and innovator."
Occidental "reached out and said, 'Hey, come!'" Spalding told Billboard writer Thom Duffy. "It sounded good. I'm generally into people who want me to come and get down and do my thing"—and it's no stretch to say that the audience at Oxy was overjoyed by her presence.