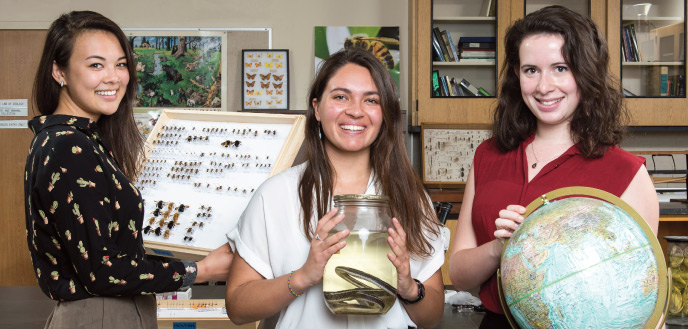 Three Oxy women set out to change children's mindsets about science—and scientists—by bringing the laboratory experience to elementary schools
Between 1966 and 1977, social scientist David Wade Chambers asked more than 4,800 children from kindergarten to fifth grade to draw a picture of a scientist. Girls made up 49 percent of the sample; less than 1 percent of all drawings depicted a female scientist. A 2016 Northwestern University study showed that over the last three decades, that stereotype has evolved—but even then, only 28 percent of students drew a scientist as a woman.
Coupled with the fact that less than one-quarter of all jobs in STEM fields (science, technology, engineering, and mathematics) are occupied by women, Audrey Shawley '18, a biochemistry major from San Francisco, took that report as a call to action. Together with classmates Nina Doeff, a mathematics and Spanish studies major from Evanston, Ill., and Hannah Hayes, a biology major from Arizona, she founded Boundless Brilliance, a nonprofit organization that encourages young girls to pursue careers in STEM by showing them it can be done.
In 30-minute presentations to kindergarten to sixth-grade students, Boundless Brilliance's teams of college students, all women currently attending Occidental, go into classrooms to create excitement about science. Through simple experiments (such as building a bridge between two chairs using only newspapers and tape—remember newspapers?) and a message couched in confidence, respect, and teamwork, their message to everyone—and young girls in particular—is simple: You are brilliant and you can be a scientist if you want to be.
In the fall semester, Boundless Brilliance gave more than 100 presentations at six different schools, reaching more than 2,500 students. This spring, the group hopes to double that number. In the near future, Boundless Brilliance aims to expand its program model to five Southern California colleges. "By the end of 2020, we hope to be able to reach more than 40,000 students each year," says Shawley, the group's executive director.
Boundless Brilliance's three principals each overcame their own doubts about the sciences to find their way to their passion. "When I was in high school I was in advanced math and science classes, and out of 20 kids I was one of three girls, and I was always getting bullied by the boys in my class," says Doeff, director of research and evaluation for Boundless Brilliance. In partnership with Northwestern, she started a women's STEM club at her school and did a senior project about why there were so few girls in her class. (She concluded that girls lack confidence, and "that it starts at a young age.")
Subsequently, Doeff enrolled at Oxy intent on majoring in sociology, not mathematics. Then, she says, "I took a sociology class and I hated it, and I took a multivariable calculus class and I loved it." Last year, as a member of the women's STEM e-board at the College, she met Shawley through a mutual connection.
When Shawley came to Oxy with the idea of going on to med school, she thought she couldn't major in chemistry or biology "because that's too hard," she recalls thinking. She found herself shying away from the classes that she really wanted to take. After reading a study out of the U.K. that said that both girls and boys believe that intelligence is a male trait, "it all came together," she says. "Even though I grew up in the most supportive environment, I must believe that."
"My mom majored in biology in college and has always been a powerful role model for me," adds Hayes, Boundless Brilliance's director of program operations. "I was always outside as a kid, running around picking up things at the beach or hiking and picking up bugs. Even in high school, I thought that I might want to go into cognitive science or neuroscience."
While Hayes considers herself "a pretty outspoken person—I'm always excited to talk about things," she noticed that a lot of her peers were "a little held back" in classroom discussions—afraid to speak up out of fear of being wrong. Reading that U.K. study "really made me want to change things, especially for kids. If kids are having the same problem that sometimes my friends and I are having, there needs to be a drastic change"—and Boundless Brilliance may be the change we need.