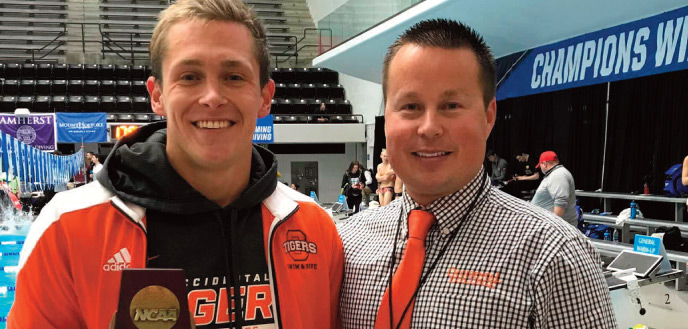 Austin Lashley '18 swims his way to All-American honors; Triana Anderson '18 passes the 1,000-point milestone in basketball; and quarterback Bryan Scott '17 makes a strong showing in a professional football developmental league
Austin Lashley '18, an economics major from Kirkland, Wash., capped his Oxy swimming career with five school records, including a third-place finish in the 100 fly at the NCAA Division III Nationals in Indianapolis in March. Lashley won All-American honors in the event, an All-American Honorable Mention for a 15th-place finish in the 200 fly, and an Academic All-American Honorable Mention. Oxy went  6-2 against SCIAC competition to finish third in the conference—its best regular season mark since the late 1980s. Second-year head coach Steve Webb's squad ranked 10th in the final CSCAA West-Midwest-South Region poll.
Triana Anderson '18, a physics major from San Francisco, was named First Team All-SCIAC in women's basketball after finishing her career with 1,023 points as a Tiger. The 5'8" guard was Oxy's second-leading scorer this season, averaging 12.9 points per game while shooting 46 percent from the field. Anderson also averaged 4.3 rebounds and 1.2 steals per game in conference play.
Former Oxy quarterback Bryan Scott '17 made a strong showing in his April 7 debut as a player for the Spring League, an elite developmental league and scouting event for professional football talent. Splitting playing time with two other quarterbacks—including former Tennessee Titans and Louisiana State University quarterback Zach Mettenberger—Scott completed 10 out of 18 passes for 121 yards, including a touchdown, as a member of the West team, and was named Player of the Game.