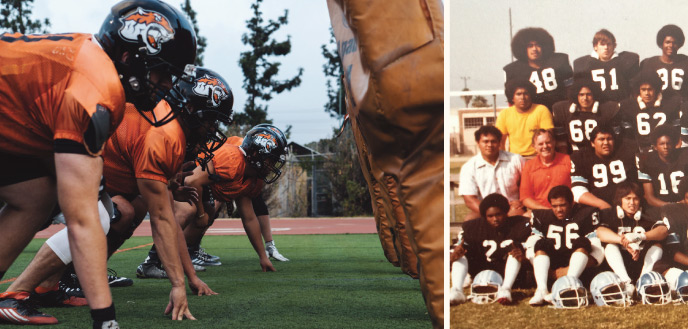 Multiple perspectives on the legacy and future of Oxy football
Money Ball
Thanks for sharing facts and providing perspective regarding the collapse of the football program last fall ("The Longest Yard," Winter). You wrote a solid and important article. Compared to SCIAC members and median NCAA D3 programs nationally, Oxy has underfunded football and the entire athletic department for many years.
In conjunction with rising tuitions, many institutions embraced the concept of the "scholar-athlete" and increased their ­financial commitment to athletics, whereas Oxy's investment actually decreased when adjusted for inflation. According to an NCAA D3 study, "the total increase in men's programs from 2013 to 2014 was 10.4 percent, 3.3 percent of which was inflationary. For women's programs, 3.3 percent of the 10.8 percent increase was inflationary."
You quoted President Veitch as saying "Football is symptomatic of a larger problem" and "the canary in the coal mine that is surfacing after 30 years of benign neglect for athletics." I totally agree—the entire athletic department has been neglected and needs attention. I dislike the phrase "benign neglect" as it is doublespeak. Allowing a program to wither and die on the vine is not benign. It is not benign when real harm is being done to scholar-athletes, the reputation of the College, and the competitive health of the SCIAC.
With regard to "indifference" on campus for football, this is the result of years of what I call "funding for mediocrity." Years back, when the program was winning and routinely competitive, I remember seeing strong attendance at games: students, faculty, staff, parents and friends of the College. Adequate funding, recruiting, winning, and attendance go hand in hand.
Rather than funding athletics properly, Veitch and others are holding out for wealthy alums to step up and make significant donations. That plan may work, as ­evidenced by the Crosthwaites' generous donation in support of swimming, diving and water polo. (Thanks, Barry and JT!) However, significant contributions for football cannot and will not happen until the College makes an institutional commitment to football.
John Castner '81
Irvine
Sagehens and Sensibility
Oh joy! My dear Oxy may lead the way (ahead of Pomona) to drop football as an injurious sport. I am reminded of the ­tobacco industry, which got away for years saying, "Really? Cigarettes are bad for you?"
When scholarship is your No. 1 priority, why let young people beat their brains and knees out like that?
Harriet R. Anderson '58
Portland, Ore.
Plus ça Change
The following letter was sent in response to a January 26 email to the Oxy community from President Veitch on the future of Oxy football. "The task force recommended that the College should continue to field a safe and competitive football program," Veitch wrote, "contingent on current recruiting efforts yielding a viable roster and a substantial increase in alumni ­financial support for the program."
The College's email regarding the future of the football program is preposterous. Today, ABC News reported that the NFL reported there were 241 concussions reported by teams in 2017.
I attended Oxy in 1952 and '53. It was an almost completely white college managed by a white board of Anglo-Saxons perpetuating the machismo beliefs that President Veitch still holds onto while asking alumni to finance a program of outfitting young, innocent students to go out on a field and engage in a violent activity against another group of humans which could and will result in lifelong injuries ­including deadly concussions.
Occidental really hasn't changed that much from the 1950s. What a shame.
Roger Carter '56
Laguna Beach
Memories and Messages
As I read "The Longest Yard," many thoughts were stirred. My husband, Paul Huebner '49, played as a lineman on Oxy's famous Raisin Bowl team. He also coached football in the Los Angeles School District (at Banning and Carson high schools), with many city championships under his belt. He was a veteran of World War II, serving as an officer in the Navy in the South Pacific.
Paul loved the game of football but suffered many hard hits to the head. He died in 2007 of dementia. There was no history of dementia in our family.
As a coach to many boys who had no father figure in their lives, Paul was a kind and gentle person with a great sense of humor. He set an example of real manhood for many young men over the years.
What is the message here? I'm still trying to figure out the answer.
Anne Follis Huebner '51
Salt Lake City, Utah
Running the Numbers: A Clarification
A chart accompanying "The Longest Yard" reported football ­revenues of $316,681 in 2015. As reported to the Department of ­Education, football ­revenue includes the funds an institution provides football for its operating budget (i.e. direct institution­al support), along with any fundraising or other income raised through football camps and the like. The majority of Oxy football's revenue comes directly from the College.