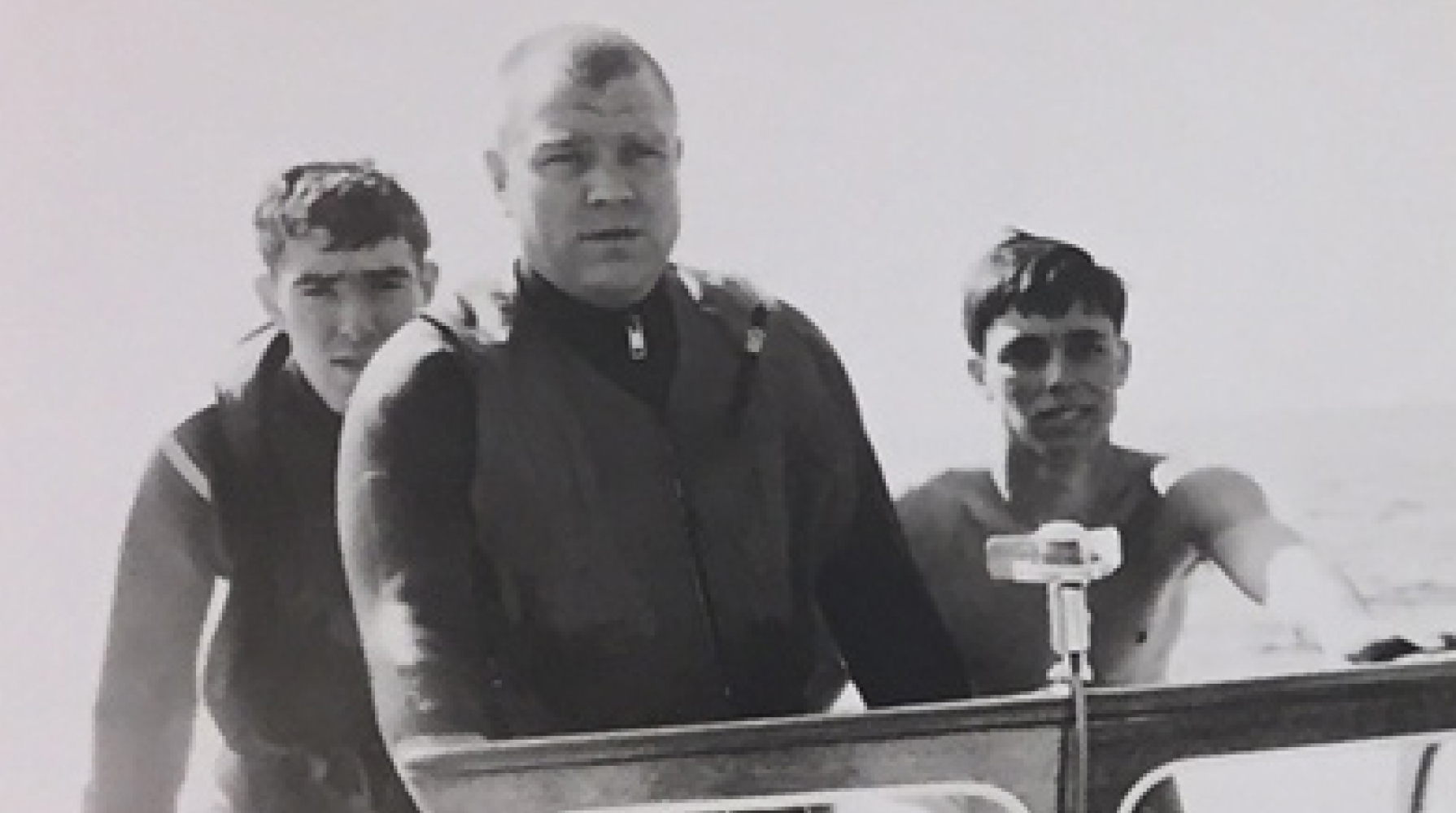 Favorite Oxy memories from the Class of '68
When we asked members of the Class of '68 to share their favorite Oxy memory, many alumni cited general experiences: spending time with friends, walking through the beautiful campus, or sitting in the Quad. Others detailed more specific moments.
Ralph Larson: "Learning to scuba dive and getting involved in marine biology research with Dr. John Stephens (above). This shaped my future career."
Meredith Mason Garcia: "A field trip to the high desert with John Stephens and the Biology of the Vertebrates class, to collect specimen animals—driving slowly down the shoulder of the highway after dark, waiting for the snakes to crawl out on the tarmac to feel the residual warmth."
Rob Russell: "Arguing/discussing about free will late into the night."
Martha Carriger Giffen: "Receiving a six-month grant to do independent research in Argentina on the use of folklore in regional literature. That was an excuse to do a lot of growing up and thinking away from my very controlling parents."
Don Fallick: "Dr. Kenneth Kurtz spoke in a monotone—he couldn't help it—and put everyone to sleep, so he inserted anachronisms into his Shakespeare lessons to see if anyone was listening. He [once] mentioned Romeo hopping in his Alfa Romeo and going for a ride along Angeles Crest Highway."
Judy Greene: "Studying in the Greek Bowl after a smog-clearing rain."
John Randall Faith: "Getting married at Herrick Chapel."
Ted Mumm: "Concerts with the Glee Club, especially the one where we performed Carmina Burana with staging designed by Alan Freeman '66 M'67."
Bethe Hagens: "Playing Bach in the chapel for a week of celebrating his birthday."
Robert Gross: "Listening to Jimi Hendrix's first album."
Laurie Bryant: "Keeping a cat in my dorm room."
John Markarian: "Ben Culley twice asking me for favors, getting two students out of some serious trouble—one financial and one criminal. We always asked him for favors."
Sarah Jean Walker Shaw: "Playing coed flag football after dinner on the Herrick Chapel lawn."
William Courington: "Winning a contest for paddling a tiny boat around the fountain by the chapel."
Linda C. Martin Briggs: "Quad-sitting and brilliant orange Oxy sunsets."
Barbara Knowles Hartl: "Fiji toga parties."
Nick Tingle: "Having sex for the first time. That was a weight off my mind."