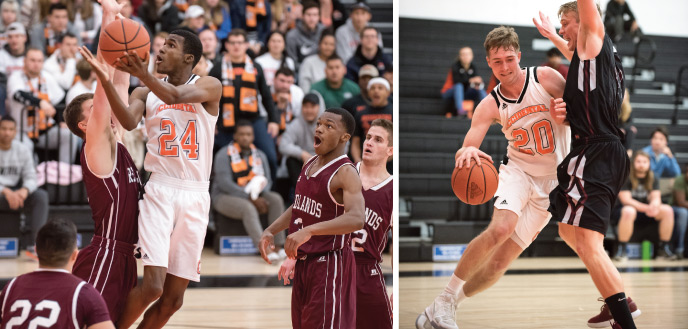 Junior forwards Zach Baines and Austin DeWitz lit up the boards as the Tigers notched their best conference finish in a decade
Coming off a 6-10 conference record in 2016, Oxy men's basketball was picked to finish eighth out of nine teams in a preseason poll of SCIAC coaches last fall. "I think it's safe to say we exceeded expectations," says team captain Austin DeWitz '19, a biology major from Oregon City, Ore., who averaged 8.6 points per game as a sophomore.
Just as DeWitz doubled his scoring output this season to 17.3 points per game, Oxy doubled its number of conference wins, going 12-4 in SCIAC play and making the postseason tournament for the first time in eight years. Led by First Team All-SCIAC selections DeWitz and classmate Zach Baines, an economics major from Samford, Conn., Coach Brian Newhall '83's squad went 19-7 overall, the Tigers' best season in a decade.
DeWitz, a 6'7" forward, rarely left the court during a meaningful game, anchoring Oxy's elite defense while leading the SCIAC in both minutes (36.8) and rebounds per game (8.3). He was sixth in the league in scoring, averaging 17.3 points per game, third in blocks (1.3), and shot 50 percent from the field. With DeWitz able to guard any position on the opposing team, Oxy was the only team that ranked in the top 10 nationally in NCAA Division III in points allowed (61.3, third in the nation), field goal percentage defense (38.6, fifth), and three-point field goal percentage defense (29.3, fifth).
Baines, a 6'5" forward who transferred to Occidental from Middlebury College midway through his sophomore year—after the start of basketball season—was the Tigers' leading scorer. He was fourth in the SCIAC in scoring (18.3) and rebounding (7.8), second in blocks (1.4) and third in minutes per game (35.8). He scored 20 points or more in seven games, hitting a season-high 27 at La Verne.
"We met most of our goals," says Baines, who says his aunt attends every game, often with other family members in tow. "Falling short of the SCIAC championship didn't settle well with us, but that just adds more fuel to the fire for next year."
"It was rewarding to put all the pieces together and finally have a successful season," adds DeWitz, who also was named Third Team All-West Region by D3hoops.com. With the Tigers returning every player, with the exception of senior guard Ian Bonde, he adds, "we feel like we are set up to have an even better season next year."
After a 6-1 non-conference start, the Tigers first looked like they might be for real December 17 when they had NCAA Division III No. 1 Whitman on the ropes for 35 minutes, before a late rally by the Blues allowed them to edge Oxy 73-69. The Tigers then rattled off a 10-game winning streak that lasted from December 28 to February 3. Despite a big playoff crowd in Rush Gym, Oxy's season ended with a 71-60 loss to Pomona-Pitzer on February 23 in the SCIAC semifinals.
DeWitz and Baines won't be back on the basketball court until October, but in the meantime, DeWitz—the defending SCIAC champion in the high jump—recruited Baines to join him on Oxy's track team this spring. On April 3, in only his second competition ever, Baines finished second in the high jump behind DeWitz. The margin of victory? A mere 1.5 inches.