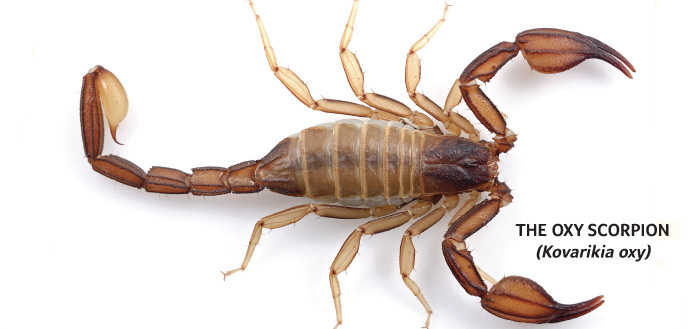 A new species of scorpion named after Occidental College, a new role for adjunct professor Christopher Hawthorne, and a new study by assistant professor Bhavna Shamasunder
Kovarikia oxy, a new species of scorpion named after Occidental College, was found in Eaton Canyon in Altadena and "probably exists in other canyons in the San Gabriels," according to associate professor of biology John McCormack, co-author of a new study that identifies two new species of scorpion native to Southern California. (The other is Kovarikia savaryi, found in the Santa Ana Mountains.) DNA sequencing shows the two new species are unrelated to each other and to the three previously identified scorpions in the same genus found in other mountains in Southern California, McCormack says.
Christopher Hawthorne, Los Angeles Times architecture critic, adjunct instructor of urban and environmental policy, and director of Occidental's popular 3rd LA series, has been appointed chief design officer for the city of Los Angeles by Mayor Eric Garcetti. Although he's moving to City Hall, "I plan to continue to work with students and faculty at Oxy and continue our conversation about where Los Angeles has been and where it's headed," Hawthorne says.
South L.A. residents living in close proximity to some of the city's 70 active oil fields are diagnosed with higher rates of asthma than their Los Angeles County peers, according to Bhavna Shamasunder, assistant professor of urban and environmental policy and co-author of a recent study published in the International Journal of Environmental Research and Public Health. The study points to the need for public policy changes that support protective measures for public health in urban planning and zoning, including the requirement of safety buffers between sensitive land uses and active oil development in dense urban areas.