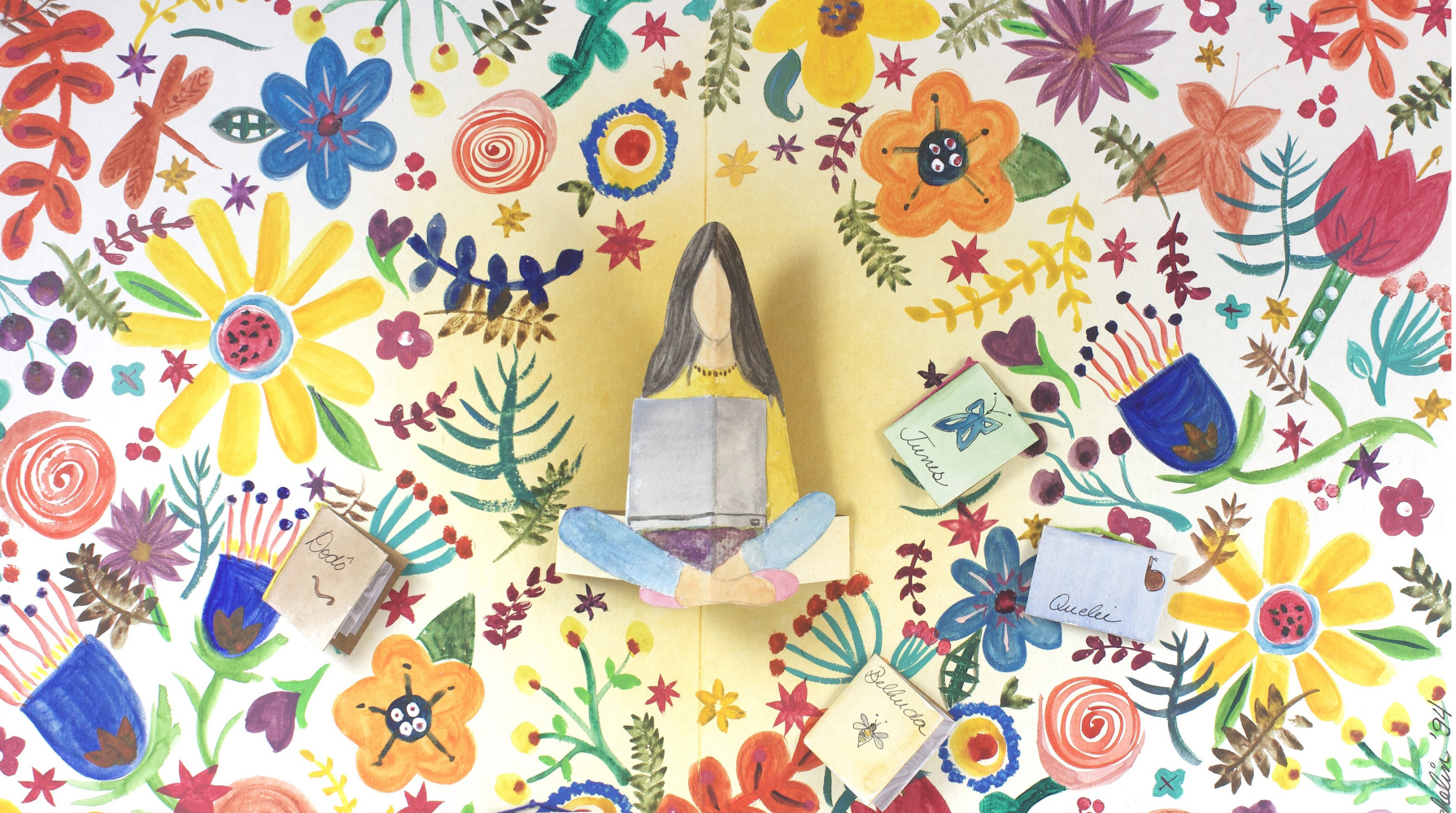 When artist Jocelyn Pedersen, who teaches a class in Book Arts, learned that students would not be returning to campus in the spring, she wanted to give members of the Oxy community a chance to reflect on their pandemic experiences creatively.
"I hoped that by watching their individual contributions be literally bound together into a collective finished artifact, they might feel a sense of connection to each other," says the adjunct assistant professor. Page-making kits were mailed out, and Pedersen demonstrated a range of creative mark-making techniques on a live Zoom workshop. More than 115 pages were returned by the end of April (they can be viewed online here). The resulting book, Belonging at Oxy, is now part of the College's Special Collections. (Daniella Michelin '94 created the page shown above.)
A group of 17 students created a pair of collage paintings to commemorate Ilah Richardson '23 and Jaden Burris '22, both of whom passed away in early 2020. Working from photos of Remembering Ilah and Jaden: Ilah and Jaden, Dylan Wensley '21, an economics major and art minor from Alta Loma, separated the portraits into individual sections and traced the major outlines on each panel, which she and her fellow students completed. The portraits—which are composed of 12 to 16 panels—were exhibited this spring in Weingart Gallery and will be shipped to Ilah's sister and Jaden's mother this summer. "It's been a labor of love for everyone involved," says Linda Besemer, the James Irvine Distinguished Professor of Art and Art History.
A year after COVID-19 upended plans for 2020, Oxy's 73rd Dance Production went online for two shows on April 16 and 17. This year's show consisted of 10 dance performances created by 12 choreographers, from hip hop and contemporary to K-pop and Broadway. While recruiting new members was a challenge, the e-board brought in more than 20 first-years to join the tradition, according to Dance Pro co-president Molly McCorkle '21, a sociology major from Burbank. One virtual sensation:
Dance, dance, dance: Hosted by the Occidental Dance Team and in collaboration with Oxy's Latin dance team Azúcar and the Folk & Historical Dance Troupe, a virtual Dance Showcase highlighted the work of Oxy's dance clubs this past academic year. The showcase featured a variety of dance styles including jazz, contemporary, Reggaetón, Bachata fusion, and cultural dances from Israel, Bulgaria, and Romania.