Following the record-shattering box office launch of The Super Mario Bros. Movie, Illumination Chief Marketing Officer Sam Bergen '04 recounts his journey from Campus Road to Rainbow Road 
"Gamers are the most vocal audience on the internet of any scale," says Sam Bergen '04, who speaks from nearly 20 years' experience as an advertising executive. "Everything you do is scrutinized to a T. You know immediately if what you did was a hit or a flop in the eyes of the audience."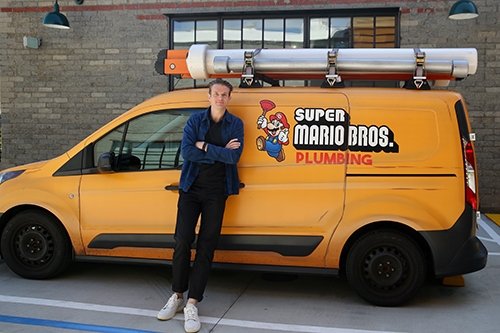 It's a lesson that was driven home during his stint at Deutsch LA, where he worked on the PlayStation business. "Every piece of art we'd release, every ad we'd make, every experience we'd create, every joke we'd write for Kevin Butler [the fictitious PlayStation VP portrayed by actor Jerry Lambert in a long-running campaign] would be screenshotted, dissected, and debated," Bergen says. Such scrutiny brought a level of accountability to the work that, as a gamer himself, he could appreciate: "It was transformational for how I approached marketing. I felt this responsibility not to a client nor to a boss but to honoring the fans of these properties."
Bergen's respect for the gaming fan base came in handy when he wrapped his head around the marketing of The Super Mario Bros. Movie as chief marketing officer of Illumination—the animation juggernaut whose first 12 features (led by the Despicable Me franchise) have collectively grossed nearly $8.1 billion worldwide. "My job is as much to lead as it is to problem solve," says Bergen, who assumed the role in December 2020.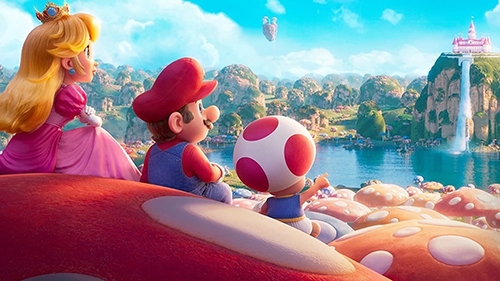 Given the checkered history of video game-to-movie adaptations—embodied by the ill-fated live-action Super Mario Bros. film in 1993—Nintendo and Illumination worked in tandem to deliver a movie that would satisfy the expectations of generations of gamers. In both the film and the advertising, the Nintendo logo shares equal billing with Illumination. "The vision for the marketing campaign is to 'Unlock the fan in everyone,' and a critical part of that strategy was to communicate that Illumination produced this film in complete partnership with Nintendo and the creator of Mario himself, Shigeru Miyamoto," Bergen says.
Armed with an "A" CinemaScore from opening-day audiences, Mario collected an expectations-shattering $377 million globally in its first five days in theaters. The movie defied box office gravity in the weeks to follow, eclipsing $1 billion worldwide on its 26th day of release. It's now the biggest hit in Illumination's 17-year history and, at $1.3 billion and still counting, the second-highest-grossing animated film of all time.
"It's rare that a movie overperforms to such a degree," says Bergen, who manages a marketing team of about 50 at Illumination's offices in Santa Monica. (The company's animation studio is based in Paris.) "It shows that large numbers of people still want the theatrical experience."
Prior to returning to school for a master's degree in computer science, Bergen's father had a vision to become the leading progressive home builder in the Midwest. His parents sold off some life insurance, scrounged up whatever money they could, and bought a parcel of land in a wooded area about 40 miles south of Indianapolis, where his father would build a solar-passive home as proof of concept for the business.
"I was born and raised in that house, and it was magical to grow up in a place that my parents dreamed of and brought to life with their own hands," says Bergen, the middle child of three. "We were surrounded by woods. There was a massive garden and a pond on the property. In the winters we would be ice skating and in the summers we'd be swimming and have endless outdoor adventures."
They also grew up playing video games. "We had a Commodore 64 and an Atari 2600, and then we got a Nintendo," Bergen recalls. "I would have been 4 at the time and still working on my hand-eye coordination, but my brother was old enough to actually beat the games we played. And when he was on the final level of Super Mario Bros. and about to beat the final boss, Bowser, we paused the game to wait for my dad to get home. Being altogether watching my brother beat the game for the first time is a family memory I cherish to this day."
In 1989, the family moved to the burgeoning tech hub of Boulder, Colo., and eight years later, after Bergen's first year of high school, they moved again to Newtown, Conn. When he was looking at colleges, "I decided to head to a place with more sunshine, so I only applied to schools on the West Coast," Bergen says. "The moment I stepped foot on the Occidental campus, it felt like a perfect fit. The students, teachers, and ethos were exactly what I was looking for. I always appreciated the access to teachers and administrators and this feeling that the school just really wanted you to be the best version of yourself."
During Orientation, members of the Class of 2004 filed through the President's Office to sign the matriculation book and be welcomed by then-President Ted Mitchell. "Our group walked in, and the office was lined with chairs around the perimeter. Ted said, 'Pick any chair in the room.' I noticed his chair was available, so of course I took it," Bergen recalls with a laugh. ("Good choice," Mitchell deadpanned.)
Bergen majored in cognitive science with a minor in film. (For a documentary class, he and his Norris Hall roommates, Jason Heidecker '04 and Ed Wilson '04, made a documentary short about the College's fabled underground tunnels.) "When I was making short films, I would often envision creating ads," he says. "I enjoyed the constraints of trying to make something incredibly impactful in a short amount of time."
"Sam has always been sort of the man with the plan," says Olly Calleja, who studied at Occidental as an exchange student during Bergen's first year of college. (Calleja is senior vice president of global unscripted development for Raw, an award-winning film and television production company based in the U.K.) "He's always thought longer and harder about things than other people. It's no surprise that he is successful in his various different career moves."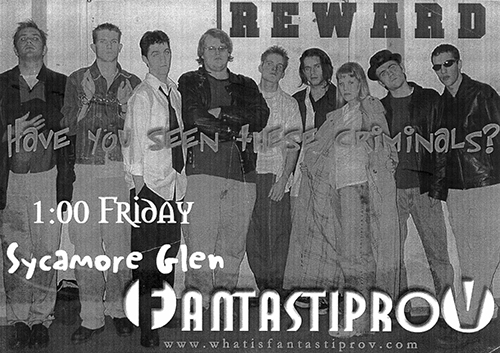 Bergen and Erik Koland '03 shared a dream of building a student-run advertising agency sponsored by ASOC and funded by the College, and their vision was realized with the launch of The Occidental Agency (TOA) in fall 2002. "Despite our passion for it, neither Erik nor I ended up being involved in TOA after we wrote a business plan and got the agency funded," recalls Bergen, who was studying abroad at the time. (TOA has since evolved to become what is now Oxy Design Service.)
Instead of focusing his efforts on TOA, Bergen returned home and got a marketing internship at the Odyssey Theatre Ensemble in West L.A. through the Getty Internships program, followed by an internship with Grey in direct advertising.
But the internship that left the greatest impression on him was with Kaleidoscope Films Group, a pioneering trailer house that built a business by breaking away from the decades-long practice of studios cutting the trailers for their own films in-house.
"Kaleidoscope really showed me the importance of focusing on creativity," he says. "All of a sudden, I was working with a group of visionary film editors who had essentially cut all the trailers that had left a big impact on me when I was growing up."
Director and editor Lee Harry, who went on to start Buddha Jones advertising and design agency, was the firm's creative director. "It was so inspiring to sit and learn from him and to hear how he approached the creative process," says Bergen, who spent nine months at Kaleidoscope. "Someone in town would cut a great trailer and we would all gather together, watch it, and talk about it.
"There's artistry to this work and there's a real commitment to the craft," he adds. "Ultimately, editing is a rather solitary creative process—which is not a bad thing—but I needed something that was more social, more team-oriented."
After a brief stint supporting guerrilla marketing campaigns as a researcher with A.D.D. Marketing and Advertising in Los Angeles, Bergen was hired in January 2005 as an assistant account executive at Saatchi & Saatchi in Torrance, which worked on Toyota. He was quickly promoted and was an account executive on the FJ Cruiser launch in 2006.
"Initially, I talked myself out of wanting to be an advertising creative—the person who was responsible for coming up with the ideas," he says. "I didn't go to art school, so I wasn't really comfortable with the creative review process. But once I began to understand the role of creativity in driving cultural and business impact, I reversed course."
Within nine months at Saatchi, he went back to school at night, enrolling in a portfolio program called the Bookshop. He put together a book to be a copywriter, which led to a job offer from a small shop focusing on gaming and advertising creative.
"I went to my boss, Peter Kang, and told him I was going to leave," Bergen says. "Peter said, 'Stay here and we'll make you a creative.' Being offered my first job as a creative working on Toyota was a life-changing transition for me."
Subsequently, Bergen was part of the creative team that showcased the 2008 Corolla with a Super Bowl spot that February. During that time, Kang left to become executive creative director at Ogilvy & Mather. After the Corolla campaign launched, he hired Bergen to help build out Ogilvy's digital capabilities.
"Sam has always had this rigor around just how he lived his life so that he could allow the progression to happen for his career," says Kang, who worked with Bergen at a succession of agencies for about a decade. "It's very hard to do. When we were in our 20s, we would all be partying, but Sam would be renovating his first house that he had bought as an investment property. I don't know any 20-somethings who do that."
After three years at Ogilvy and another four years at Deutsch LA—where he worked on the PlayStation, Target, and Volkswagen accounts—Bergen was offered a job at Energy BBDO, the Chicago-based offshoot of BBDO Worldwide, as executive creative director for the Bud Light account. Leading the creative for the world's largest beer brand, Bergen again tapped into his love of video games and created a life-sized Pac-Man arena for Bud Light's 2015 Super Bowl commercial. "I still have the giant quarter we created for the spot," he says.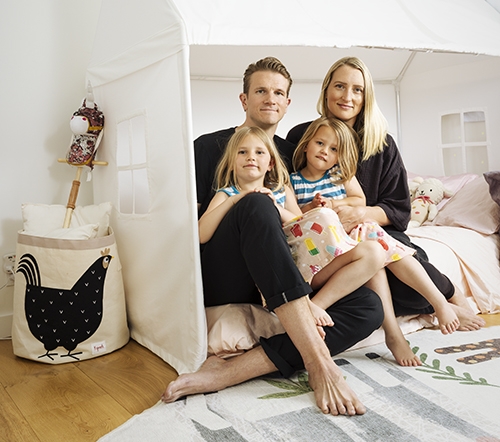 Bergen had spent two years in the Windy City before he decided to move back to Los Angeles to be closer to his girlfriend and future wife, Heika. But before he left, Bergen was drafted by John Wren, CEO of BBDO's parent company, Omnicom, as the creative leader for the agency network's pitch for the billion-dollar McDonald's account in April 2016.
Flanked by Wendy Clark on the business side and Grace Anne Bennett on strategy, Bergen ran the creative for the pitch, fielding ideas from 19 Omnicom agencies around the world. "That was the experience of a lifetime," he says. "We had this idea to build a new type of agency—one that was suited for the modern world to answer modern marketing problems for a modern brand." Omnicom won the account that November.
By then, Bergen was back in Los Angeles, building a West Coast agency from scratch for Vice, the New York-based multimedia company. "It was humbling going from these big ad agencies back to doing everything myself," says Bergen, who also was finishing his MBA in creative leadership at the time.
In the course of drumming up business for Vice, Bergen met some people at Beats Electronics, aka Beats by Dre. Founded in 2006 by Dr. Dre and Jimmy Iovine, the audio products manufacturer was acquired by Apple for $3 billion in 2014. "They were hiring for a vice president of brand creative. I took the interview not expecting I'd be a good fit, so I was shocked and humbled when they offered me the job," he says.
After joining Beats in 2018, he oversaw numerous campaigns. His last was among the biggest: In November 2020, in the wake of a series of social injustices, Beats premiered a two-minute ad titled "You Love Me" featuring tennis player Naomi Osaka, NASCAR driver Bubba Wallace, rapper Lil Baby, activist Janaya Future Khan, and others in which musician and narrator Tobe Nwigwe asks, "You love my culture, but do you love me?" The campaign encompassed multiple videos and images and was a 2020 Clio Awards Grand Prize winner.
At Beats, "I was in a fantastic position," Bergen says. "I was head of creative for an amazing brand. I led the website, all social channels, and every ad campaign we did. I was fortunate to be approached for other opportunities, but I would politely say 'No' to all of them early on."
In March 2020—in the early days of the pandemic—Bergen got a phone call from an executive recruiter telling him that Illumination was looking for a new CMO. "Would you be interested?" they asked.
"In the moment, I didn't know what to say," Bergen admits. He had seen some of the Despicable Me movies and part of Sing, as well as The Secret Life of Pets "because my wife was really interested in the concept"—but he didn't have a strong kinship to the studio. "But one thing I've learned over the years is to take the call and have the conversation," he says. "So I started speaking to the recruiter and then the chief operating officer and began to understand how amazing this opportunity was. I'd never worked in entertainment or been a CMO before. I was intrigued, but also intimidated."
Three Zoom meetings with Chris Meledandri, Illumination's founder and CEO, precipitated an in-person meeting with Meledandri and Illumination's chief operating officer, Keith Feldman. The more Bergen learned about Illumination, the more it felt "like an incredibly unique and innovative company, a place led with vision," he says. "Getting to work directly for one of the most successful producers in Hollywood felt like a once-in-a-lifetime opportunity. The deciding factor came down to Illumination's values and culture being aligned with my own."
It wasn't lost on Bergen that he had two young daughters whom he knew would be "prime targets" for Illumination's films very soon. "Even though my oldest daughter had never seen the Secret Life of Pets movies, she had a Chloe stuffed animal that she loved—seeing that connection was heartwarming. The amazing thing about film is that when you find a character that you love, it becomes a defining touchstone to who you are."
As the head of marketing at Illumination, "The biggest priority that I have is launching our movies," Bergen says. "Early on, as we're working to set up the entire campaign, it's my job to guide the creation of a strategy and get everyone to agree with it—not just trailers, print, and digital but also activations on the ground and all of our partners from consumer products to theme parks."
Even before he took the first phone call from Illumination, most of the marketing campaign for Minions: The Rise of Gru was in development. Released in July 2022 after a two-year delay, the sequel to the $1.15 billion-grossing Minions (2015) earned $939 million worldwide and inspired a viral movement on TikTok, as teenagers who called themselves #GentleMinions dressed up in suits to watch the movie in theaters all over the world. "We absolutely cannot take credit for that—it was the love of the franchise," Bergen says. " Minions became a part of the culture last summer in a way no other film did."
Having dipped his toe into the Illumination waters with the Sing and Minions sequels, The Super Mario Bros. Movie was the first film that Bergen marketed "from A to Z," he says. "We developed the film logo, the strategy for the cast announcement, the alignment of the marketing with all of our partners, and then the methodical execution of the entire campaign with Nintendo and Universal Pictures" leading up to its release on April 5.
Bergen pitched the idea for the first trailer in August 2021, "and then we spent six months trying to beat it." Opening with a battle sequence between the Bowser-fronted Koopa Troop and the penguin denizens of the Snow Kingdom, the trailer cuts to Mario landing in the Mushroom Kingdom.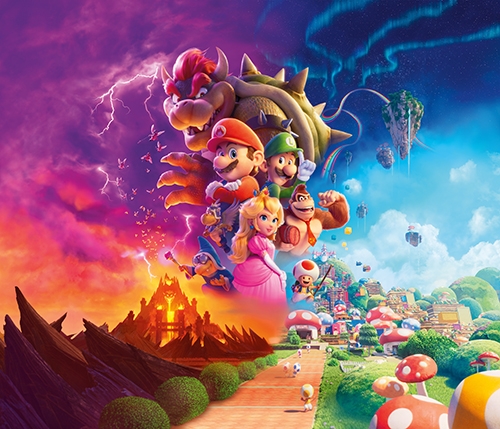 On Oct. 6, 2022, the first trailer for The Super Mario Bros. Movie premiered simultaneously at New York Comic Con and on Nintendo Direct, the company's online video platform for new product announcements. Every time Nintendo has a new product announcement, Bergen says, "They go out to Nintendo Direct first. They're a fan-first company, and it only made sense to do that with the movie, too."
Despite some misgivings among the fan base about the casting of Chris Pratt as the voice of Mario—a choice defended in the press by Meledandri, who is Italian American—Bergen and his team stuck to their marketing plan. When the second trailer dropped, he reasoned, "People would be blown away by how cinematic the movie looks."
The second trailer, released on Nintendo Direct on Nov. 29, 2022, added Princess Peach and Donkey Kong to the mix, as well as giving viewers the first look at the luminous Rainbow Road. "Our strategy was to have that 'Holy shit!' trailer on Avatar: The Way of Water, because we knew how big that movie was going to be," Bergen says. "We aimed to reach all the Nintendo fans online, and then target all of the moviegoers on Avatar."
The third and final trailer for the movie arrived on March 10, which fans have celebrated as "Mario Day" (or MAR10 Day) worldwide every year since 2015. By that point, there was little doubt that The Super Mario Bros. Movie was among the year's most anticipated releases. "There was a groundswell among fans and we wagered that it would rub off on all audiences," Bergen says.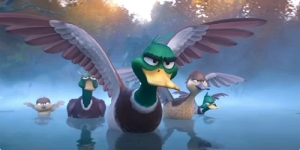 Within a week of Mario's launch, Bergen's focus had largely shifted to the studio's next two releases. "I would say 5 percent of what I'm doing is on Mario, 70 percent is on Migration, and 25 percent is on Despicable Me 4," which is scheduled to open on July 3, 2024. "Migration is sooner, but DM4 is massive."
Bergen is "incredibly excited" about Migration, which marks the Illumination debut of Oscar-nominated director Benjamin Renner (Ernest & Celestine) and Emmy award-winning screenwriter Mike White (The White Lotus). "We'll have a full trailer coming out this summer, and it is an amazing story that will delight audiences around the world."
Original animated films have struggled to open strong at the box office since the pandemic. Disney's most recent foray into original IP, Strange World,  flopped last Thanksgiving, and even the Toy Story prequel Lightyear underperformed last summer. (Notably, DreamWorks' Puss in Boots: The Last Wish overcame a soft opening last December, legging out to a final worldwide gross of nearly $481 million.) "Marketing's job is to excite and compel people to go to the theaters the weekend a film opens, before word of mouth has even had a chance to spread—no small task in today's world," Bergen says. "If a movie is good, it will play long after it opens."
Family comes first for Bergen, who calls daughters August, 5, and Nico, 3, "my best friends. My wife and I really value and prioritize getting outdoors with them, so during the pandemic we bought a Toyota LandCruiser and a rooftop tent to go camping and explore the best of what California has to offer," he adds. A  BMW enthusiast, Bergen drives his 1970 BMW CS daily. "My daughters call it 'Loudy' because of the dual Weber carburetors—they love riding to school in it.
"When I was younger, I found myself very fulfilled and almost even defined by the work that I did—it has always been energizing for me," Bergen continues. "I'm very fortunate that I can still access that passion in a sustainable way while making sure that my family comes first.
"I cook breakfast for the kids every single morning. The trick now is to have different shaped pancakes every weekend. This weekend they're asking for unicorn pancakes and I have no idea how I'll make them." Knowing Bergen, he'll figure it out.