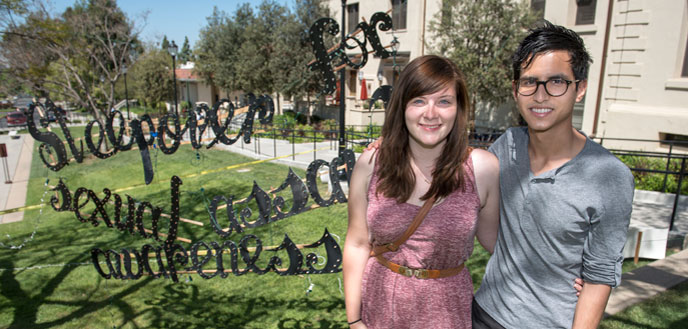 As a Department of Education investigation commences, Oxy reinforces its efforts to address sexual misconduct
Work to enhance Occidental's policies and procedures dealing with sexual misconduct—a "crisis of trust," in the words of attorney Gina Smith, that dominated the campus conversation all spring—will continue through the summer as the U.S. Department of Education begins an investigation into an April complaint filed by 42 current and former Oxy students alleging the College failed to properly handle sexual assault cases.
The department notified the College of its investigation May 8—one week after President Jonathan Veitch outlined a series of immediate actions that Oxy is taking with the goal of making Occidental a national model on this issue.
"Our entire college community is determined to get this right," Veitch said. "We have assembled some of the country's top experts and, based on their advice, taken a series of actions that will put Oxy at the forefront of addressing sexual misconduct. We also will work with the Department of Education to ensure that our college has in place the best practices to address an issue that is critically important to colleges all across the country."
The actions outlined by Veitch include the creation of a new, independent Title IX coordinator position that reports directly to the president, the hiring of a new survivor advocate, and a complete review of Occidental's sexual misconduct policies and procedures to be completed by August. (Title IX covers sexual misconduct issues as well as sexual harassment and gender equity issues.)
These and other actions to be taken during the summer and fall included many of the interim recommendations made by sexual misconduct experts Smith and Leslie Gomez of Philadelphia, who were brought in at the beginning of April to conduct an independent review of Oxy's policies and procedures. Their final report is scheduled for delivery in August.
Irene Girton, professor of art history and visual arts and a former deputy Title IX coordinator, was appointed interim Title IX coordinator on June 3. A national search for a permanent, full-time coordinator is underway, with the goal of having the position filled by this fall. Naddia Palacios, Oxy's associate director of intercultural affairs from 2007 to 2010, returned to campus April 22 to serve as a survivor advocate.
Smith and Gomez based their interim recommendations on a series of meetings and conversations with students, faculty, staff, and alumni, including members of the Oxy Sexual Assault Coalition. Led by associate professor of politics Caroline Heldman and assistant professor of sociology Danielle Dirks, the 2-year-old coalition has been the chief critic of the administration on the issue, issuing a list of 12 demands last October, organizing campus protests and mobilizing social media to press for change, and helping draft the federal complaint against Oxy, which has not been made public.
Faculty active in OSAC also brought motions of no confidence against Barbara Avery, dean of students and vice president of student affairs, and general counsel Carl Botterud '79 to a special teaching faculty meeting May 6. Meeting in closed session, faculty passed both nonbinding motions. (On July 1, Veitch announced that Botterud would no longer serve as Occidental's general counsel but would continue to perform his duties as the College's chief risk management officer.)
Media coverage of the issue accelerated after an April 18 press conference at the Los Angeles office of attorney Gloria Allred, in which six Oxy students shared their stories as part of the announcement of the filing of the federal complaint.
"Every student should be able to benefit from the amazing opportunities Oxy has to offer and not be victimized by a faulty process," said Audrey Logan '13, a psychology major from Branford, Conn., and this year's recipient of the Mortar Board Award for the Promotion of the Status of Women.
The movement to reshape sexual misconduct policies on campuses nationwide took another step forward in late May, when Heldman and Dirks joined Allred for a press conference in New York City to announce that federal complaints had been filed against Dartmouth College, Swarthmore College, USC, and UC Berkeley as well.
"I am convinced that we will look back on 2013 as the year in which there was a significant shift in the culture of colleges and universities across the country, " Veitch said May 1. "Community members [nationwide] are challenging a culture of complacency toward sexual assault. Difficult as it has been, I am grateful to OSAC and other committed community members for challenging Occidental to do better—and we will do better."
An open letter to the Occidental community signed by 135 members of the Oxy faculty calls on the administration "to transform the policies and underlying culture of Occidental College toward the elimination of sexual harassment, sexual battery, sexual assault, and rape." (A similar letter of support was signed by more than 100 Oxy staff and administrators in early May.) A statement issued by the Board of Trustees on May 2 "strongly endorses the robust measures, policies, and procedures the Administration is putting in place to address this serious issue."
Despite disagreements over the speed and efficacy of the College's efforts to address its policies, all sides agree that conversation is necessary for change. "I've been getting lots of emails from parents saying, 'Should I send my son here? Should I send my daughter here?'" Heldman told Bloomberg reporter John Lauerman. "And I say, Absolutely. You should be sending your child to an institution that is talking about these problems. Because if you're sending your child to an institution that you think is safe because they're not talking about it, then you're wrong. Because it's a problem at every college and university."
Read more about it:
President Veitch's May 1 Action Plan
Gina Smith and Leslie Gomez' Interim Recommendations
Sexual Assault Resources & Support website
Oxy Sexual Assault Coalition's 12 Demands