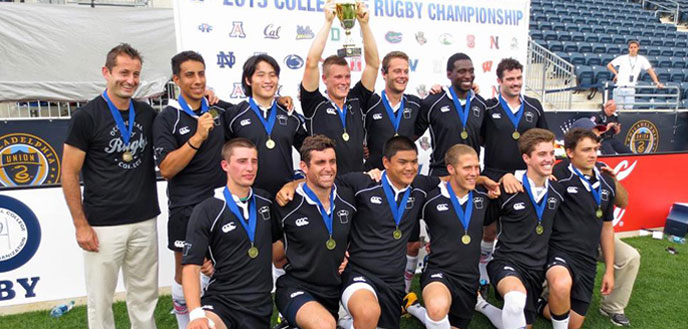 "Our hard work and camaraderie have paid off. It's been a long time coming."
—Barnaby Audsley '14, flyhalf for the Occidental College Rugby Football Club, which bested the University of North Florida, 28-15, to win the National Small College Rugby Organization's National 7's Championship in Philadelphia on June 2. Oxy only lost one match en route to the title. Audsley, an economics and sociology double major from Los Angeles, was named tournament MVP.
"For our country to thrive, we need an active civic society. Undocumented status is an obstacle to a strong civic society."
—Clarissa Martinez de Castro '89, director of civic engagement and immigration for the National Council of La Raza, speaking alongside Angelica Salas '93, director of the Coalition for Humane Immigration Rights of Los Angeles, at a Founders Day panel on immigration April 20. Both "lived the story," in Salas' words, as immigrants turned activists.
"The open ocean is right over there. How convenient is that?"
—Dan Pondella '87 M'92, associate professor of biology and director of the Southern California Marine Institute, a consortium of 11 college and university campuses, talking to the Los Angeles Times about the institute's future home in Los Angeles Harbor. Phase 1 of the 28-acre development, to be called AltaSea, is budgeted at $155 million, with a completion goal of 2018.
"It's an assembly line, but a glamorous one."
—President Jonathan Veitch, quoted in the Los Angeles Times about the graduation ritual of handshaking. A gesture that is said to have originated in ancient times as a sign of peace, the handshake has managed to shake off concerns over physical injury, the proliferation of fist-bumping, and an increasingly germophobie culture to endure as a sign of respect. "It's a meaningful thing to press the flesh and look someone in the eye, shake their hand, and wish them well," Veitch explained.