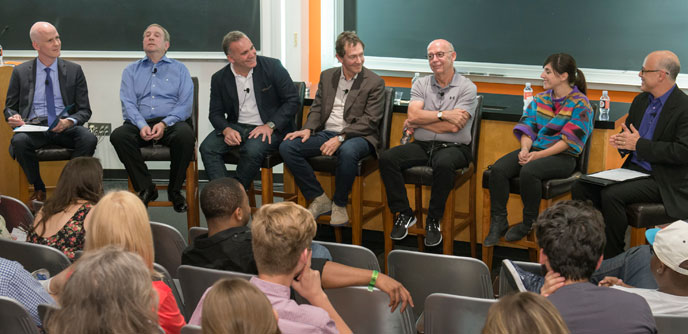 Facts and figures pertaining to all things Oxy
200,000
Sales of vinyl LPs at independent record stores on April 20, National Record Store Day—which coincided with Founders Day at Oxy. In a panel discussion at Mosher Hall, entertainment lawyers Richard Laird '66, John Branca '72, and Ian Montone '94, Warner Music Group CEO Steve Cooper '68, and musician Ramona Gonzalez '09 (aka Nite Jewel) engaged in a free-wheeling exchange about the future of the music industry. Consensus was as elusive as a hit single, but the panelists generally agreed on one thing: "If there's no great music," Laird said, "none of it matters much."
18
Years that Occidental Children's Theater has delighted audiences of all ages with its adventurous adaptations of traditional folktales—and an original mashup from the mind of director Jamie Angell. This year's production, which includes Noah's Jurassic Ark, began a seven-week run at Remsen Bird Hillside Theater on July 11.
416
Pages in the paperback edition of Charles Fishman's The Big Thirst: The Secret Life and Turbulent Future of Water—this year's summer reading for the Class of 2017. Fishman's work will provide the basis for a yearlong, campuswide discussion of water and humanity's relationship with it.
85
Age of Marcel Ophuls '50, who was invited to join the Academy of Motion Picture Arts and Sciences in June. His Oscar-winning 1969 documentary The Sorrow and the Pity was recently named the greatest documentary of all time by Entertainment Weekly.