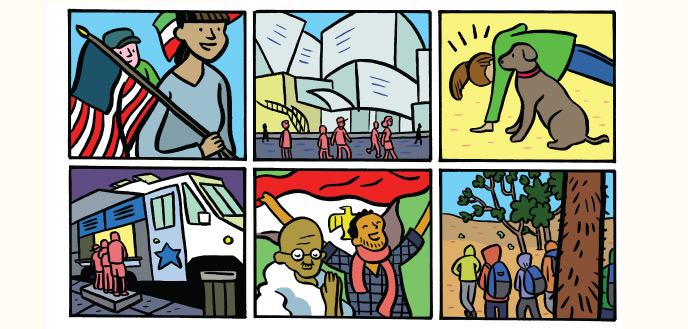 Two years into Oxy's Labs for the Liberal Arts program—the product of a $750,000 grant from the Andrew W. Mellon Foundation—what experiments have been tried? What have we learned?
By Joy Hepp | Illustrations by Todd Webb
Freshman year is a time for many firsts: first roommate, first time away from family, first IKEA furniture. For many students, it's also the first time they will be introduced to such subjects as cognitive science, musicology, and sociology. And in a new approach to the first-year curriculum, those who choose to do so have the opportunity to travel well beyond the "Oxy bubble" embodied by the College's beaux arts architecture, verdant landscape, and engaging campus community.
Since fall 2012, freshmen participating in the College's experimental Labs for the Liberal Arts curriculum have taken advantage of Oxy's urban setting in countless ways. They have visited an organic farm with an environmental economist, discussed fair wages with a top restaurateur, and learned about native Brazilian artforms from professional Capoeiristas (martial artists). And, by most accounts, they are better for the experience. "Despite the fact that we're surrounded by a multitude of dynamic cultures and sites, many first-years don't get off campus enough," says Hannah Grant '15, a linguistics major from Claremont.
Following three years of strategic planning—a process underwritten by a $750,000 grant from the Andrew W. Mellon Foundation—components of the College's first-year general education Core program were re-envisioned as Cultural Studies Program "Labs." The result is an array of team-taught classes addressing some of the big questions of human existence—from immigration to revolutions, from the environment to urban living, from the concept of health and the practice of medicine to the culture of food.
In California Immigration Semester—a 16-unit course team-taught by associate professors Richard Mora (sociology) and Mary Christianakis (critical theory and social justice) and Spanish professor Salvador Fernandez—students attended concerts, engaged with guest speakers, and experienced cultural events. "We learned so much about immigration, but we also experienced L.A. and learned from the culturally rich environment around us, and learned to make real connections between our experiences and the assigned readings," Grant says.
For Edmond Johnson, an adjunct assistant professor of music and administrator for the Mellon grant, the greatest benefit of the CSP Labs has been allowing students to feel a deeper connection to Los Angeles and Southern California: "This has exposed Oxy students to stuff they wouldn't be otherwise—not only to different parts of the city, but to different majors and points of view."
As a precursor to the Labs program, Kristen Treat '14 was among a group of first-year students and three faculty learning about natural science, economics, and the environment of California as part of a 6-unit California Environment Semester (which dates back to fall 2005). The class participated in multi-day field trips during the school week that featured hiking and camping in state and national parks throughout California. Since graduating in May, Treat, a biology major from Riverside, has been interning for the Glen Helen Outdoor Education Center. The course has had a lasting influence, she says, on the way she views her home state: "I have revisited field trip destinations and used the L.A. navigation skills I gained on a nearly weekly basis."
Over the last two years, a total of 263 freshmen (slightly less than one-quarter of each entering class) and 12 faculty (contributing a total of about 30 individual course equivalents) have participated in the CSP Labs.
"The CSP staff is deliberately interdisciplinary, and we encourage instructors to teach outside of their specialties if there's a topic that compels them," says John Swift, English and comparative literary studies professor and director of the Core program. And in a time-honored tradition that dates back to History of Civilization, there's a team-taught component to the Labs that fosters interdisciplinarity, collegiality, and conversation among faculty. "The Lab courses are just the latest stage of an evolving way of teaching that our faculty find unusually congenial," Swift adds.
Collaboration never disappeared entirely from the Oxy curriculum: General Studies (1971-79) succeeded History of Civ, followed by the Core Program in the Liberal Arts (1978-94). In 1994, the renamed Cultural Studies Program introduced a Colloquium requirement, in which students enrolled in team-taught courses with three or four in­structors. Four years later, when Colloquium proved difficult to sustain, groups of instructors continued to offer various configurations within the Core Studies Program as options, "simply because they valued interdisciplinarity, collegiality, and conversation," Swift says.
When the Mellon grant was announced in 2012, it came as a welcome opportunity for educators who had long wished to collaborate with one another. "Team-teaching with my colleagues was so much fun," Levitan says. "I learned so much from them, both about the actual course material and by seeing their teaching techniques in the classroom. We all had very different approaches to the material, and the students got to 'taste' different disciplinary approaches."
Christina Checa '16, a philosophy major from Newbury Park, took part in Health and Humanity, a course that analyzes the concept of health and the practice of medicine from multiple disciplines. She studied under associate professor Kristi Upson-Saia and assistant professors Brandon Lehr and Clair Morrissey, who specialize in early Christianity, economics, and philosophy, respectively.
"What I enjoyed most about learning from the three distinct professors was that although they each taught different subjects they still made sure that the topics of the subjects connected or complemented each other so we as students could get a better comprehension of what we were learning," she says.
With opportunities to explore a single topic from so many perspectives, many students have discovered unexpected strengths. "I think students have this idea of 'This is what I'm going to be' when they get to college," says associate professor of economics Bevin Ashenmiller, who, with professors Margi Rusmore (geology) and Gretchen North (biology), will again teach the California Environment Semester this fall. "Our goal is to make them question that."
"I'm not sure at this point if I want to enter the healthcare field, but the course definitely sparked my interest in public health, and it prompted me to want to take more classes regarding public health," Checa says. "It also made me want to study philosophy further because I really liked the philosophy portion of the class."
An additional benefit of the CSP Labs has been the camaraderie among students. Since these are 8- to 16-unit courses, students spend a majority of a freshman semester with around 30 of their peers. "It allows people to make really deep connections," Ashenmiller says. These connections often foster a sense of leadership as well: A sizable number of California Environment Semester students have since become resident advisers.
Margaret Fossand '17 of Portland, Ore., was "ecstatic" when she read the description for the California Environment Semester. "Here was a chance to learn in an intimate classroom setting with a small group of fellow first years, and I could chose the topic that most interested me," she says. "The program called for students interested in the outdoors, in collaborative learning, and in a close-knit community. I signed up right away."
What the course description failed to mention were the memories students will take with them beyond Oxy. Fossand recalls a field trip to Inyo National Forest that included a night out under the stars, s'mores by a campfire, and a visit from a desert fox. "I was immersed in the awesome beauty of nature," she says. "It was a humbling experience."
With the final year of the Mellon-funded CSP Labs fast approaching, professors and administrators hope to build on the lessons that they've learned throughout the process. That includes not only incorporating their personal areas of expertise, but being conscious of developing a cohesive curriculum.
"The most difficult part was finding a way of connecting all of our interests in a way that students could understand," says John Lang, assistant professor of sociology, who will teach Culture of Food for a third time next spring in conjunction with assistant professors Carmel Levitan (cognitive science) and David Kasunic (music). "The idea of a multisensory experience runs through all of our work. In a sense, we called out the elephant in the room and told students we were providing them with different ways to approach the same question."
So far, it seems to be working. "I enjoyed how much each professor complemented the other's teaching styles and material," Treat says of her California Environment Semester experience. "It all seemed to flow together perfectly, like they wrote every single lecture sitting side by side."